Meet the Olim Stars – home financing in Israel with Dani Schecter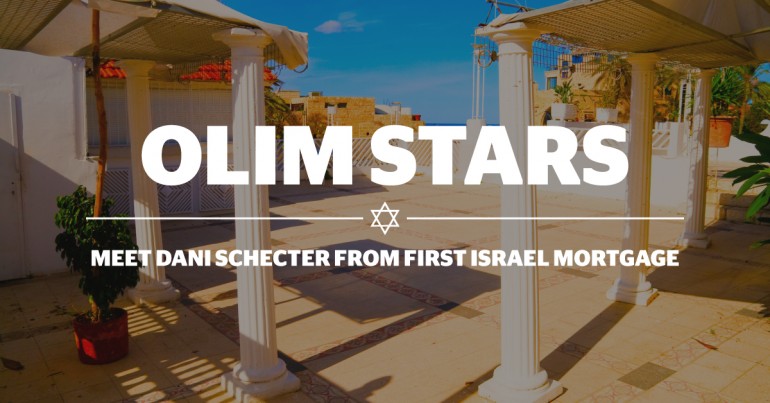 Born in Baltimore, MD and raised in Jerusalem, Dani Schecter received his BA from the City University of New York after being discharged as a first sergeant from the Israel Defense Forces. He continued his education at Bar Ilan University where he completed an MBA in 2010. Since 2003, Dani has used his experience as a senior loan officer at  'First Israel Mortgages', in the US and Israeli mortgage markets to assist his clients
Hi Dani! Would you mind telling us a little bit about yourself and your background?

Dani Schecter:
I was born in the US in 1980, into a very loving and very Zionistic family- and moved to Israel with my parents and siblings at the ripe age of 5. We started off in the Mevaseret Zion absorbtion center and shortly thereafter moved to Jerusalem where I went to elementary/middle/high school. After the mandatory 3 years of army service, I married my lovely wife Elana and spent the next 5 years in NYC, where we both received our Bachelor degrees and embarked on our professional careers. We moved back to Israel in 2008 to Modi'in – where we still live and raise our 4 children.
What work do you do, specifically in the Olim Community in Israel?

Dani Schecter:
On a professional level- I help educate many Olim on the nuances of home financing in Israel. There are many crucial aspects that are important to understand and address when taking a mortgage from an Israeli bank- and I help explain these factors and proactively address them. On a personal level- as someone who has spent >25 years in this country, including my childhood/adolescence/ adulthood stages- I always try to help the Olim I meet in the community by sharing my own experiences, the failed/success aliya stories I've witnessed over the years, and the lessons I've learned throughout.
What is First Israel Morgatge's goals, and mission?

Dani Schecter:
In most English-speaking countries, mortgage information from various banks, such as interest rates and terms, is readily available on the internet. However, in Israel, information is not made public by Israeli lenders, thereby leaving borrowers in the dark. First Israel Mortgage aims to provide transparency into the Israeli mortgage market and secure significant savings for our clients. This is done by ensuring that borrowers are optimally structuring their mortgage for their specific scenario and by providing preferred interest rates and terms to our clients.
How did your time spent serving in the IDF effect you? Did it change your views at all?

Dani Schecter:
I served in the Givati brigade (infantry) of the IDF from 1999 -2002, spanning the end of the IDF presence in south Lebanon and the beginning of the 2nd intifada. It was a very troublesome time in Israel, – both for civilians as well as for soldiers. My experience as an active soldier during this period changed not only my views on Israel and its strife with its neighbors, but my entire outlook of our role in the region, as well as the cold harsh truth of what we must do to survive.
What inspired you to make Aliyah and join the community here in Israel?

Dani Schecter:
The aliya decision was out of my hands as my parents made that decision for our family when I was still young. Moving back to Israel as an adult, after completing my BA in Brooklyn College, was an easy choice. That was the best part about living in Flatbush – Leaving it 😊
What motivated you to go into the mortgage business?

Dani Schecter:
Purely by chance. I had just moved to the US after my discharge from the IDF, and had no idea what I wanted to be. An opportunity arose for an interview at a mortgage company in NYC so I decided to give it a shot. There were no licensing requirements at that time and I knew of some friends who were making a decent living in the field. They offered me an assistant job, with a draw against future commissions, and no guaranteed salary -and I grabbed it. The other alternatives at the time? A security guard at JFK cargo (night shifts) or Hebrew teacher at a Brooklyn Yeshiva. I'm extremely fortunate and thankful for the way that cookie crumbled. Baruch Hashem!
How did you find the Israeli college system differed from that of New York?

Dani Schecter:
Night and Day. In the US I felt the system was made to allow a student to work full time, and go to school full time, and still manage to live a "normal "life. In Israel- I felt it was one or the other – that there was no way to hold down a full-time job (that can sustain a young family) and go to school full-time concurrently. Fortunately – my MBA program was accelerated, it's a 15-month program, so somehow, I survived. I find it sad that the clear majority of the jobs full time students in Israel can do while in school are part-time/ minimum wage type gigs. Although undergrad is only 3 years in Israel (vs. 4 years in most other places) – so there is a silver lining too.
What other differences do you see between the countries in terms of work and finance?

Dani Schecter:
Home finance is the biggest difference. Most countries offer 90% (or more) financing for a borrower purchasing their primary residence. Israeli banks cap financing at a max of 75%. Obviously, with the current level of housing prices, 25% down payment is a huge obstacle to overcome. I consider the "normal" overdraft that is common in Israel to be the same as the "standard" credit card debt many people maintain abroad, so I consider that a wash. As for work, other than the huge difference in salary levels and not working on Friday/ full work day on Sunday – I find working in Israel to be mostly the same when compared to the US.
In terms of finance in the oleh community, what do you find the biggest mistakes Olim make?

Dani Schecter:
Olim tend to hold on to their need for their familiar foreign product for way too long, and often overpay for it. Its OK to use the Israeli brand tin foil/garbage bags/ dryer sheets/etc. etc. etc., and there is no need to pay a king's ransom for a product just because "that's what you use". I see it as a coping mechanism for the early stages of Aliya, but that doesn't need to last forever.
What advice do you feel Olim should know before and immediately after moving here?

Dani Schecter:
If you think of it as a temporary move, where "if it doesn't work we will just move back" – you are destined to fail. I believe the move to make Aliya must be done with conviction, with true determination to succeed, and without looking back. Additionally, if an Oleh has kids in the age group that is likely to be challenging for big changes- I advise to spend the first few summers in Israel. Summers abroad are fun, everyone is on vacation, and it becomes very hard to "bring them back", making the transition even harder.
In your opinion, what are the biggest shocks, or unexpected events for Olim in Israel?

Dani Schecter:
I feel that the red tape and bureaucracy has gotten better over the past few years, although still plenty to improve. I think the biggest shock for Olim is the realization that the customer is not always right anymore, and that the customer service they've come to expect from other western countries has not yet reached the middle east. And, of course, anything that has to do with moving vehicles. My advice on the best way to deal with it is to remember that all these "crazy people" are the ones we will be counting on when the tough gets going (which it inevitably does/will) – and I'm happy to have them on my side "when it counts".
What tips would you give to both families and singles looking to make Aliyah?

Dani Schecter:
Israel is the best place in the world to raise a family, to meet your partner, and to live life to its fullest. If your top priority is to "live easy" or get rich – other places will be more advantageous. If your top priority is to be part of the Jewish nation, to actively help build the Jewish homeland, and to be part of something much bigger than you or I – Israel is the place to be. Personally, I couldn't be happier anywhere else.