2022 French Presidential elections: What they mean for France & Europe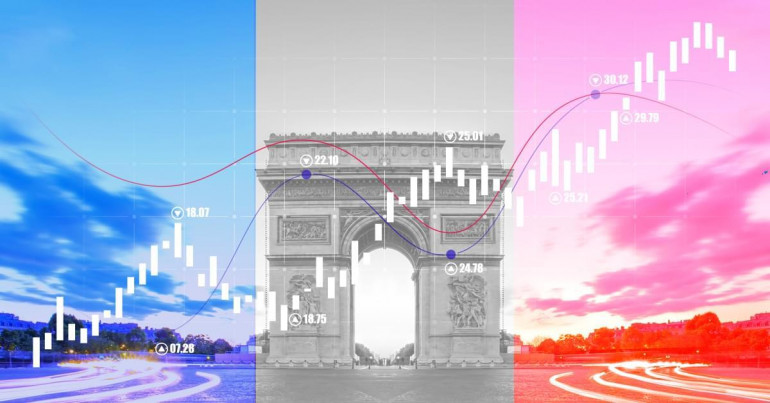 With French presidential elections taking place every five years, there are many changes which can occur that influence voters' candidate choice. The two leading candidates running for the 2022 French presidential election were Emmanuel Macron and Marine Le Pen.
Macron is the leader of En Marche! with Le Pen being National Rally's leader. The two political parties had various different political policies which were at the forefront of their campaigns. In the past few weeks, France has been torn between the two candidates as residents want change to occur for the better.
Macron and Le Pen already faced off in 2017, with Macron winning by a landslide at the time. 5 years later, Le Pen closed the gap by receiving 13 million votes, scoring 41.46%. Although she's never been so close to victory, Macron won by a comfortable margin with 58.6% of the votes.
The result means that Emmanuel Macron will lead France for a second term as president. Macron will be the first French president to be re-elected in 20 years. However, due to recent domestic and international affairs, Le Pen's National Rally received a lot more support this election.

What does a close presidential election mean for France?
French residents want economic reform within the country
This presidential election could be seen as a potential turning point for France. Following an 8% contraction in 2020 largely due to lockdowns and restrictions, the French economy rebounded in 2021. France showcased its strongest economic growth in 52 years at 7%. The economy showed resilience in the face of supply chain disruption.
However, due to the recent cost of living crisis in France, households are feeling the increased financial burden. This has been a factor in the National Rally party gaining a greater following over recent years.
Ultimately, Emmanuel Macron has been perceived by the French public as a president for the wealthy. The challenge for him during this presidential tenure will be reversing this perception and creating opportunities or subsidies for all segments of the French population.
Pressure to leave the European Union from French right wing voters
With growing support for the National Rally party, there has been louder calls for France to leave the European Union (EU). Le Pen was vocal throughout her presidential campaign advocating for dismantling the EU and downgrading the supremacy of EU law.
Undoubtedly, this will be an ongoing debate within France. Yet Macron doesn't seem to have any plans or intentions to leave the EU. Depending on the duration of the Ukraine conflict, there could be greater strain on countries within the EU.
Nonetheless, Macron's focus will need to be on domestic concerns such as decreasing public debt and supply chain issues.
What factors will impact France's economy over the next 12 months?
Cost of living crisis
Currently, there is a cost of living crisis in many countries across the world. France has been affected by this current economic downturn. Due to the ongoing conflict taking place in Ukraine, countries in Europe have been particularly vulnerable to fuel and energy shortages. Consequently, we have seen price increases for fuel and energy take place in France.
Emmanuel Macron will have to look at various ways of getting the French economy back on track amidst the current uncertainty within the Eurozone. Inflation has also had an impact on living standards as rates spiked to 4.5% in March. With that being said, this remains one of the lowest inflation rates among European countries. A reason for this is that France extracts most of its power from its nuclear power plants. As a result, France has been relatively insulated from the hefty price rises in oil and gas that have been seen in other European countries.
Still, Macron has to tread carefully to ensure that France is recovering from this current economic downturn. Specifically, Macron must look to provide additional resources towards the business and manufacturing sectors. As France has seen its competitive wane over recent years, job creation and global competitiveness will be paramount moving forward.
Currency volatility
Due to external factors taking place in Ukraine, the Euro is volatile. The supply chains within Europe have also impacted the currency price over several months. As a result, market movements have been seen for both British Sterling and US Dollar.
The graph below showcases the currency volatility between GBP/EUR and EUR/USD. Over the last 14 days volatility between currencies has been quite significant. Depending on factors within the eurozone over the coming months, the current rate of volatility could continue.


The impact of the French election on the Euro
The Euro to Dollar rate reached a two-year low at the start of the week and could be set to remain under pressure over the coming days due to domestic economic risks.
The euro gained no benefit from Sunday's re-election of French President Emmanuel Macron and instead fell close to 1.07. This is the lowest the Euro has been since April 2020 which was largely impacted by Covid-19. Continued turbulence within the eurozone has meant that the celebratory reactions resulting from the French presidential election result were short lived.
Nonetheless, the French election result has provided some stability to the markets. A major factor which influenced the voting was the uncertainty that Le Pen would create for global markets if appointed French president. A Macron victory hasn't had much benefit to the Euro valuation currently but it hasn't caused market shocks either.

Will French residents look to increase overseas purchases?
With currency fluctuation for the euro, French residents could start to look across Europe and the US for purchasing properties and assets. In particular investments within emerging markets could be of interest as there is potential greater ROI.
However, there is also heightened risk as emerging markets are more susceptible to external market shocks and currency fluctuations. Therefore, this wouldn't be a suitable option for some individuals or institutions.
After years of stagflation within France, there are signs that the economy will begin to recover later this year, amidst external factors within the eurozone. As a result, investing in property within France as a resident and diversifying your portfolio to include other markets such as the UK and US could pay dividends.
Summary
The French presidential election 2022 has been significant. Although there is continued tension and uncertainty within the eurozone, there is still optimism that the French economy will trend towards recovery into 2023.
Over the next 12 months however, we will likely see currency volatility for the euro. Consequently, having a good risk management strategy in place can ensure that you're protecting your budget against uncertainty.
At CurrencyTransfer we support you in all other aspects of your business and provide a tailored customer experience. Once you open an account with CurrencyTransfer you will be allocated a personal relationship manager, who will be able to help with your unique currency transfer requirements and assist with any queries you may have.