10 countries with the highest standard of living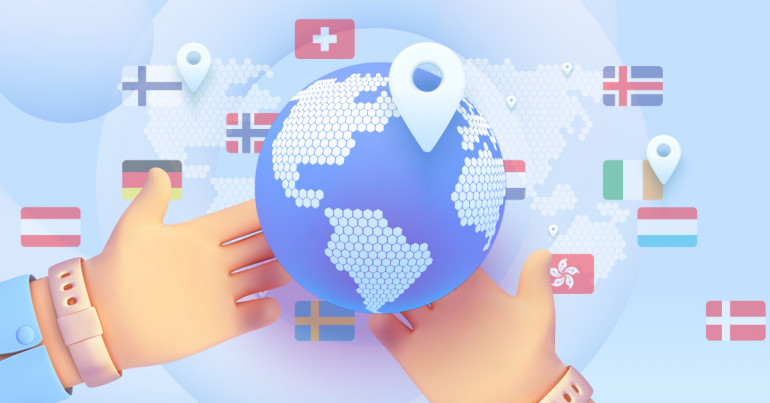 The standard of living of a country is a subjective statistic but generally refers to how comfortable, safe and beneficial it is to live in that country. There is no official index for the standard of living, but it has become a catch-all term for a country with attractive residency.
There are many indexes which measure the general success of a country and its population, which will increase the standard of living. These include the Human Development Index (HDI) and the Quality of Life Index. Many of the same countries appear on all these lists, but each one takes into account slightly different information.

How is a standard of living determined?
The standard of living of a country is determined by a multitude of factors such as the wealth, material goods, necessities and comfort available in the country. Comparing the standard of living to an index such as the Quality of Life Index, the standard of living does not often include metrics such as physical or mental health.
The standard of living generally provides guidance as to how good a place is to live. Quality of life will include these measurements, as well as population health, and overall wellness. The HDI is designed, in the words of Human Development Reports, to provide a "summary measure of average achievement in key dimensions of human development: a long and healthy life, being knowledgeable and having a decent standard of living" – in short, to measure the prosperity of a population, and its likelihood to grow in a positive direction.
According to World Population Review, these were the countries with the highest HDI score in the 2021/22 report:
3.

Iceland:
0.96
t's important to remember that there is no universally agreed-upon measurement for all of these indexes, and often they overlap. The countries on this list will have generally ranked highly on all these lists, as often a high standard of living will mean a high quality of life and strong development, and vice versa.

Countries with the highest standard of living
Here is a list of the countries that have the highest standard of living. In this ranking, we have taken into account the standard of living, the HDI ranking, as well as the quality of life ranking.
1.

Switzerland
At the top of the list is Switzerland, which ranks highly on most indexes based on quality of life. It has a strong economy and is known as one of the best tax havens in the world, due to its economic stability and favourable laws. It has well-established healthcare systems and a low crime rate, and its citizens also benefit from world-renowned scenery and clean air and water.
2.

Norway
Often ranked as one of the countries with an excellent standard of living, Norway benefits from a strong economy, education and healthcare systems. Norway also has a very high per capita GDP, and benefits from clean water and air, against the backdrop of the Fjords of Norway – which UNESCO has identified as a site of Outstanding Value.
3.

Iceland
A small but relatively powerful nation, Iceland's economy has made an impressive economic rebound since the financial troubles of 2008-2011. With a population of just 375,000, Icelanders enjoy a very high standard of living with high-quality housing, a good education system and healthcare. Iceland is also a popular tourist destination and boasts a unique landscape and culture.
Iceland also ranked first in 2021 on the Global Peace Index and is considered one of the safest countries in the world.
4.

Denmark
Another Nordic country, Denmark has a solid education and healthcare system, as well as a strong economy. A clean and safe place to live, Denmark is also top of our list of greenest countries in the world, having made significant steps in renewable energy such as wind power. The capital Copenhagen has announced that it will be neutralising 100% of the city's emissions by 2025.
5.

Finland
Finland has a strong economy, excellent education and healthcare, and a low crime rate. It has a strong social safety net, as well as good-quality housing and a beautiful landscape.
The third-greenest country in the world, Finland has made huge strides in the last few years to preserve its natural beauty and ensure that the country relies on renewable energy, which is currently at 43%.
6.

Netherlands
The Netherlands is top of Numbeo's Quality of Life index due to its winning factors in healthcare, purchasing power and pollution levels.
Strong education and healthcare, liberal social values, a tolerant culture and a beautiful countryside all make the Netherlands an attractive country to live in.
7.

Sweden
Sweden is known worldwide for taking care of its citizens, and in September of 2023, it was announced by CNBC as the best country in the world to live in.
As well as an amazing infrastructure, Sweden is known for its free college education, and has one of the longest life expectancies at 82.8 years.
8.

Austria
Sixth on the Global Peace Index in 2021, Austria remains an incredibly safe and prosperous place to live. It has a low rate of crime, a strong healthcare system and a stable political environment.
Austria is known for its alpine scenery and rich cultural heritage, a lot of which can be found in Vienna – ranked first on the Global Liveability Index 2023 as the world's most livable city.
9.

Luxembourg
With a small population of 656,000, Luxembourg has a historic, small-town appeal. It also ranks highly in terms of standard of living due to the economic and political stability in the country. Crime rates are also incredibly low.
Luxembourg is also sixth on our list of greenest economies and was one of the first countries to make public transport free for everyone – both residents and tourists.
10.

Germany
Germany offers a very high standard of living and many social benefits to citizens and residents of the country. The economy is strong, and there are a huge amount of job opportunities, as well as connections to neighbouring countries.
Germany's healthcare system is also often regarded as one of the best in the world.
https://www.currencytransfer.com/tag/expat-life
Defining standard of living
It's important to remember that the standard of living of a country is subjective, as there is no single best country to live in. The best country to live in will depend on your own individual needs and requirements – for example, whether you're looking to select a country for work, to raise a family, or to retire.
If you're interested in moving abroad, then stay posted on our Expat Life articles, where we cover specific topics about moving and living abroad.
Moving abroad can be a daunting task, but we can help remove the stress of moving your finances across the border. Sign up for an account with CurrencyTransfer today for free, and you'll be assigned an account manager who can guide you on your new journey.
Caleb Hinton
Caleb is a writer specialising in financial copy. He has a background in copywriting, banking, digital wallets, and SEO – and enjoys writing in his spare time too, as well as language learning, chess and investing.