Growing demand for electric cars: are you ready to make the switch?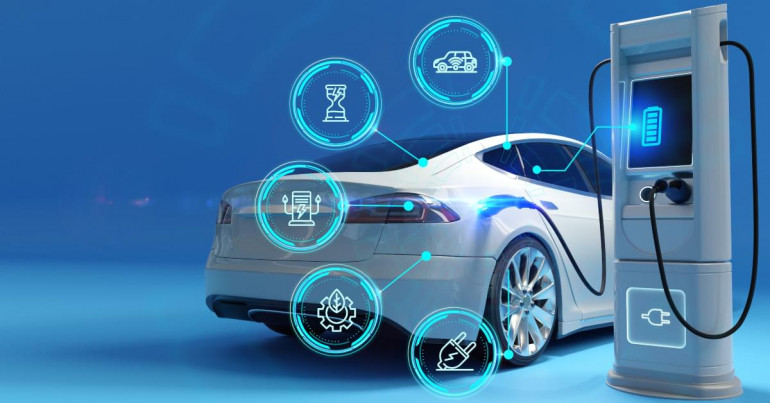 Electric vehicles (EVs) have experienced a rise in popularity over the past few years. EV technology has matured and as a result, costs have declined. Increasing support for clean transportation across both public and private sectors has promoted awareness, increased charging infrastructure, and facilitated the adoption of EVs in large logistics fleets.
In this article, we'll look at some of the largest EV manufacturers in the world and why businesses are looking to swap to cleaner vehicles.

The history of electric vehicles
In the early 19th century, innovators around the globe toyed with the idea of battery-powered vehicles. In 1900, 38% of American cars were electric.
Low demand in the 20th century
By the 1970s, interest in electric vehicles had died down. However, new federal regulations such as the Clean Air Act Amendment helped foster new interest in electric cars in the US.
With a booming economy and low gas prices, many consumers didn't worry about fuel-efficient vehicles and sales soon declined. But, despite the lack of public attention, scientists and engineers continued to work behind the scenes to improve electric vehicle technology, including batteries.
Renewed interest in the 21st century
Depending on who you ask, one or two major events sparked the interest we see today in electric vehicles.
For example, the introduction of the Toyota Prius quickly became a success among a growing demographic of climate activists, celebrities and carbon-conscious consumers.
Similarly,Tesla Motors' announcement of a luxury electric sports car galvanised the market. Supported by the Department of Energy's Loan Programs Office, Tesla established a manufacturing facility in California. Since then, Tesla has won wide acclaim for its cars and has become one of the largest auto industry employers in the world.
At the same time, new battery technology helped improve the long-term viability of EVs. More recently, the Department's investment in battery research and development has helped cut battery costs.As a result, EVs have become more affordable.
Today's consumers have more choices than ever when buying an electric vehicle.
A more sustainable future ahead
Electric vehicles hold a lot of potential to create a more sustainable future. If we converted all light-duty vehicles to hybrids or electric vehicles using current technology, it could go a long way towards counteracting the effects of climate change. Even the least efficient EVs produce 37% less CO2 than petrol-powered vehicles.
New initiatives have made electric vehicles as affordable as gasoline-powered vehicles. Meanwhile, the Department's Joint Center for Energy Storage Research is working hard to overcome some of the biggest scientific and technical barriers preventing large-scale battery-scale improvements.
Top 5 largest EV manufacturers
According to the latest report published by Emergen Research, the global electric vehicles market is expected to reach $793.24 billion by 2027.Here are some of the largest EV manufacturers today, many expect their EV manufacturing branches to grow exponentially in the next few years:
1. Tesla
Tesla is headquartered in Austin, Texas and manufactures electric cars in addition to solar panels, solar roof tiles, and related products.It aims to accelerate the world's transition to sustainable energy by offering a wide range of desirable, high-tech electric vehicles.They currently offerfour electric car models, including Tesla Model X, Model 3, Model S, and Model Y.
Tesla has pioneered new manufacturing techniques, software and electronic architecture. Established automakers are still playing catch-up to Tesla, designing their own software systems and self-driving cars to compete. More than one comparison has been made between Apple's domination of the tech industry and Tesla's rapid rise to fame.
2. Ford Motor Company
The US-based Ford Motor Company offers a wide range of electric passenger cars, trucks, and luxury vehicles. Ford is one of the leading manufacturers of electric cars and uses advanced fuel-saving technology to help customers cut costs.
As of 2022, Ford has installed more than 300,000 charging points across Europe in partnership with IONITY – a joint venture founded by the BMW Group, Mercedes-Benz Group, Ford Motor Company and Volkswagen Group.
3.General Motors Company
General Motors (GM) is one of the world's largest automobile manufacturers. It focuses on zero-emission vehicles and announced its plan to invest around $35 billion in EVs by 2025.
The all-electric Chevrolet Equinox is GMs' newest addition to its roster of electric vehicles. GM says EVs align with the company's goal of creating a world with "zero crashes, zero emissions and zero congestion."
4. Hyundai Motor Company
South Korean automotive manufacturer Hyundai Motors recently began building a $5.54 billion electric vehicle and battery plant in the United States. The investment is the largest in the US state of Georgia's history.
Hyundai plans to begin production in 2025, producing 300,000 units annually. It will focus on luxury models, SUVs and electric vehicles to achieve record-high earnings even as inflation and fluctuating raw material prices persist.
5. Volkswagen Group
Volkswagen Group (VW) is an automotive company located in Germany and is one of the leading manufacturers of automobiles. It owns multiple automobile brands, including Bentley, Bugatti, Audi, and Lamborghini.
Volkswagen Group already offers a wide variety of electric vehicles. It is expected to launch new models in the near future. Interestingly, VW also announced that its electric cars will be able to power homes by the end of 2022 using bi-directional charging stations.

Logistic enterprises seek green alternatives
By now, most understand the need to lower our carbon footprint. We can achieve a large part of combating climate change by replacing fossil-based fuels with renewable energy.
As such, there is a growing demand for EVs to replace logistics fleets in both large and small businesses.
Early adopters were either organisations with high revenue or an active interest in reducing carbon emissions, as buying an EV fleet involved significant costs.
What to consider when making the swap to EV fleets
Fleet electrification is still a big jump for many businesses. Each fleet segment demands a mix of light, medium and heavy-duty vehicles to satisfy specific roles.Consequently,most opportunities afforded by EVs are negated by the complexity of logistics requirements.
In addition,the planning of fleet charging infrastructure and fleet operating costs are key to holding a strategic advantage.
How to make cost-effective EV purchases
As more and more organisations consider green alternatives, government support to promote EV onboarding and infrastructure implementation has increased. As a result, making the swap to EVs is becoming more viable with each passing month.
When buying in bulk from a foreign manufacturer, you must factor in the cost of currency exchange rates into your purchase plans. Failure to do so can result in far higher banking fees and exchange fees.
Sign up with CurrencyTransfer today to learn how to effectively manage available funds and swap your fleets to electric vehicles without inflating your costs.
We offer a wide range of tools perfectly suited to long-term purchasing plans and the gradual replacement of your existing vehicles.
Our team is on standby to discuss your needs. Together, we can find the solution that best suits your unique business needs and context.
Matthew Swaile
Copywriter