Canada calling: your guide to getting a work permit and residency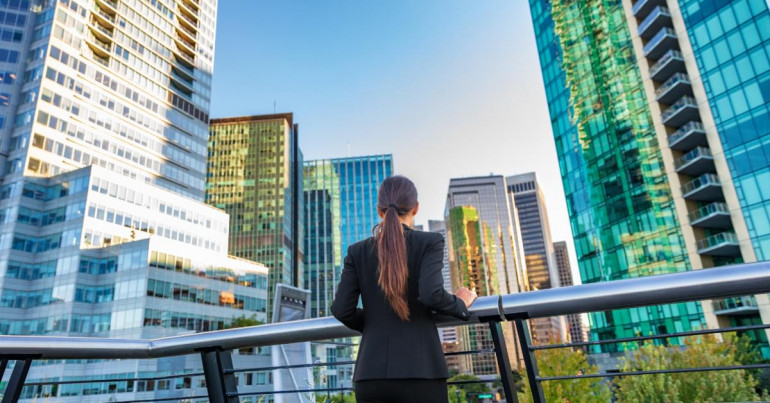 Canada's long been one of the top destinations for people looking to start a new life abroad, drawn by a stable job market, good salaries, modern cities and unspoilt nature. Over one million people moved to the country last year, of which over 430,000 were new permanent residents. With the latest data showing job numbers are increasing even faster than expected, this trend doesn't look set to slow down any time soon. Another big attraction is that the immigration system is relatively smooth – as long as you prepare well. Here's how you could move to Canada for work.

What visa pathways are available to move to Canada for work?
There are two main pathways to move to Canada for work: Express Entry and Quebec Selection. Neither require a job offer in advance as they both lead to Canadian permanent residency, meaning your status in the country isn't attached to a particular employer – a big bonus compared to a lot of places popular for expat life.
Express Entry
Express Entry covers anyone moving permanently to Canada outside of the province of Quebec, which has a special agreement with the government to manage its own immigration.
Within this category, there are three main "streams" that you can fall under, each of which can lead to permanent residency:
Canadian Experience Class (CEC) offers a route for skilled workers who already have Canadian work experience.
The Federal Skilled Worker Program (FSW) is aimed at skilled workers with foreign experience.
The Federal Skilled Trades (FST) Program is for those who have a qualification in a particular trade.
To find out if your job counts as skilled, you simply search for your title in the National Occupation Classification and see if the column marked TEER has a number between 0 and 3. If so, you're in luck – your job is classified at the right skill level.
For tradespeople looking at FST eligibility, go to the same occupation list and see if your trade is categorised under one of the major or minor groups named on this listing page.
Quebec Selection (Arrima)
Meanwhile, if you're looking to move to Quebec – including the popular destination of Montreal – then you will do so through the provincial government's system, known as Arrima. The main route in this case to move to Quebec for work long-term is the Regular Skilled Worker Program. In this case, the occupations in demand are more opaque, but the list of diagnoses for various professions (only available in French) shows the level of demand.
How do you apply for a Canadian working visa?
The process is more or less the same whichever route you go down. Through either Express Entry or Arrima, you create a profile that contains all the key information about your eligibility: your age, language skills in English and French, professional field, years of experience, level of education, any dependents and so on. While not required, if you have a job offer, you should include it as it can still boost your profile significantly (more on profile scores in a moment).
Once this is done, you're "in the pool" of candidates. You'll be scored against those factors above and ranked against other candidates. Historically, the government would then proceed through the pools of candidates in order of their scores, but since 2023 both the Federal and Quebec government have most recently begun to triage people based first on occupation and then on the value of their scores. This means that even if your occupation is eligible, you might have a longer wait – or you might skip forward in time if your score is relatively low, but they choose to invite your occupation.
Each of these invitation groups is known as a "round" and means that the relevant government is inviting you to move from simply having a profile in Express Entry or Arrima to submitting a detailed application to immigrate under one specific program, such as the Federal Skilled Worker Program.
Once they invite you, the paperwork really begins! You'll need to make sure you have up-to-date proof of every detail requested, including approved language tests (even if English or French is your native language), a medical exam and a police certificate. In Quebec, you must also provide an attestation of learning about democratic and Quebec values, which you can obtain by taking an online assessment.
What happens once you've applied?
Now you're once again in the waiting zone. Processing times have lengthened considerably post-Covid, so the aim is currently that your application will have been considered within six months.
Generally speaking, if you've been invited, the only thing that will stop your application from proceeding to acceptance is a problem with your documents, such as an inability to prove a statement you made in your original profile.
If your application is successful, you'll receive an email to inform you that your local embassy has received your decision envelope, which you can collect or sometimes have forwarded. With this in hand, you're now free to officially move to Canada for work!
As of that moment, you will hold an eTA (travel authorisation) to enter the country, which will then be converted to a permanent residency card after a short interview with an immigration officer upon arrival. Again, processing times can be long, so you'll probably also receive a temporary residency document, as cards can take up to 60 days to arrive with the current backlog.

What finances do I need to organise when I move to Canada?
Your main obligatory financial element will be showing proof of funds, which will be calculated based on your family size and dependents. As of 2023, the numbers have risen and range from $13,757 for one person to $36,407 for seven people. You'll need to get letters from every financial institution where you hold money to demonstrate this.
However, on top of this, you'll also need to transfer money once you're there, either to a Canadian bank account if you open one, or directly to the sources of your initial expenditure. For example, you will usually need to provide one month's security deposit on a rental – which in an expensive market like Vancouver would be an average of $3,863 for a two-bedroom apartment. Include, too, expenses such as purchasing a new vehicle, as well as enough to cover your living expenses until your first pay cheque.
If you're moving to Canada for work with your family, this can add up to a relatively large sum of money to transfer in one go. Whether you're moving from Europe, the US or the UK, CurrencyTransfer can help you with secure and hassle-free transactions.
Don't forget to factor in currency volatility, which can add extra costs and dent your budget. For example, the Canadian dollar hit highs against the pound in September last year, but has since had a bumpy ride and is ten points down at the time of writing. There's no telling when this will reverse, so in the year or so it can take to finish your immigration process, there's no knowing where the currency markets will go.
Sign up today and talk to our experts; our friendly team will talk you through the process and work with you to find the best strategy to protect your international payments.
Alexander Fordham
Alexander is a writer specialising in foreign exchange and overseas property, with seven years' experience helping people to purchase abroad and send money safely, including hosting seminars on the topics around the UK. You can find him out hiking, travelling and working from Spain in the sunnier months.