A step-by-step guide for moving to the US on a work visa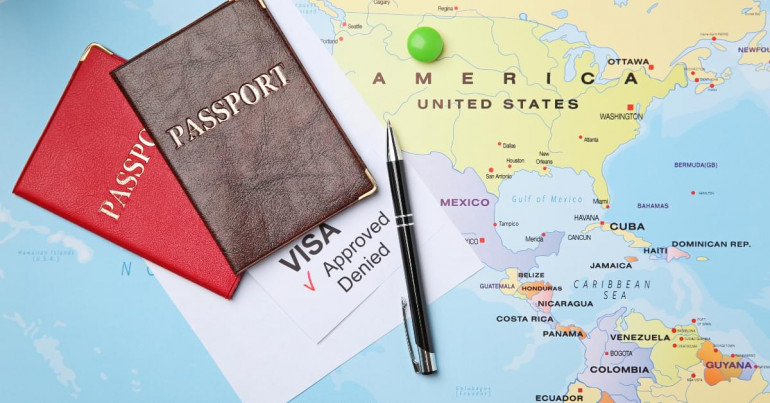 Moving abroad to the US on a work visa can be a complex and quite lengthy process. As a result, we have put together a guide to help you find out which documents are necessary for the move, and what should be considered beforehand. 

Can you move to the US without a work visa?
The short answer is yes, but only for a short period of time. There are certain US Visa programmes that allow you to travel to the US for business or tourism purposes. 
The US Visa Waiver Program (VWP) permits eligible citizens of 38 countries to travel to the US for business or tourism for up to 90 days without a US visa. For short-term business travel for nationals of qualifying countries such as the UK – the VWP will offer the most straightforward option. This is due to travellers not having to undergo the full visa application petition and interview process.
ESTA is an online screening system operated by US authorities and is needed for a VWP. It is used to verify if the foreign citizen is eligible to travel under the Visa Waiver Program (VWP) to the US. Applicants complete the online form, and the answers are used to determine eligibility for travel under the Visa Waiver Program. You can only undertake a particular activity while in the US under ESTA. An example would be travelling for short term circumstances such as attending a business meeting. 
However, restrictions do apply. The visit can not last longer than 90 days under the ESTA and the purpose of travel must come under a permissible activity, as with the B-1 visa. A visa on the other hand, is required for stays of longer than 90 days.
What documents are necessary to apply for a US Work Visa?
There are several documents needed to apply for a US work visa. We've listed the essential documents below:
Valid passport – which needs to be valid for the entire duration of your stay in the US and an additional six months after you return.
US visa photo – which you need to upload when you fill out the online application form.
The Receipt Number – which you can find on your approved petition for a Nonimmigrant Worker (I-129 Form) which your employer filed.
Nonimmigrant Visa Application Form – A confirmation page that you have completed your Nonimmigrant Visa Application (DS-160 Form).
Ending date of employment (if applicable) – Proof that you will return to your home country after your work in the US ends. This applies to all types of work visas with the exception of the H-1B and the L visa. H-1B and L visa holders get a 60-day grace period. This period begins the day your sponsor is no longer your employer. This time period provides the opportunity to find a new H-1B sponsor, change your status to a different visa, or prepare to leave the US.
How much does it cost?
For US work visas, the application fee is $190. There might also be additional fees that apply to your location. Consequently, you should check with your local US Embassy about more details.
Getting an employment visa sponsorship can be quite expensive for the company. Depending on the visa, it might cost up to roughly $1,000 to sponsor a foreign employee. Because of the expense, employers can be reluctant to do it. The exact fees depend on the visa type and there is no one size fits all. 
How long is a US visa valid?
You can make your travel arrangements once you get the visa and then start working. Note that if you have a nonimmigrant work visa, its validity is temporary. 
How long the nonimmigrant work visa is valid depends on the type of visa you have. The H-1B visa for example is valid for 3 years, while others could only be valid for 1 year. So you must check the details of your visa to not overstay.
Usually B-1 visas (Business visitor) are granted for a period of 10 years. The applicant will maintain their permanent residence outside the US and would intend to travel only for a temporary stay. The maximum residence status in the United States is up to 180 days per entry under a B-1 visa. As a result, travellers who make frequent trips to the US for business purposes wouldn't need to constantly reapply for the visa. 

What to consider prior to relocating to the US
Property prices within the US
Depending on where you're located, the cost of living varies quite drastically. Apart from hubs such as New York, Los Angeles and San Francisco, properties in most US states are relatively affordable. As a result, you should consider calculating your monthly living expenses and budget in advance prior to making the move. 
According to The Guardian, rental prices across the US have increased over the past year, with some cities experiencing average price hikes of up to 40%. As a result, it's important to strategically plan where you choose to live and budgeting for potential price rises. 
A good website to help you indicate the average cost of housing by the district is RentoMeter. It has rental price statistics in most US cities. You can also find suitable properties at Apartmentguide and Forrent. 
Alternatively you could decide to choose a real estate agent to find accommodation. This would be for whether you would like to rent initially or purchase property. Although this would come at an expense, potentially it could save you time. Additionally, it would provide greater options to find the right apartment or house for you.
Healthcare costs 
Another key point to consider is that healthcare isn't free in the US. Compared to countries such as the UK, Australia and Canada that provide universal healthcare, in the US this isn't the case. According to the Kaiser Family Foundation, the average individual annual healthcare cost was $7,739 in 2021. Employer-sponsored health insurance is available, but not to everyone. Green card holders may be able to obtain medical insurance via the Affordable Care Act Marketplace if employer sponsored health insurance isn't available to them.
It can be a complex process and is usually decided on a case by case issue. Consequently, it's vital to understand your options before making the move to the US. 
Taxes and finances
The US tax system works at both a federal and state level. Overall taxes are lower in the US than in the UK. If you are a permanent resident, you will be expected to report your global income to the Internal Revenue Service (IRS).
Don't worry, this wouldn't mean you will be taxed twice, there is a system of foreign tax credits to take this into account. If you are a non-resident you will simply pay tax on local earnings. 
Opening a US bank account as a foreign citizen or an expat living in the US can also be relatively straightforward with a social security number. However, requirements may differ from state to state and some may request a credit check, which can complicate matters.
Make quick and convenient international payments with CurrencyTransfer
Planning your money transfers can save you time and resources. Working with CurrencyTransfer will provide the flexibility and convenience to arrange payments in advance, whether you're sending money for overseas property payments or personal investments. 
Our relationship management team is available to answer any questions you may have so please feel free to contact us today to open an account.