Daily Market Brief – 11th June 2015
GBPUSD hits highs of 1.5553, pulls back this morning
Your quote of the day: "Spend more time smiling than frowning and more time praising than criticising."
June 11th: Highlights
GBPUSD hits highs of 1.5553, pulls back this morning
Merkel stance on Greece softening?
NZ rate cut surprises market
Yen rallies against sterling
US showing clear economic growth
Sterling Comment
GBP strengthened against the US dollar yesterday after strong industrial production numbers suggested the manufacturing sector may not weigh on Q2 growth. Industrial output rose by 0.4% in April, which beat forecasts of a 0.1% increase. GBP/USD is currently trading around 1.5440.
The pound was trading higher against the Euro as investors are still feeling shaky and fragile over the single currency with the ongoing Greek saga. We are seeing £1 buying around 1.3725 EUR at the time of writing.
Both Osborne and Carney used the annual Mansion House dinner to outline some of the key initiatives for the year ahead. The key take-away was that Osborne plans to start the sale off the Government's stake in RBS. At a loss. Carney called for a clean-up of the City with the headline of the 'age of irresponsibility is over'. Bravo.

Greece
Progress? Well more rumours of progress at least. Speculation hit the wires suggesting that Chancellor Angela Merkel could be willing to make concessions to finally make a start. Of course, this has already been denied by German government figures, adding to frustrations over the 'he said/she said' nature of these reports for the outside looking in, but the age-old journalist's favourite of 'people familiar with the matter' were quoted as saying that Germany may be prepared to endorse a Greek rescue payment in return for only one of the reforms from the creditors list of demands.
The only concrete development to report is that S&P downgraded Greece's credit rating to CCC. Not swayed by any of the good news speculation, the ratings agency's position is clear – they expect a default. But don't forget how horribly wrong they were rating sub-prime investments, so that's by no means conclusive.

Global Comment
So the graph below gives a great example of what can happen when the market is caught off guard: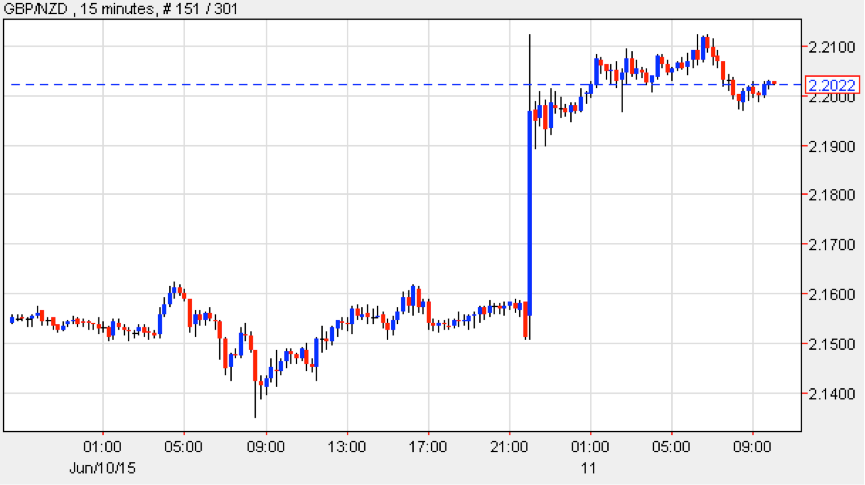 Even a year ago, New Zealand was still hiking rates and although a rate cut has been considered for a while (they have tried verbal intervention already), NZ surprised everyone with an unexpected interest rate cut overnight, which really caught the market off guard. It is pretty clear from the reaction that the market was not positioned for this with the 2.8% swing on the GBP/NZD chart.
Korean decision to cut rates to 1.5% (from 1.75%) was largely expected though, but is being linked to the MERS virus. The virus, which has come over from the Middle East, is now impacting S. Korea (seeing quarantine and a number of deaths). The number of reported cases hitting 122 and there are fears that this could have a meaningful impact on consumption.
Further comments by Bank of Japan Gov Haruhiko Kuroda also caused a Greenback sell off. GBPJPY lost 1.25% to hit lows of 188.95 in early trade then regain some of its losses to stabilise at 190.57.
Morning mid-market rates – The majors
85% savings. Job Done. So, what is the secret sauce of the CurrencyTransfer.com marketplace?
CNBC described us as 'disrupting global money transfer'. Finally, you kiss goodbye to hidden fees.
How are we innovating?
Well, we are not an expensive bank costing you up to £1,500 on every £50,000 trade. Neither do you ever need to ring around multiple brokers and speak to sales guys. Pretty inaccurate way of shopping around. We help you maximise the value of each transfer. Quite simply, you are in control. Foreign exchange companies compete in a LIVE marketplace to win your business.
You win!
Got a question? We'd be delighted to help!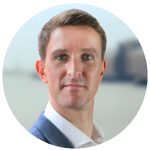 Paul Plewman
Director of Sales & Operations
t: +44 (0) 20 7096 1036
e: paul@currencytransfer.com