Daily Market Brief – 12th May 2015
Hello. Here is your market brief
Your quote of the day: "It's a helluva start, being able to recognise what makes you happy"
May 12th: Highlights
GBP/USD trading above 1.56
Investors buoyant post Cameron victory
Sterling gains two percent against USD in past week
New Zealand Dollar dropped 2.5%
Sterling Comment
Sterling has gained a further two percent in the past week against the US Dollar with Cable comfortably passed the 1.56 resistance level now. Investors seem to be smiling, with the markets showing that Cameron's victory is heralding a new political era. We have heard unconfirmed reports that David Miliband might be smiling in New York too.
Sterling hit a 2015 high yesterday of 1.56 following the Bank of England's Monetary Policy Committee meeting. This helped drive through the key 1.56 threshold and we are currently trading in the region of 1.5675.
The market shrugged off retail sales data that posted its biggest annual fall in four years, affected by the early Easter. Total retail sales dropped by 1.3% last month, but this followed a 4.7% rise in March when Easter shopping bolstered the figures. Reports suggest that underlying growth was robust and the drop is not a significant cause for concern.
Key data released from Halifax showed UK house prices rose faster than anticipated in April. GBPEUR briefly touched 1.40 before pulling back to close around 1.3950. UK claimant count, released tomorrow, may provide further clues over interest rate policy movement.
Global Comment
Markets have not reacted much to the tragic news of another earthquake. Reuters reported it shook Nepal, just weeks after a devastating quake killed more than 8,000 people and destroyed hundreds of thousands of homes. The quake had a magnitude of 7.1 and struck close to Mount Everest.
EURUSD snapped a four day upward trend, failing to break through the resistance level at 1.12. Price eased back to 1.1175 on the close. Pressure may be renewed today, as investors look toward Eurozone finance ministers discussing Greece as speculation suggests they are still far from any agreement. Any further disappointment may push the euro lower against the dollar, but Greece confirmed that it has begun transferring the €750m owed to the IMF. It is unconfirmed if they are citing a 10k banking transaction limit to drag things out further! Eurozone officials believe that Greece has managed to scrape together enough money to settle its obligations until the end of May but after that, it is unlikely to afford more debt repayments let alone keep the nation going.
German Finance Minister Wolfgang Schauble hinted that Germany would support Greece to hold a referendum on introducing painful economic reforms, but investors have pointed to the fact that Athens doesn't have enough time to hold a vote as its funds diminishing so quickly. We tweeted a link this morning to a Bloomberg article, citing Dutch FM as 'not satisfied, but just a bit more optimistic'. The saga continues.
GDP figures for France, Germany, Italy and the Eurozone as a whole will be released on Wednesday, and will give further indications of the general health of the economic recovery.
The New Zealand dollar has dropped 2.5% so far this month after the Reserve Bank signalled in late April that interest rate hikes were off the table and it was watching conditions that could prompt a rate cut. As a result, GBPNZD is currently trading at 2.1158.

Morning mid-market rates – The majors


GBP > USD


–
1.5675


GBP > EUR


–
1.3937


EUR > USD


–
1.1242


EUR > GBP


–
0.7175
85% savings. Job Done. So, what is the secret sauce of the CurrencyTransfer.com marketplace?

CNBC described us as 'disrupting global money transfer'. Finally, you kiss goodbye to hidden fees.
How are we innovating?
Well, we are not an expensive bank costing you up to £1,500 on every £50,000 trade. Neither do you ever need to ring around multiple brokers and speak to sales guys. Pretty inaccurate way of shopping around. We help you maximise the value of each transfer. Quite simply, you are in control. Foreign exchange companies compete in a LIVE marketplace to win your business.
You win!
Got a question? We'd be delighted to help!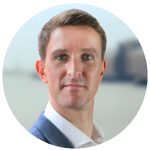 Paul Plewman
Director of Sales & Operations
t: +44 (0) 20 7096 1036
e: paul@currencytransfer.com