Daily Market Brief – 18th June 2015
Following a strong day for Sterling
Quote of the day: "You are stronger than your challenges and your challenges are making you stronger"
June 18th: Highlights
GBP/EUR tests 1.3975
GBP/USD breaches 1.59
Grexit looms once again
EUR/USD surges above 1.14
Sterling Comment
Yesterday was a strong day for Sterling. Sterling rallied close to a month-high against the US Dollar and extended gains against the Euro. GBP/EUR is trading around 1.3950 and GBP/USD at the 1.5910 mark.
Average earning data gave Sterling a good leg-up, as wage growth accelerated more than forecast and unemployment remained at the lowest rate since 2008, helping pick up any slack in the UK economy. All good news for the UK economic performance and Sterling benefited from the prospect of whether this adds weight to the BoE debates on whether they should raise interest rates before the end of the year.
As expected, the BoE minutes confirmed a vote of 9-0 in favour of keeping rates on hold. Additional details revealed by the minutes was that two members showed their decision was 'finely balanced'.
The British government is also accelerating preparations for Grexit as Bank of Greece describes need for a deal as a 'historical imperative'.
On the calendar today, Britain's retail sales data is scheduled to be released later.

Greece
Yanis Varoufakis, Greek Finance Minister, announced that the country had a "political and moral duty" to make a deal with creditors. But he also said he thought it unlikely that a deal would be struck, but hoping that foundations should be laid. With real concerns around Grexit resurfacing, sentiment now (if it wasn't before) is that time is running out.
Greece still has a loan repayment due to the IMF totally €1.6bn, having rolled an earlier €300m payment into those due for 30 June. Greece needs a deal needs to be struck in order to release the next €7.2bn tranche of bailout money, from which this payment would be made. The central bank warned that the country could be on a "painful course" to default and exit from both the Eurozone and the EU, but happily accepted an additional EUR1.8bn when the ECB raised the ELA to EUR84.1bn.
Euro Finance ministers convene in Luxembourg this afternoon. No prizes for guessing what they'll be discussing. But what are your thoughts? Do you think a deal is looming, or is it more likely to end up looking like the plate of a 'rare' Steak Clubber last night – a veritable blood-bath!?

Global Comment
The main event yesterday was when the FOMC took centre stage. The market is looking at September as the earliest the Fed is likely to make a move, but there is still plenty of time (and data) between now and then, which may still shift current forecasts. The debate continues. After the slowdown in Q1, the data is showing Q2 growth is gathering enough strength to warrant a rate rise, but that came with the caveat that employment and inflation data still need to improve. Guidance surrounding the speed of any following rate increases was tempered, which caused a negative reaction to the USD. Traders sold off USD when they realised that their invites to the expected rate-rise party had been cancelled.
The euro surged against the dollar above 1.13 on Wednesday afternoon and this move has continued on the open today, driving through 1.14 as the market repositioned itself following forecasts of a more gradual increase in US interest rates.
On the calendar today, we will see inflation data, the weekly job claims and Philly Fed manufacturing data which should keep the market interested.

Morning mid-market rates – The majors
85% savings. Job Done. So, what is the secret sauce of the CurrencyTransfer.com marketplace?
CNBC described us as 'disrupting global money transfer'. Finally, you kiss goodbye to hidden fees.
How are we innovating?
Well, we are not an expensive bank costing you up to £1,500 on every £50,000 trade. Neither do you ever need to ring around multiple brokers and speak to sales guys. Pretty inaccurate way of shopping around. We help you maximise the value of each transfer. Quite simply, you are in control. Foreign exchange companies compete in a LIVE marketplace to win your business.
You win!
Got a question? We'd be delighted to help!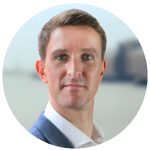 Paul Plewman
Director of Sales & Operations
t: +44 (0) 20 7096 1036
e: paul@currencytransfer.com