Daily Market Brief – 21st July 2015
BOE minutes could benefit Sterling
Quote of the day: "You miss 100% of the shots you never take"
July 21st: Highlights
Bank of England minutes could benefit Sterling
British Pound rallying against Swiss Franc
Greece repays totality of arrears
Aussie Down, RBA suggests weaker currency needed
Sterling Comment
Over the past few days, we've seen Sterling rally against the Euro to historical levels, breaking above 1.44 and finding new strength it hasn't seen for seven plus years. Now that Greece has been allocated it's emergency funds, focus will certainly shift back to both UK and Euro area data.
GBP/EUR is currently trading at 1.4386.
Cable dipped to a low of 1.5535 yesterday, but managed to recover a little ground, end slightly higher at 1.5555. Dollar demand remains strong, in-line with current interest rate expectations, but there is opportunity for the Bank of England Minutes to help break through 1.56 once again, when they are released on Wednesday.
It is likely that the MPC voted unanimously to keep rates on hold, due to uncertainties over inflation, Greece and China, which might be enough of a trigger to take profits following recent good run of form, especially against the Euro.
The British Pound is still rallying against the Swiss Franc, with the GBP/CHF pair now trading at over 1.50 levels. This is a large, round and psychologically important number.
On the calendar today we have the UK's Public Sector Net Borrowing, expected at £8.6 billion and it's worth keeping an eye out for Friday data, when July PMI's, expected to show a marginal decline.

Greece clears their tab
Greece is finally coughing up! Yesterday, the nation repaid the total sum outstanding to the IMF. Rice, a spokesman for the IMF commented, "The Fund stands ready to continue assisting Greece in its efforts to return to financial stability and growth". Tomorrow the Greek Parliament will meet and vote on further cuts and bouts of austerity.
The EUR 7bn bridging loan has also been used to pay off the ECB and for now, there seems to be a sense of calm across the markets, believing there is more control over the Greece situation now.
If you are a Euro buyer or seller, log on to compare live quotes at this volatile time OR get in touch with your Personal Currency Concierge. It pays to let us shop around for you.

Global Comment
The Euro held steady at three month lows against the US Dollar in today's early session. EUR/USD is trading at 1.0830. The market may not be so worried about Greece now, but the Eurozone isn't out of the woods yet. ECB President Mario Draghi reiterated his commitment to the QE programme, which is Euro-negative. The Euro is near a three-month low against the US dollar and may weaken further if Friday's Euro Zone PMI surveys disappoint.
Top Fed officials made comments which fueled further belief that US interest rates will be raised even as early as September Janet Yellen recently confirmed that she expected the US to raise interest rates this year and currently, markets are pricing in a 33% chance of a September rate hike.
Down Under, the Aussie Dollar fell in this morning early session following central bank comments hinting there is further room for downside for the currency. AUD/USD traded at 0.7360, down 0.14%. Good news for AUD buyers!
Once more there is little economic data to be concerned with today so we may see markets range-trading, with moves driven more by technical levels.

Morning mid-market rates – The majors
85% savings. Job Done. So, what is the secret sauce of the CurrencyTransfer.com marketplace?

CNBC described us as 'disrupting global money transfer'. Finally, you kiss goodbye to hidden fees.
How are we innovating?
Well, we are not an expensive bank costing you up to £1,500 on every £50,000 trade. Neither do you ever need to ring around multiple brokers and speak to sales guys. Pretty inaccurate way of shopping around. We help you maximise the value of each transfer. Quite simply, you are in control. Foreign exchange companies compete in a LIVE marketplace to win your business.
You win!
Got a question? We'd be delighted to help!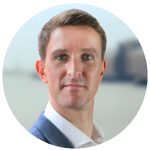 Paul Plewman
Director of Sales & Operations
t: +44 (0) 20 7096 1036
e: [email protected]