Dubai property market: time to buy?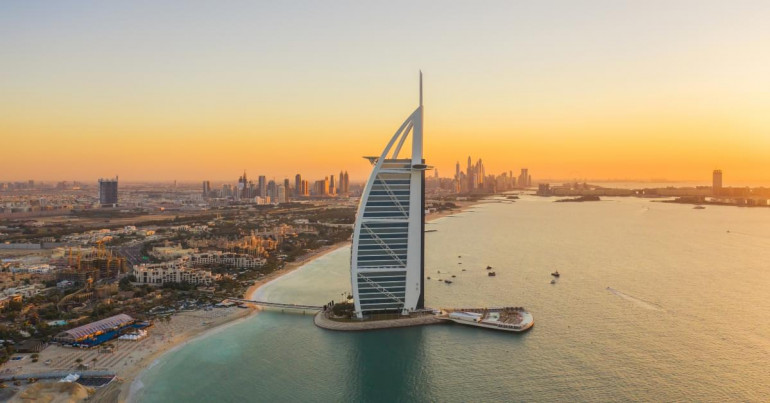 In the past few decades, Dubai has transformed itself from a local trading community into one of the most inspirational, exciting and successful cities in the world. Its progress continues to make global headlines and it is now an immensely attractive destination for tourists and businesses alike. 
The construction of a gigantic island in the shape of a palm tree in early 2000 marked the beginning of a new course for the country. The Palm Jumeirah was one of the first of these spectacular large-scale projects. Dubai's skyline, residential complexes and tourist attractions have been growing ever since. 
The demographics of Dubai are quite unique, due to the large proportion of foreign workers. The population is currently estimated to be 3.5 million according to government data. As of 2021, 3.2 million were expats, thanks to its lifestyle appeal and investment incentives. Tax-free economic policies and penalty-free repatriation of earnings have enormous benefits on both a personal and business level.
Foreign investors and expats can buy property in Dubai since 2002. Freehold ownership is only permitted in specific areas designated by the emirate. Luckily, these still include some of the most interesting development projects built specifically to cater to the international community.
With a large number of planned developments offering thousands of new opportunities in real estate, it's never been a better time to invest in property in Dubai. 

History of growth and foreign investment in Dubai
The story of Dubai's growth is one unprecedented global ambition. A centre for fishing and sea trade since the early 1800s, Dubai was already well positioned as the region's top trading port by the beginning of the 20th Century.
It attracted businessmen and visitors from around the world, creating a sizeable expatriate population, mirroring the Dubai of today.
When Dubai struck oil, it transformed the country forever. New revenue was used to fund massive infrastructure projects such as Jebel Ali Port and the expansion of Dubai International Airport.
Dubai's rapid transformation into the city we know today has been remarkably swift. During the 1990s and 2000s, the city grew at a relentless pace, with developments such as the famous Burj Al Arab (Dubai's most iconic hotel) and Burj Khalifa (the world's tallest building) which put it on the map.
In the last decade, Dubai has emerged as a major global tourism destination, as evidenced by the massive growth in numbers visiting the emirates from across the world. This has further promoted development in the city's hotel and hospitality sectors.
Dubai has set out ambitious growth plans for the next decade. Already one of the Middle East's top destinations for foreign investment, Dubai aims to become the world's most visited city by 2025.
New luxury properties in Dubai
Dubai Municipality issued more than 20,000 building permits, and planned another 40,000 routine inspections to be carried out over the year. 
Current property developments include a mixture of private villas, investment villas, general buildings, public and industrial establishments and various multi-storied buildings.
Below are some of the impressive structures currently being built that will fill the Dubai skyline by 2023.
The Heart of Europe
The Heart of Europe is a new artificial island project in Dubai with a new concept. Each of the 6 planned islands will feature architecture from different parts of Europe in extreme detail so as to be indistinguishable from the locals they draw inspiration from. 
Luxury hotels and resorts, as well as beach mansions and seaside villas will combine to create a world-class tourist destination, celebrating the best of European experiences and culture in Dubai. 
Meydan One 
Meydan One is an upcoming project which promises residential, commercial, and entertainment spaces.
The project includes the Meydan One Tower which is among the newest residential buildings in Dubai. Below, the hotly anticipated Meydan One Mall will have the longest indoor ski slope in the world. Meydan One will also feature the Luxury Plaza Hotel — a five-star hotel with a range of amenities and activities to keep visitors busy. 
The Meydan One was scheduled to open in 2020. However, some delays, mainly the COVID-19 pandemic, pushed the opening date towards the beginning of 2023.
Marsa Al Arab
Marsa Al Arab is a top mega project in Dubai. It will complete an oceanic trilogy for the Emirati group, following the wave-modelled Jumeirah Beach Hotel and the sailboat-inspired Burj Al Arab Jumeirah. 
The highly-awaited destination will include lavish residential villas, as well as sightseeing and entertainment activities. Marsa Al Arab will offer multiple berths for private yachts and stunning views of Dubai's most famous destinations. 
The marina caters to yacht owners that seek a lifestyle destination with direct access to the open sea.
How to buy property in Dubai as a foreigner
Dubai's residential market opened to foreigners in 2002, attracting many expat and overseas buyers since. Foreigners can purchase property in leasehold areas. These are often near the city centre, or in freehold areas, spread out across the emirate. 
The number of units available to foreigners has increased significantly over time with an abundance of apartments, villas and townhouses currently on sale. The process of buying is relatively straightforward. Foreign buyers only need a valid passport to begin the process. They do not require a resident visa.
Another perk of investing in Dubai properties is the provision of a residential visa to foreigners through property purchase. A purchase of at least AED 2 million will grant you a renewable 5-year 'Golden visa.'

Why non-Emiratis invest in Dubai's growing real estate market
With an average rental yield of 9.19% in 2021, Dubai scored higher than locations such as London and New York. As of 2022, there has yet to be any indication that these yields will slow down anytime soon. 
Dubai has incredibly low entry points yet high yield potential. It is no wonder why many call it the Jewel of the Middle East. Investors and property buyers can secure property in strategic locations, for far less than in most major cities.
If you'd like to begin your journey into the Dubai property market, sign up with CurrencyTransfer. You'll benefit from great exchange rates and excellent customer experience. 
Call us today, and our team will give you a free demo of our platform.
Matthew Swaile
Copywriter