Israeli real estate: are prices dropping in 2023?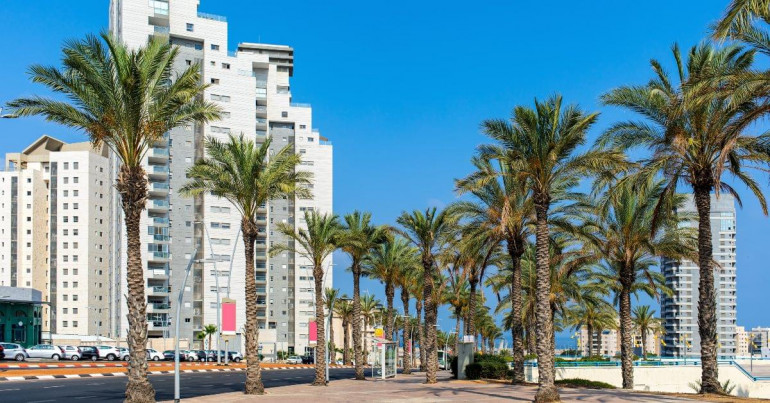 It's been a rollercoaster couple of years for Israeli real estate, with prices rising by a record 20% year-on-year. However, the latest indices indicate that the upward trend has slowly begun to reverse, with growth slowly dropping and then entering the negatives last quarter. Are fortunes changing for property buyers?

What's happening in the Israeli real estate market?
Just like in many other places around the world, Israel saw an unexpected explosion in house prices during the pandemic, as people looked for more space or took advantage of remote or hybrid working options to move to locations that would otherwise be too far from their offices.
Even as life returned to normal following the vaccine rollout, the housing market continued to soar. Records were broken in October of 2022, when the Central Bureau of Statistics reported that year-on-year house price growth had hit 20.3%.
Since then, however, we've seen the market begin to slow down in some ways. By December 2022, monthly price growth was only 0.1%. The most recent statistics show that the downward trend has continued, crossing into negative territory at -0.2%. Now, this represents only a small decrease compared to the shoot upwards in 2022; prices do not seem to be heading to pre-pandemic levels any time soon.
Why are property prices in Israel falling?
There is no single answer to what's causing this trend, but experts point to several key factors.
Rising interest rates: As real estate prices climbed to a historic high, salaries did not keep pace, rising at just 4%. Although inflation in Israel isn't as high as in much of Europe, the Bank of Israel has still been forced to increase interest rates – adding costs to those with mortgages.
Rise in construction starts: One of the previous government's policies to tackle rising costs was to attempt to improve the supply-demand ratio of housing by increasing building permits by over 15%. While many of these won't be yet available, it may put downward pressure on current prices as owners sell before the market is busier.
Demand for outdoor space: While less statistically verifiable, many real estate specialists locally cite a greater demand for more space, particularly outdoor space, as a key driver for buyers, meaning would-be purchasers are less interested in the apartments that make up 67% of the country's housing stock.
Who is buying in Israel?
One of the notable elements of the Israeli real estate market is the prominence of investors, both domestic and international.
Among Israeli residents, housing is often seen as one of the less risky possible assets in which to store capital. The most recent data, supplied to media outlet Globes by the Israel Tax Authority, shows over one in eight households owns two or more properties. In fact, the Ministry of Finance has recently revealed that even among subsidised apartments, 36% were bought by buyers who did not then occupy them.
Since 1969, Israeli law has also allowed foreign residents to purchase land and property in the country. Estimates say around 5% of housing stock is owned by landlords based overseas, for reasons ranging from investment income to family ties and/or frequent visits.
What are the taxes on buying a home in Israel from abroad?
Israel levies a purchase tax on anyone buying property, with the figures set annually. If you're an Israeli resident, you'll pay no tax for up to NIS 1,919,155 of the purchase price, and then a sliding scale from 3.5% up to 10% on anything over NIS 19,575,755.
If you're buying from abroad and not becoming an Israeli resident, then you're taxed at the same rate as an additional homeowner domestically. This means that there's no tax-free threshold, but rather you pay 8% for up to NIS 5,872,725 of the purchase price and then 10% for anything over.
Note that if you come to Israel by making Aliyah under the Law of Return and you purchase a property to occupy yourself, you will pay a special lower rate of between 0.5-5% of the price.

Where are popular areas to buy real estate in Israel?
For a small country, Israel boasts quite a number of property hotspots with easy access to the city and beach lifestyle.
Herzliya Pituach, Herzliya
The coastal city of Herzliya is among the wealthiest in the country, with its economy buoyed by the presence of one of the tech clusters of the so-called Silicon Wadi, Israel's answer to Silicon Valley. Buyers flock in particular to Herzliya Pituach, a luxury beachfront neighbourhood largely comprising modern villas. From here, it's a short hop to numerous beaches, the Herzliya Marina and the Arena Shopping Mall.
Park Bavli, Tel Aviv
One of Tel Aviv's most upscale developments, Park Bavli consists of high-rise luxury apartments with easy access to both green space and the hustle and bustle of city living. About 48% of the homes have gone to families, and 10% of owners are from overseas. Unlike many older luxury developments, even from ten years ago, Park Bavli is designed with modern mixed-usage principles, connecting it to a vibrant neighbourhood – and helping to attract buyers from previous Tel Aviv hotspots like Park Tzameret.
Ramat Gan, Tel Aviv District
Immediately to the east of Tel Aviv proper, Ramat Gan is one of the country's economic powerhouses. The skyline of the famous Diamond Exchange District is marked by modern high-rise hotels, offices and apartments – testimony to the city's success as a centre of the Israeli tech industry. However, it's not all glass and concrete, as the city has a rule that 25% of its space must be greenery; Ramat Gan National Park, for instance, is the second-largest urban park nationwide.
Along with areas like Ra'anana, Ramat Gan is a convenient option for English speakers to settle, with a sizeable European- and American-origin population.
Preparing to invest in Israeli real estate from overseas
It has undeniably been an interesting two years for the property market in Israel, but there are signs that prices are coming down. With new construction permits on the rise and development continuing apace, there may be opportunities for savvy buyers in some hotspots. However, in these volatile times, it's crucial to protect your investment right from the start – especially by safeguarding your money against the vagaries of the FX markets.
If you're buying in Israel in a foreign currency such as dollars, euros or pounds, you may well be transferring significant sums to Israeli shekels. Before you do so, find out how to put in place simple risk strategies to protect the value of your savings from the open market.
Alexander Fordham
Alexander is a writer specialising in foreign exchange and overseas property, with seven years' experience helping people to purchase abroad and send money safely, including hosting seminars on the topics around the UK. You can find him out hiking, travelling and working from Spain in the sunnier months.