Forward Contracts & Currency Hedging
We live in unprecedented and unpredictable times. From Brexit to Donald Trump, up to 25% swings in the currency markets can have a tremendous impact on your company balance sheet.
Lock in a rate that fits your budget using a forward contract.
Forward Contract: A Definition
A forward contract is a 'buy now, pay later' currency contract, and is the most popular way for companies to hedge their foreign exchange exposures. Your company agrees to buy one currency in exchange for another at a specified future date, at an exchange rate agreed upon today.
Case Study: Brexit Blues
COMPANY A
Doesn't Hedge against Currency RISK
Company A didn't like the idea of forward contracts. Like many smaller businesses, they preferred to buy currency whenever their invoice fell due. Partly because 'that's how we've always done it' and partly due to cashflow. When a currency salesman had suggested forward contracts before, they didn't like the idea of getting locked in to the rate and locked out of any positive market movements. Then Brexit happened and overnight added 15% to the cost of all their outstanding invoices. Suffice to say, Company A use forward contracts now.
COMPANY B
Uses a Forward Contract and opts for currency hedging
The price of any overseas order changes minute by minute. By booking a forward contract, Smarter Ltd can remove this currency risk and secure the cost of their future stock purchases. By 'playing it safe', and booking against company budgeted levels, forward contracts help protect company exposures. It is the reason why in 2016, 85% of currency-buyers were hedged before the referendum.
Set currency management policy
Leverage our deep experience and insights, we'll learn about you and your business.


Secure your rate
Log onto dashboard. Lock in a live rate and book a currency contract, at the agreed forward rate for anywhere up to 24 months in advance.


Pay your deposit
A deposit is required by our payments partners on the marketplace upon booking your forward contract and / or at a further stage prior to the maturity date of your forward contract.
When to use a forward contract?
Buying or selling assets
Repatriating foreign profits
Planning your emigration
Overseas property investment
Why currency hedging?
Limits market impacts
Make strategic currency trades
Creates a safety net
Set company budgets
Plan and forecast
Peace of mind
5 Key CFO / CEO Tips To Reduce Foreign Exchange Exposures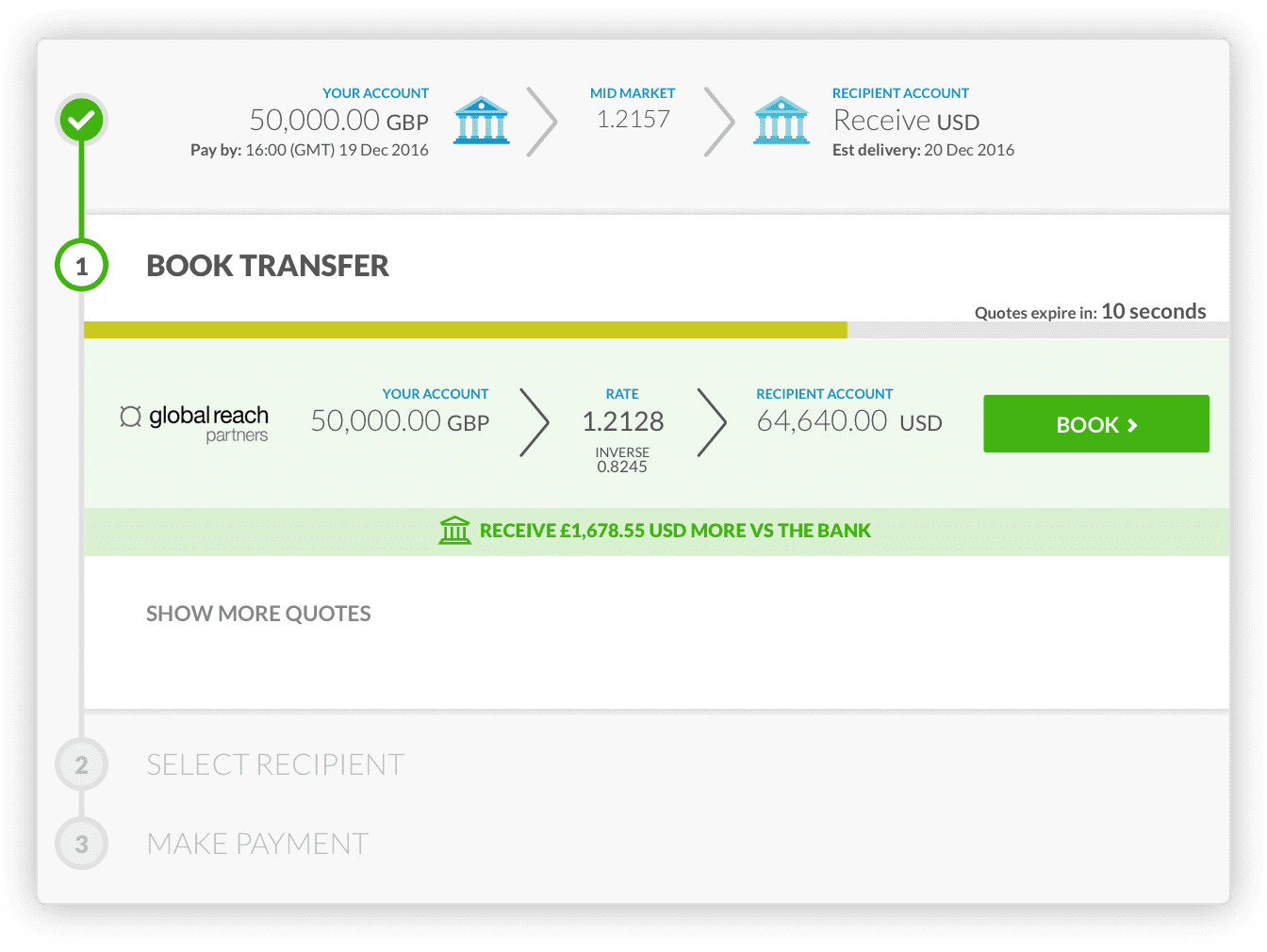 Don't be at the mercy of currency markets if you don't have to be. Build a spreadsheet on what you can naturally hedge via expenses and revenues
Document your likely assets and liabilities across your international operations.
Engage all relevant stakeholders when policy setting; from divisional heads to the board
Focus on your core business, engage with a proactive currency partner to build a hedging strategy. You'll take away the hassle of micro-managing exchange rate fluctuations.
Execute plan and frequently evaluate your currency hedging and risk management policy.
Introducing energy, insights and expertise
We'd love to introduce you to your Business Relationship Manager. Get in touch for a 30 minute complimentary 'Exposure Analysis.' We'll explain how forward contracts could benefit your company.
contact : +44 (0) 20 7096 1036
email:
[email protected]