Market Orders & Currency Risk Management
The foreign exchange markets can be dramatic. Market orders are a perfect currency risk management tool for growing SME's, Mini-Multinationals & High Net Worth Individuals
Market Orders: A Definition
If you or your business would like to target an international payment rate that isn't achievable yet, our market order service can help. It's a perfect execution tool for clients who want to automatically execute a currency purchase when your target level is reached, with total peace of mind. There are two types of market orders offered on our global payments marketplace:
Limit order
Set your target exchange rate, 24 hours a day, 5 days a week. Once your target rate is reached, a currency contract will automatically complete. This type of currency risk management contract ensures you don't miss out on a great exchange rate, while out at a board meeting or with your family.
Stop loss order
A stop loss order allows you to protect your currency purchasing budget and limit adverse impacts for your tradable currency pairing. You set a target rate below the current market exchange rate. This is your 'safety net' and the trade will automatically book on our marketplace when your 'stop loss' level is hit.
One cancels the other (OCO)
You can set up a stop loss and limit order together. This product is designed to target a favourable exchange rate above current market levels, whilst at the same time, should adverse currency fluctuations take place, ensure you don't lose out. As soon as either your stop loss order or limit order hits, the other is instanteously cancelled. You can cancel the order at any time, so long as the agreed exchange rate hasn't been hit.
Case Study: Brexit Blues
COMPANY A
Forgets to set a bookable alert
Forgets to set a bookable alert
When we first transferred money to an overseas supplier, we knew we were exposing ourselves to currency fluctuations. But as a busy CFO, doing the international payment runs were very time consuming and I simply got to it when I could. It cost us thousands and dented our bottom line.
COMPANY B
Hits his desired exchange rate
We quickly realised that as our payment volumes increased, our risks increased. I needed a more managed approach to my business foreign exchange. If our target rates hits while I am asleep or at a departmental meeting, I know the trade will be booked. It's a relief to find a technology partner who is reliable, saves me time, gets to know my business and can help protect our profit margins.
Market Orders: A Definition
Get verified
To set up a market order, limit order or stop loss, you'll need to get set up with a live account.


Forecasting & Target Setting
Together with your Business Relationship Manager, we can discuss target exchange rates with proactive guidance, forecasting and market analysis. This is the stage where we plan ahead


Set Market Order
Log onto your trade dashboard. Place your currency transfer instruction in advance, committing to buying foreign currency when your currency pair hits your targeted rate. The rate and time periods can be agreed up front. Sit back and go back to work.


Trade booked
The international payment will be automatically booked when either your limit order or stop loss order is achieved. You've taken a proactive approach to currency risk management!
When to use a market order?
Save time and money
Targets favourable rates
Creates a safety net
Controls FX purchasing
Align to company budgets
Why currency risk management?
Manage market volatility
Decisions based on strategy
Involves all stakeholders
Set Aligns to company budget
Forecast international expenses
Gives peace of mind
5 Key CFO / CEO Tips To Reduce Foreign Exchange Exposures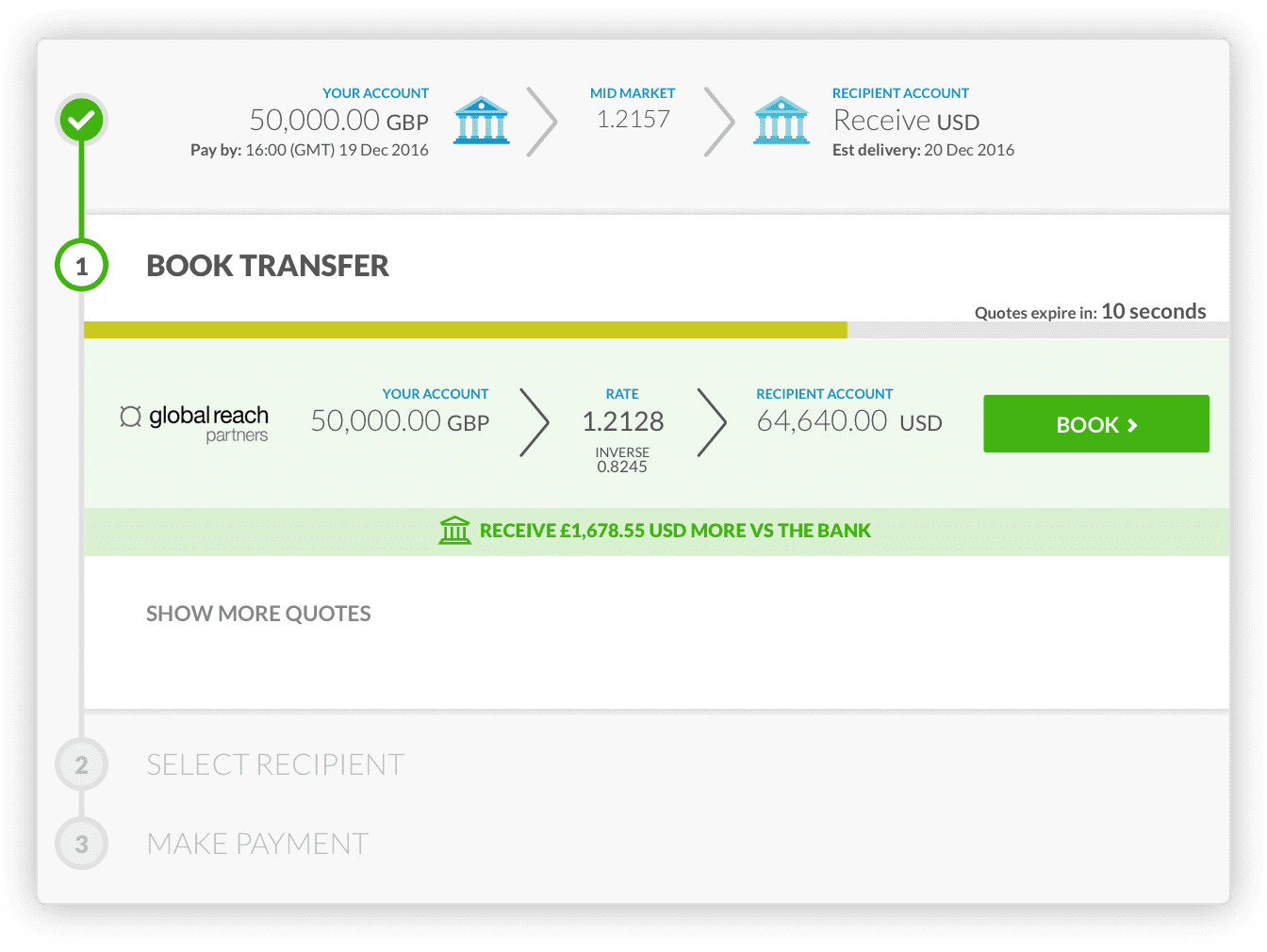 Always try to identify natural offsets in your exposures. This will protect your company from currency risks. If your company is exposed to Euros and Dollars, it can offset any adverse currency volatility.
Currency risk is a growing concern for CFO's. Many don't actively manage their exposures. Understand how currency fluctuations affect your business.
Analyse the past year and your currency flows. This is the best starting approach to preparing a foreign exchange calendar to help build your currency risk management strategy.
Calculating your production costs, and setting a desired profit margin will enable you to settle on a target exchange rate. This can help nurture your strategy throughout the year.
Keep up to speed with market movements and consider this day in day out. Leverage technology to automate and digitise your currency risk management. FX specialists can help bring competitive advantage to your business.
Tap into 20+ Years experience. Insights, Energy, Solutions.
We'd love to introduce you to your Business Relationship Manager. Get in touch for a 30 minute complimentary 'Exposure Analysis.' We'll explain how forward contracts could benefit your company.
contact: +44 (0) 20 7096 1036
email: info@currencytransfer.com