Managing carbon emissions: A 'how to' guide for international business travellers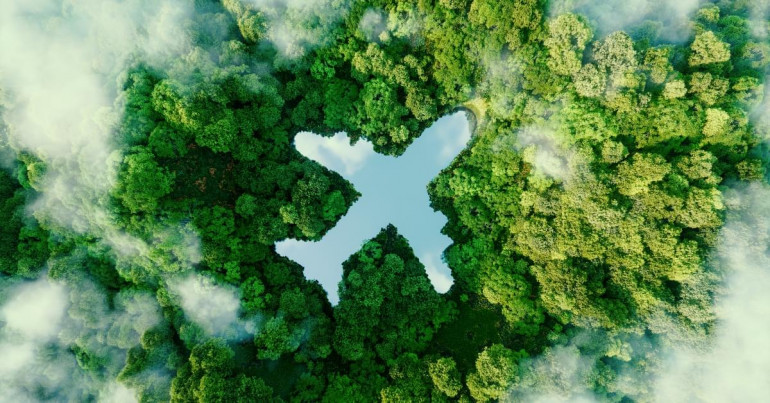 Sustainability is an area which companies are focusing more of their resources towards by embracing eco-friendly business practices. With international travel growing in demand, companies are looking at ways to manage their carbon emissions. In this article, we will be discussing how companies can reduce their carbon footprint and be more environmentally friendly.

How to reduce your environmental impact caused by business travel
Calculate your carbon footprint
One of the major areas which can help to reduce carbon emissions is essentially aiming to lower your carbon footprint. There are various ways to reduce your carbon footprint which are environmentally friendly. These include scheduling virtual meetings in addition to alternative modes of transport for short flights.
Virtual meetings provide an alternative to face to face meetings, resulting in lower travel emissions. Travelling by train or bus can be up to 90% more carbon efficient than travel by plane.
It's possible to calculate your carbon footprint using the my2050 calculator or my carbon calculator. This data can enable employees to reduce their carbon emissions when travelling and determine what the contributing factors are.
Choose low-emission airlines
Considering the high amount of CO2 generated by flying, there is still a choice to reduce our carbon footprint. A great way to put this into practice is by listing the airlines that serve the routes your employees usually fly and create a list of the most carbon-friendly ones. Additionally, some criteria which can be used to identify carbon-friendly airlines are:
The amount of CO2 generated by a specific flight and airline. You can find access to this information by using travel booking platforms such as TravelPerk.
If the airline offers the possibility to offset your carbon footprint.
If the airline has a sustainability policy, which usually can be found on their website or you can enquire via email.
Airlines who have notably invested into greater sustainability and put forward a climate plan in 2022 include KLM Royal Dutch Airlines and Alaska Airlines, according to leafscore. Furthermore, these measures are a good starting point for choosing low-emission airlines whilst travelling abroad.
Utilising responsible travel management programmes
Managing a business travel programme that supports sustainable travel can be a challenge. Companies need to incentivise employees to travel green or simply provide this option for frequent business flyers. An increasing number of companies are adopting green business travel programs. This has the positive effect of taking the environment into consideration and laying out actions needed to achieve sustainable travel.
When creating a green business travel program, analysing your carbon footprint and using the data to set emissions reduction targets is the best way to start. Based on this data, it's possible to set clear goals and layout the measures to achieve them. This includes incentives and restrictions for employees to commit to following them. Additionally, businesses should define how progress will be monitored and measured, as well as appointing a group or individual to be responsible for it.
Promoting the plan among employees and educating them on the subject is also key to making sure the green travel program is followed.
How to educate and involve your employees on environmental targets
Educating your staff on your company initiatives as well as targets surrounding lowering carbon emissions is key. Being able to effectively communicate how staff can get involved increases the chances of reaching your overall target. Furthermore, there are also many methods of reducing carbon footprint by using alternative transportation.
Reducing or even stopping flights that travel a short distance and replacing them with more cost-effective travel methods, such as rail travel, can save your business time and expense. It can be quicker to take the train over a short distance, since they run more frequently and there's less need for an individual to arrive at a train station hours in advance. It's also possible to work just as effectively on a train as it is on a plane. Therefore, employee productivity can be maintained and downtime reduced.
How to lower carbon emissions
Organisations that rely on business travel management have enrolled in carbon offsetting initiatives. This essentially allows businesses to invest in green projects which offset the environmental impact of business travel. Whilst there are examples of successful offsetting schemes, they are often difficult to manage internally and can present complex challenges for organisations.
An obstacle for businesses in engaging with carbon offsetting is the administrative difficulty with tracking carbon emissions across all of their business travel. Whilst there are plenty of tools and websites which allow you to easily calculate CO2 emissions and report them, this can be difficult in larger organisations with multiple business travellers.
Essentially Corporate Responsibility is how companies measure and control their impact in society. It can also refer to any effort to improve a company's eco-friendliness or carbon footprint.
As a result, businesses can contribute towards the green economy which aims for sustainable environmental actions and efficient use of resources.

How to become more sustainable
Sustainability has become increasingly relevant and is based on companies' commitment to protect natural resources, reduce CO2 emissions and make a positive impact with eco-friendly measures. Consulting companies and commercial banks have recently shown to be proactive in attempting to reduce emissions.
A new ranking of corporate air travel reveals that there is work underway to reduce emissions by businesses. Eight companies, including Zurich Insurance Group, Fidelity International and Ernst & Young have ranked high for their corporate travel emissions reduction plans.
Zurich Insurance Group has pledged to reduce business travel by 70% by 2022. Fidelity International is aiming to reduce by 50% by 2024 and Ernst & Young by 35% by 2025. These ambitious targets ensure companies are being held accountable for their collective carbon footprint. More importantly, it creates positive change within businesses which enables them to proactively reduce travel emissions.
Use CurrencyTransfer for your international money transfers
Companies are contributing greater resources to managing their carbon emissions for international business travel. For companies who are investing into sustainable initiatives, finding efficient ways to pay for environmental initiatives is key.
Using CurrencyTransfer enables you to make international business transactions in a convenient and cost-effective way.
Our dedicated relationship managers can provide expert advice and support during the payment process. Feel free to contact us if you have any questions as we are always happy to assist.