5 Great holiday home destinations in Portugal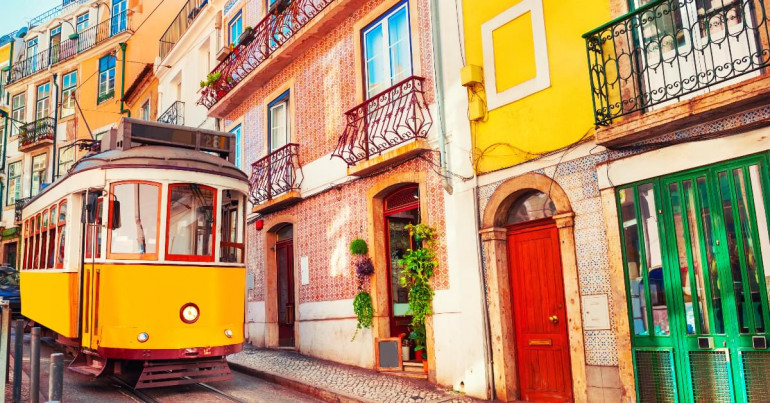 Portugal is a great destination for a holiday home, thanks to good weather, fantastic beaches, great food and a diverse culture. If you're looking to purchase a holiday home in Portugal, read on. In our latest article you will learn what to consider before purchasing a holiday home and discover our top 5 cities in Portugal.
What to consider when purchasing a holiday home in Portugal
Purchasing a holiday home abroad can be an exciting yet challenging process. There are numerous factors that need to be considered before placing a deposit or purchasing a property outright. These include, choosing the right location, property budget and affordability and your preferred type of property. We discuss what needs to be considered in further detail below.
Choosing the right location
Portugal's towns and cities have different qualities which make them unique. Big cities such as Lisbon and Porto provide an array of attractions and entertainment. This can can be great for couples as well as young professionals. Nonetheless, for families, choosing a location which is slightly outside the city centre would likely be a better option. This is due to there being greater choice of houses which provide greater space around more greenery in the suburban areas.
Other location considerations when purchasing a holiday home in Portugal is what is around the surrounding area. Being located around the sunburn areas would mean it could be necessary to have to travel 10-15 minutes by car for food and other necessities. Depending on your lifestyle preferences, you might prefer being in an apartment or complex where restaurants, gyms and grocery stores are in close proximity.
Following an increase in new construction in the cities and the coastal areas along with Algarve in particular, you'll be able to find both older properties and new-build condos in Portugal.
Financial budget
Portugal has an array of different holiday homes suited to your individual needs and budgets. If you're thinking of buying a property in Portugal, the price you pay will be influenced significantly by where you want to live. Lisbon, Porto and the Algarve coastal areas are the most popular places for expats looking to settle in Portugal. As a result, these areas in particular will be priced higher than the average property in Portugal.
In 2022, the average price for purchasing a house in Algarve is €2,237/m2. In Lisbon, the average property price is €1,986/m2, making Algarve and Lisbon the two most expensive areas in Portugal. Alternatively, Madeira and Porto offer cheaper housing options. Average housing prices in Madeira is €1,586/m2 and Porto's average house is priced at €1,555/m2.
Additionally, there has been a sharp rise in prices due to increased demand over the past 6 years. This is shown by property prices in the Algarve increasing by 50% between 2016 & 2020. Nonetheless, Portugal offers an area of properties listed at affordable prices outside mainland Portugal, in places such as Braga and Madeira.
Type of property
The type of property you choose will impact how you spend both your time and money in Portugal. Finding the right holiday home in Portugal will be impacted by personal preference and circumstances. Additionally, choosing between a house, villa or apartment will be influenced by whether the home would be an investment property or simply a holiday house to stay in.
Portugal offers a wide choice of apartments, houses with the option of also purchasing land if you want to build your dream home in Portugal yourself. Naturally, there are more flats available in built up areas and cities, with houses and villas more readily available in newer developments in the suburbs, as well as towns.
Our top 5 cities to buy a holiday home in Portugal

1. Lisbon
The Portuguese capital is well known for its restaurants, nightlife and culture. Lisbon is one of the biggest tourist destinations in Portugal for expats and caters to people of all ages.  Lisbon is now a prime location for digital nomads and young entrepreneurs. It is a high-tech hub, with plenty of work, even for non-Portuguese speakers.
Lisbon features a range of bars and restaurants, as well as museums and galleries, providing great entertainment and activity options. In addition, Lisbon is a great city for shopping, with a mix of local and flea markets, antique stalls, shopping malls, as well as high-end brands.
The cost of living in Lisbon is higher than in Porto and Algarve as a result of higher property prices. Rent for an apartment with three bedrooms in the city centre will cost on average €1,700 per month in Lisbon compared to about €1,200 in Faro (Algarve's main town) or Porto for example.

2. Algarve
The Algarve has traditionally been the most popular area of Portugal for holiday homeowners and expats, with plenty to see and do. Known for its great beaches and coastline as well as fresh seafood, the Algarve caters for all tastes.
Many foreigners who choose to invest or buy property in Portugal have a preference to the Algarve. Algarve is one of the top places in Portugal to purchase property or own real estate. This could be either as an investment or for residence purposes. In the Algarve, there is plenty of choice for properties ranging from apartments with sea views to luxury houses.

3. Porto
Porto holds a unique mix of history and urbanism. The property market is showing promising growth. Porto is both a touristic and a commercial hub, which is why it's considered a great place to invest.
Porto is a prime city break destination and potentially an investment opportunity for those who want to rent out their property. An alternative option is to live in Porto's metropolitan area, yet choose a small town on the outskirts of the city, where property has greater variety and prices are more affordable.

4. Cascais
Cascais is located west of thriving Lisbon. It combines the convenience of living near a large city with the comfort of a smaller town. The capital is just 40 minutes away by road and rail. The ocean is also close, with a choice of vibrant town beaches and surfing spots.
Many international residents have relocated to Cascais, an area of Portugal that's been popular with overseas guests for many years. Cascais area, including Bairro do Rosário offer a great range of shops, cafes and easy access to nearby schools. These more traditional areas are very convenient and the price of homes usually start around €150,000.

5. Madeira
Funchal is the largest city and capital of Madeira. It's known for its culture and long seafaring history. Madeira has a good property market and currently is the second fastest growing area in Portugal, behind Lisbon. There are a range of properties for sale on the islands. These range from small quintas, large country houses, modern villas and many stylish apartments. The majority of foreign buyers that decide to purchase a home in Madeira tend to be looking towards retirement and relocation. Additionally, many others are seeking a quality holiday home.
How to get a Portugal Golden Visa
One of the reasons Portugal is such an attractive place for foreign buyers is its Golden Visa program . If you buy a property in Portugal worth at least €500,000, you could be entitled to a Golden Visa. You could also opt for a low-density area and get your minimum purchase lowered to €280,000. Portuguese golden visa holders receive a temporary residence permit for one year. Subsequent visa renewals last for two-year periods. After five years, golden visa holders can be granted permanent residence status in Portugal.
Any non-EU/EEA/Swiss national can apply for the Portugal Golden Visa. In order to be applicable, applicants must make at least one investment such as a property purchase. This can either be made as an individual, business entity in Portugal or another EU member state.
However, there have been recent changes to the golden visa scheme. As a result, residential properties in Lisbon, Porto and coastal towns of the mainland are no longer included.
Making a property offer and contractual agreements
Once you've found a property for sale you'd like to make an offer on, it's a good option to hire an independent solicitor, especially if you're not a fluent Portuguese speaker. Your solicitor can take charge of verifying contractual information. Furthermore, they would be able to arrange a house survey to check the overall condition of the property.
As with many European countries, you must employ a notary by law. A notary differs from your independent solicitor, since they're essentially a middleman for the property transaction. You can find a notary either locally or through directories such as the European Directory of Notaries.
Once your offer is accepted and signed, both parties are then legally obliged to finalise the transaction. At this point, you pay your deposit and arrange a completion date, before paying IMT ( property transfer tax ). Finally, the Deed of Purchase and Sale is signed and the property is registered in your name.
What are the legal requirements to buying a property in Portugal?
One of the most important legal requirements for buying property in Portugal is to use a notary.The notary takes the responsibility for checking the Land Registry and Inland Revenue to make sure the property can be legally sold and check for any restrictions on its use. You'll then sign the contracts with the seller, witnessed by the notary.
Additionally, it's necessary to pay tax on your property purchase. The main cost is IMT transfer tax, which is scaled according to the purchase price of the property. However, it wouldn't be necessary to pay IMT on the first €92,407 if the property will be your main residence.
CurrencyTransfer can help with your Portugal property purchase
Exchange rate fluctuations can have an effect on house mortgage prices, resulting in the price of your holiday home in Portugal to increase or decrease unpredictably. We recommend thinking ahead and planning for your international money transfers in advance.
Therefore, it pays dividends to use a forward contract to send international property payments. A forward contract enables you to secure a fixed exchange rate for sending international money transfers, up to 12 months in advance. This ultimately removes the uncertainty due to market movements, allowing you to manage your budget more effectively.
Our dedicated relationship management team can help to answer any questions you may have. Sign up today in order to receive a convenient and transparent service for your payment transfer needs.