Spain's digital nomad visa is finally available: here's how it works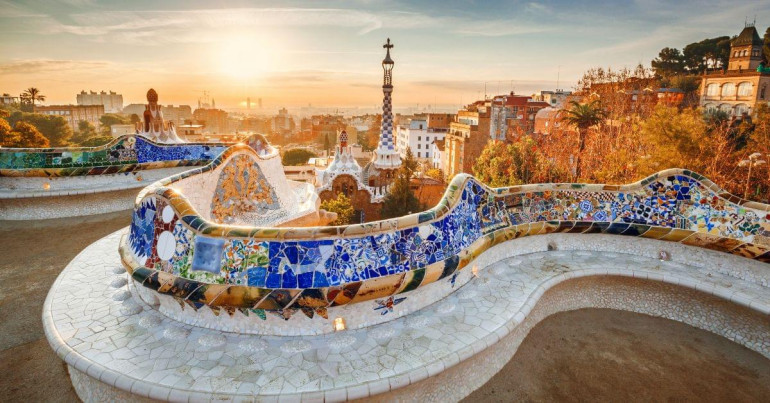 After a long period of speculation, Spain's digital nomad visa has finally passed into law, opening another avenue for remote workers looking for their next destination. If you're tempted by a move to (sunnier!) pastures new, don't miss our round-up of how this latest program will work.

A simple way for remote workers to gain residency
Last week we discussed some of the world's most popular golden visas as ways to gain residency through investment in property or other assets, including in Spain. However, if you're looking to move to the country through a work-based route, you now have another option.
The Spanish digital nomad visa targets those who are looking to live in the country but work remotely, perhaps without the intention of settling there for longer than a few years – hence the title of 'digital nomads'.
Previously, you would have needed a job offer from a Spanish or Spain-based company to apply for a working visa. Instead, you can now take your existing role from overseas and continue working at it.
Eligibility requirements for Spain's digital nomad visa
Fortunately, the list of qualifications for acceptable candidates is quite small. According to the text of the law, currently only published in Spanish, the requirements are:
You must hold only non-EU citizenship
Your income must be 200% of the minimum wage, so earning around €25,000 in March 2023
At least 80% of your income must come from non-Spanish sources
You can be either employed or self-employed
You must have evidence of having worked with either your employer or clients for at least three months prior
The business you work for – whether your employer's or your own – must have been operational for one year prior
You must have either appropriate university-level qualifications for your job or have three years' work experience
For most workers, these requirements will be quite easy to satisfy, making the digital nomad visa quite a simple option compared to gaining work sponsorship.
Ways to apply in Spain and abroad
You can apply for your visa either in Spain or while still abroad.
If you want to do it from Spain, you can enter on a 90-day tourist visa and then apply to change to a digital nomad visa. You should then receive a temporary residency card, valid for three years, which you can renew for another two years.
If you're outside Spain and start the process at your local consulate, you'll be given a one-year visa at first. This will then be transferred to a three-year residency card, as above.
In both cases, once you've lived in Spain as a temporary resident for five years, you can apply for permanent residency. However, you can only stay outside Spain for at most a year out of the five years to qualify for a permanent residency visa.
Tax benefits for digital nomads in Spain
As if the new visa weren't good enough news on its own, there are also tax benefits attached to it. The text of the law states that you can register your income as non-resident revenue. This means that for your first four years of residency, if you earn under €600,000, you will pay a flat tax rate of just 15%. Once that period is up, you will pay a flat tax rate of 24% on anything up to €600,000. The upper rate of 47% will kick in above that sum.
Your spouse and children under 25 may also be eligible for the same tax regime.
Under normal rules, you would be subject to progressive tax bands that would climb to a maximum of almost 50% in some regions.
Rules may differ for assets like UK property; find out in our dedicated article on paying tax abroad.
Keeping your status if you change jobs
Normally, on work sponsorship visas, changing jobs can be dicey with regards to residency. With Spain's digital nomad visa, there is no official guidance as yet. However, it appears likely that changing jobs will not impact your profile once you have transferred your visa to a residency card, as long as your new job also meets non-Spanish and income requirements. It is always worth taking legal advice and consulting with your consulate in such cases, as you may well still need to complete some paperwork to register the change.

Top lifestyle and tech hubs for digital nomads in Spain
Spain is already well established on the digital nomad scene, particularly among EU citizens who enjoy freedom of movement. But where are some of the most popular locations?
Barcelona
Spain's top tech hub has over 2,000 startups in its ecosystem and has been ranked the first non-capital tech city in the world by Savills. Although with a higher cost of living than most of Spain, the networking opportunities and infrastructure are second-to-none. Add to that the cultural offerings and the combination of the city and beach lifestyle and we're certainly onto a winner!
Valencian Community
The Valencian Community, in particular its major cities of Valencia itself and Alicante, has been slowly creeping up the rankings as a hotspot for tech entrepreneurship. It has the most startups per capita of anywhere in Spain, while the city of Valencia has set up its own hub at La Marina. For digital nomads, almost year-round sun and a low cost of living provide further attractive draws.
Bilbao
Bilbao made its name first in industry and then in arts, as the home of the Guggenheim Museum, but this constantly evolving city is now making waves in the digital industry. It ranks as number one for innovation nationally and is the third most popular region for foreign investment. If you're not such a sunseeker but the thought of proximity to the Pyrenees, delicious food and a bustling city culture grab your attention, this might be the location for you.
Starting a new life in Spain
For many digital workers outside the EU, the introduction of Spain's digital nomad visa means it's never been easier to start a new life in Spain. If you're planning to do so in 2023 or beyond, don't miss our expert insight into how to safely move abroad – including protecting your finances. The exchange markets are volatile, but there are simple ways to ring-fence your money. Find out more about how to give yourself peace of mind and a locked-in exchange rate in our introduction to forward contracts.
Alexander Fordham
Alexander is a writer specialising in foreign exchange and overseas property, with seven years' experience helping people to purchase abroad and send money safely, including hosting seminars on the topics around the UK. You can find him out hiking, travelling and working from Spain in the sunnier months.