Daily Market Brief – 3rd June 2015
Finally a Greek resolution?
Your quote of the day: "Aim to be celebrated, not just tolerated."
June 3rd: Highlights
Aussie GDP beats forecasts
UK/EU PMI services mixed
ECB Rate decision
US ADP employment change
US ISM Non-manufacturing
Sterling Comment
A mixed day for sterling yesterday saw the currency reverse its recent losses suffered against the US dollar, ending the day at the highest level since last week. However GBP posted losses against the euro for the fifth day running.
The IMF report that the UK can afford to live with its high debt burden "forever", suggesting that some countries, Britain included, can afford to live with high debt piles because borrowing costs are low and there is enough of a cushion to withstand adverse changes in wider market conditions.
Overnight the BRC reported retail prices fell 1.9% in the last 12mths, due to supermarket price wars and lower costs of fresh produce. Retail prices like this will add to the lower inflation outlook, adding support to those believing there will be no UK interest rate movement any time soon.

Greece
The Dollar lost ground yesterday as rumours spread of an acceptable deal on the table that Greece would sign. It seems that 'buy rumour/sell fact' drove the market because reports this morning suggest Greek ministers are heading to the meeting with a deal proposal of their own. Again. This time it includes 'concessions that will be difficult' though. We'll see.

Global Comment
The Euro hit a 2-week high against the USD on the reaction to the Greece deal and a positive CPI reading from the Eurozone. Consumer prices rose for the first time since November. This comes ahead of the ECB meeting today.
The Eurozone will be the main focus today with the ECB rate decision and press conference. No change is expected, so the press conference will be scrutinized for clues on their views of the economic performance and the effectiveness of QE. Mario Draghi will probably receive questions on Greece and will want to be optimistic over Europe, but not to the point that he drives the single currency higher. A fine balance to strike.
Thailand announced the fifth consecutive month of deflation, which caused the THB to lose just under 1% against GBP yesterday.
Following rate cuts in January and March, the Reserve Bank of India cut interest rates by a further 0.25% to 7.25%.
Today, we saw Aussie GDP beat expectations pushing AUD higher across the board. Service PMI readings from the UK & Europe were fairly uneventful (slightly better for UK, slightly worse for EU) and we'll get the full-house when the US follows this afternoon.
Morning mid-market rates – The majors
85% savings. Job Done. So, what is the secret sauce of the CurrencyTransfer.com marketplace?
CNBC described us as 'disrupting global money transfer'. Finally, you kiss goodbye to hidden fees.
How are we innovating?
Well, we are not an expensive bank costing you up to £1,500 on every £50,000 trade. Neither do you ever need to ring around multiple brokers and speak to sales guys. Pretty inaccurate way of shopping around. We help you maximise the value of each transfer. Quite simply, you are in control. Foreign exchange companies compete in a LIVE marketplace to win your business.
You win!
Got a question? We'd be delighted to help!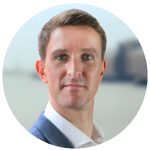 Paul Plewman
Director of Sales & Operations
t: +44 (0) 20 7096 1036
e: paul@currencytransfer.com