Daily Market Brief – 8th June 2015
CBI on British Economy: "solid, steady and sustainable"
Your quote of the day: "Flowers grow out of dark moments" Corita Kent
June 8th: Highlights
CBI on British Economy: "solid, steady and sustainable"
Greece told to strike deal or face dramatic consequences
USD 13 year highs against Japanese Yen
NZD/USD still close to 4.5 year trough
Sterling Comment
Sterling slipped to 1.3660 this morning against the Euro following the release of German Industrial Production data, which posted a 0.9% increase in for the month and 1.4% on the year, comfortably beating forecasts.
Some commentators, looking at the medium term, are calling the pair may down towards the 1.30 mark, citing negative UK inflation and slower growth than the Bank of England had forecast to justify their calls. However, the CBI believes the 0.3% Q1 growth (slowest since 2012) was a blip, saying that the British economy is "solid, steady and sustainable" with companies reportedly more upbeat than official economic data is showing. CBI forecasts Q2 growth at 0.8% and 2.4% this year.
GBP/USD is trading around the 1.5250 mark. The pair was trading last week between highs of 1.5438 and lows of 1.5175, ending the week with fresh USD-strength following strong Non-Farm Payroll data on Friday. Data confirmed 280,000 jobs were added in May, far ahead of a forecasted 220,000.

Greece
Greece has been told by the President of the European Parliament to either strike a deal of face dramatic consequences. Creditors are fast running out of patience, with time running out to find common ground.
The Greek Finance Minister, Mr. Varoufakis compared Greece's plight to post-war Germany. He commented, "As I write these lines, the Greek government is presenting the European Union with a set of proposals for deep reforms, debt management, and an investment plan to kick-start the economy. Greece is indeed ready and willing to enter into a compact with Europe that will eliminate the deformities that caused it to be the first domino to fall in 2010."

Global Comment
Friday's Non-farm Payrolls report surprised the market on Friday and drove the USD higher. Confirmation that 280,000 jobs were added in May (exceeding forecasts of 220,000) adds fuel to the fire for an early rate hike in the US. The possibility of an October, or even September, rate hike are once again being discussed and reflected in residual USD-strength this morning.
As a result of the strong US Jobs report, USD remained broadly higher against the other main currencies on Monday. Over 280,000 jobs were added in May, far ahead of a forecasted 220,000. The USD rose to 13-year highs of 125.84 against Japanese on Friday.
Quiet day of data today, but news from the G7 meeting might cause a reaction, and any fresh developments from Greece
The Kiwi Dollar strengthened against the Greenback in today's early session, but remained in touching distance of Friday's four and a half year trough. Positive employment data emerging from the US continued to support investor demand for the greenback.
Morning mid-market rates – The majors
85% savings. Job Done. So, what is the secret sauce of the CurrencyTransfer.com marketplace?
CNBC described us as 'disrupting global money transfer'. Finally, you kiss goodbye to hidden fees.
How are we innovating?
Well, we are not an expensive bank costing you up to £1,500 on every £50,000 trade. Neither do you ever need to ring around multiple brokers and speak to sales guys. Pretty inaccurate way of shopping around. We help you maximise the value of each transfer. Quite simply, you are in control. Foreign exchange companies compete in a LIVE marketplace to win your business.
You win!
Got a question? We'd be delighted to help!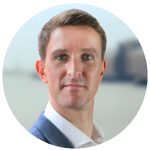 Paul Plewman
Director of Sales & Operations
t: +44 (0) 20 7096 1036
e: paul@currencytransfer.com