Daily Market Brief – 8 March 2016
Carney on Brexit
Quote of the day: "Time flies, but you're the pilot!"
March 8th: Highlights
BOE Gov Carney testifies to Treasury Select Committee
UK Retail Sales fall short
MPC Member Weale Speaks
Once again, not a wild day on the data-front, which will give the market plenty of time to review what Governor Carney thinks about "The economic and financial costs and benefits of UK's EU membership" or, in basic terms, should we stay or should we go? When you consider that, officially, Carney is obliged not to reveal his personal opinion on Brexit, we might experience a few delicately worded answers as the Committee press him to reveal his own standing, especially as this minefield has already cost the head of the British Chambers of Commerce his job!
UK Retail Sales posted +0.1% (down from +2.6% last month). Yesterday, the BoE announced that they could provide billions in emergency support, after a "Leave" vote, if the market needed it. Current odds show 1/3 for "Stay" and 5/2 for "Leave".
Considering your next transfer? Log in to compare live quotes today.
This week's ECB meeting on Thursday is widely expected to deliver further stimulus measures. As before, in Q4, the key consideration is how much and in what form – the Euro benefitted on the last decision as the additional measures were less than expected. Germany released Industrial Production figures this morning, which were positive at +3.3% (Vs 0.6% expected).
China released Trade Balance data. The Chinese slowdown continues to affect the worldwide economies of trading partner nations and concerns surround the future demand levels from China.
Brent crude managed to advance up to $40 in the afternoon session. The Fed's Fischer commented that he feels that inflation will move closer to the 2% level when we see the oil price stabilise. So with no end in sight for the oversupply, inflation may remain lower for longer, pushing considerations for the next Fed rate move as far back as June.
Morning mid-market rates – The majors
85% savings. Job Done. So, what is the secret sauce of the CurrencyTransfer.com marketplace?

CNBC described us as 'disrupting global money transfer'. Finally, you kiss goodbye to hidden fees.
How are we innovating?
Well, we are not an expensive bank costing you up to £1,500 on every £50,000 trade. Neither do you ever need to ring around multiple brokers and speak to sales guys. Pretty inaccurate way of shopping around. We help you maximise the value of each transfer. Quite simply, you are in control. Foreign exchange companies compete in a LIVE marketplace to win your business.
You win!
Got a question? We'd be delighted to help!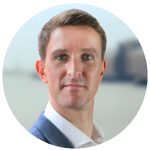 Paul Plewman
Director of Sales & Operations
t: +44 (0) 20 7096 1036
e: paul@currencytransfer.com