Daily Market Brief – 10 February 2016
Volatility risk ahead when Yellen meets Congress
Quote of the day: "Don't wait for your ship to come in, swim out to it!"
February 10th: Highlights
BoE warns of asset price intervention
UK Trade Balance -£9.9bn
UK Manufacturing & Industiral Production data
Fed Yellen Testifies to Congress
The UK trade deficit was released yesterday at -£9.9bn (Vs. £10.4bn forecast). Financial Services were confirmed as the biggest export at £50.7bn, but the conditions have been challenged by falling prices, especially for oil. The British Chamber of Commerce reacted to this data by claiming more still needed to be done to help small business export. If only there was an online Platform that could help small businesses with their currency transfers….!
According to BoE officials, the bank may take action if the credit growth rate exceeds GDP growth. Growth of debt compared to economic growth can provide a key indicator of impending risks to financial stability, so this could lead to stricter rules to mortgage lending to cool credit growth. Action like this would mean there was less need for the MPC to raise UK interest rates. With the inflation level (0.1%) being so far below the BoE target (2%), it may mean the MPC can delegate policy decisions for controlling asset price bubbles to the Financial Policy Committee.
On the calendar today, we have UK Manufacturing and Industrial production due this morning.
Considering your next transfer? Log in to compare live quotes today.
Janet Yellen is scheduled to testify to Congress at 3pm today. The timing is a little delicate, because equity markets are down, down, down, falling for the third straight day yesterday and many European Banks have lost more than 4% in value. More on that below. But what should Yellen do? The challenge is to strike the right balance – be optimistic, without being too hawkish and be cautious, without being too dovish. Get this balance wrong, by sounding too negative, and she could easily add to the current sell-off. If that is not enough, another ingredient to throw into the mix is the timing of the March rate hike. For the full house and maximum points, Yellen will need to simultaneously take the March hike off the table. Chance of increased volatility is high. Game on, Janet!
In Europe, there are growing concerns that the banking sector is under-capitalised and credit conditions are more challenging. Earlier this week, concerns were raised over the Deutsche Bank's ability to make the bond payment that falls due in April. The bank claimed they have EUR1bn of payment capacity, which will cover the coupons due, but Deutsche Bank shares sold off again yesterday, to a record low. The open letter to investors, assuring them of 'sufficient' capital reserves, did little to prop up the stock and nor did a rare intervention from German Fin Min yesterday, when he said he had 'no concerns' about the bank. The market memory was probably case back to similar assurances coming from the banking sector before the credit crunch, so we'll have to keep a close eye on this to see how things play out.
Morning mid-market rates – The majors
85% savings. Job Done. So, what is the secret sauce of the CurrencyTransfer.com marketplace?

CNBC described us as 'disrupting global money transfer'. Finally, you kiss goodbye to hidden fees.
How are we innovating?
Well, we are not an expensive bank costing you up to £1,500 on every £50,000 trade. Neither do you ever need to ring around multiple brokers and speak to sales guys. Pretty inaccurate way of shopping around. We help you maximise the value of each transfer. Quite simply, you are in control. Foreign exchange companies compete in a LIVE marketplace to win your business.
You win!
Got a question? We'd be delighted to help!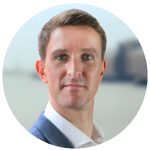 Paul Plewman
Director of Sales & Operations
t: +44 (0) 20 7096 1036
e: paul@currencytransfer.com