Daily Market Brief – 14th July 2015
Britain face £1bn bill for Greek tragedy
Quote of the day: "There are no secrets to success. It is the result of preparation, hard work and learning from failure."
July 14th: Highlights
Euro tumbles after Greek bailout deal
Euro volatility continues
EU demands Britain join Greece rescue fund
Osborne to 'fiercely resist' UK contribution
Aussie Dollar rises on upbeat business confidence data
Sterling Comment
Fears still remain over the long term risk that Greece will leave the Euro and the markets are a touch more cautious again. As a result, we're seeing continued volatility with GBP/EUR approaching the 1.41 level again this morning before pulling back and heading back towards 1.40. Alexis Tsipras, the Greek premier, buckled to German demands for a brutal package of austerity measures in return for yet another bailout, worth in excess of 86 billion euros, but there is still much to be done. The deal needs to be passed by parliament by Wednesday, which is expected to garner sufficient opposition support to succeed, but might cost Tsipras his leadership. We are far from finished
Christopher Vecchio, currency analyst at DailyFX eloquently puts it, "Any solution given to Greece in the short-term would be like bringing a car to the mechanic and only getting the fluids and tires changed when in reality the entire transmission needs to replaced,"
The focus this morning will be UK inflation reading due. This will be followed by the Inflation Report where BOE Governor and several MPC members testify on inflation and the economic outlook before Parliament's Treasury Committee. Even this will be scrutinised by the market for clues about the timing of the first rate hike in the UK
GBP/USD is trading at 1.5466.

Britain could face £1bn bill for Greek tragedy
Nigel Farage of UKIP is no doubt building strong ammunition with the news Britain face astronomical exposures of close to £1 billion of emergency loans to Greece. It is being reported that Jean-Claude Juncker has shredded a "black and white" deal to protect UK taxpayers from Eurozone bailouts. Mr Osborne rang colleagues to say the plan was a "non-starter" but he could be outvoted today at a meeting in Brussels.
If you are a Euro buyer or seller, log on to compare live quotes at this volatile time OR get in touch with your Personal Currency Concierge. It pays to let us shop around for you.

Global Comment
Whilst initially news of an agreement pushed the Euro higher, nearing $1.12, sentiment has shifted. We have traded as low as $1.0980 this morning already, but we're currently around $1.1025. According to Craig Erlam, Senior Currency Analyst at Oanda, "Fundamentally, what's moving euro/dollar is an accommodative central bank in the European Central Bank and a hawkish central bank in the Federal Reserve".
Fed Chairwoman Janet Yellen reiterated once again that she expects a rate hike will be needed this year. Higher interest rates in the US are expected to benefit the US Dollar as they offer better returns on dollar denominated deposits.
China finally showed signs of improvement overnight. Trade data showed exports back into positive territory.
The Aussie Dollar was trading higher against the US Dollar earlier this morning, largely down to strong business confidence data from Australia. AUD/USD hit 0.7432 during late Asian trade, a session high, with the pair subsequently consolidating at 0.7430, gaining 0.32%. GBP/AUD is trading back at 2.0817, down from yesterday's highs of 2.10 AUD to the British Pound.

Morning mid-market rates – The majors
85% savings. Job Done. So, what is the secret sauce of the CurrencyTransfer.com marketplace?

CNBC described us as 'disrupting global money transfer'. Finally, you kiss goodbye to hidden fees.
How are we innovating?
Well, we are not an expensive bank costing you up to £1,500 on every £50,000 trade. Neither do you ever need to ring around multiple brokers and speak to sales guys. Pretty inaccurate way of shopping around. We help you maximise the value of each transfer. Quite simply, you are in control. Foreign exchange companies compete in a LIVE marketplace to win your business.
You win!
Got a question? We'd be delighted to help!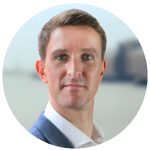 Paul Plewman
Director of Sales & Operations
t: +44 (0) 20 7096 1036
e: paul@currencytransfer.com