Daily Market Brief – 16 December 2015
Finally it's Fed decision day
Quote of the day: "Be stubborn about your goals, but flexible about your methods."
December 16th: Highlights
Fed rate decision – 0.25% increase expected
UK Retail Sales
Philly Fed Manufacturing Index
US Unemployment Claims
Everything on the agenda today will be overshadowed and largely ignored ahead of the Fed rate decision at 7pm this evening. UK employment data is forecast to show UK wages rising at a slower rate in October, which could weigh on the pound.
UK inflation is back in black, confirmed by ONS figures showing inflation rose to 0.1% in November, putting inflation in positive territory for the first time since July.
Further, the Bank of England has released data to support their belief that UK households are well placed to handle an increase in interest rates. If rates increased by 2%, with no change in household income, then the number of mortgages that would need 'some kind of action' is now at fresh lows. The BoE rate has been at a record low of 0.5% since March 2009 and some Bank official have expressed concerns that households and businesses may not be prepared for their eventual rise.
But today, all this is largely moot. Everyone's focus is on the Fed at 7pm.
If you are considering your next transfer, log in to compare live quotes today.
Global Highlights
The Fed is widely expected to raise rates tonight for the first time since June 2006. Current surveys show about an 80% probability of a rate hike this evening, which is where the Fed has guided market expectation. It's not impossible for them to decide against market expectation (as they did in September) but to do so would risk damaging the credibility of any future guidance. But, for what it's worth, US annual inflation, measured by year-on-year change in the CPI, jumped to 0.5% in November (up from 0.2% in Oct).
So, it's pretty safe to assume the rate will move today. Aside from a little volatility creeping in as the market gets a little nervous ahead of the meeting, the main risk horizon will be around the pace of future rate movements. Expectation is for Yellen to strike a fairly dovish tone in her supporting statement, to provide a little 'wiggle room' for future decisions, which could be important when close to 60% of fund managers surveyed recently expect at least three rate hikes in the next 12mths. However, the Fed will want to buy some time to determine the reaction to any rate hike, having seen some central banks make a rate move but then need reverse their move as it came too early. Again, they will be conscious of credibility risk here.
But how will this impact the USD. Logic would suggest higher interest rates deliver a better yield and the USD should strengthen, but history presents a different view. June 2004-2006 saw rates rise from 2%-5.25% but the USD lost 2% against GBP and 5% against EUR. Much of the USD strength leading up to this point has been fuelled by the anticipation of higher interest rates – since June the USD has gained 11% against GBP and 21% against EUR – so will the reality lead the market to plough further into the USD? Perhaps not. Perhaps we are currently witnessing the USD high and it will be downhill for the USD from this point.

Morning mid-market rates – The majors
85% savings. Job Done. So, what is the secret sauce of the CurrencyTransfer.com marketplace?

CNBC described us as 'disrupting global money transfer'. Finally, you kiss goodbye to hidden fees.
How are we innovating?
Well, we are not an expensive bank costing you up to £1,500 on every £50,000 trade. Neither do you ever need to ring around multiple brokers and speak to sales guys. Pretty inaccurate way of shopping around. We help you maximise the value of each transfer. Quite simply, you are in control. Foreign exchange companies compete in a LIVE marketplace to win your business.
You win!
Got a question? We'd be delighted to help!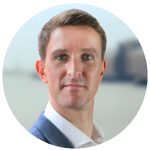 Paul Plewman
Director of Sales & Operations
t: +44 (0) 20 7096 1036
e: paul@currencytransfer.com