Daily Market Brief – 18th May 2015
Hello. Here is your market brief
Your quote of the day: "The pain of defeat sometimes has to be endured to enjoy the thrill of success"
May 18th: Highlights
Sterling post-election momentum cools
GBP/EUR trading in 1.376 region
Strong sterling not handicapping UK exports
USD trading lower following poor data release
Germany turning up heat for Greece reforms
Sterling Comment
Both GBP/EUR and GBP/USD closed out last week slightly off the recent highs. The momentum built from the UK general election result ran out of steam and we saw a little profit-taking before the weekend. GBP/EUR opens up this week in the 1.3765 region. GBP/USD is trading in the 1.5665 region.
Property figures released from Rightmove showed a -0.1% month-on-month slide in house price values in May and an overall 2.5% annual figure. The drop has been put down to pre-election fears of a Labour victory and the introduction of the 'Mansion Tax'. This will be overshadowed by tomorrow's release of the UK consumer price Index. We'll bring you all the news and reaction as it happens.
As an interesting side-note, typically, when Sterling is strong, UK produced goods and services become more expensive to overseas buyers and naturally demand drops accordingly. However, a survey just released by the BCC (British Chamber of Commerce) showed that 46% of manufacturers actually saw a greater number of exports in the first quarter of this year. This is in contrast to only 36% in the final quarter of 2014.
Greece Comment
Athens is under increasing pressure to introduce the reforms demanded by their creditors as a vehicle for securing funding. The latest to stick his boot in is German Economy Minister Sigmar Gabriel who fired a stern warning to Greece in an interview, claiming a third aid package would not be forthcoming until the Greeks made some serious changes.
The nation is fast running out of cash, with talks at a deadlock over demands to implement reforms including pension cuts and labour market liberalisation. Gabriel comments, "A third aid package for Athens is only possible if the reforms are implemented. We can't simply send money there," he told the paper.
Rumours are mounting now that even if Greece pulled all available funds together, they would struggle to meet their next payment demands. Time might just be running out and they may have to yield and consider reforms on some areas previously classed as 'red line' points.

Global Comment
The greenback ended last week lower against the euro and the Japanese Yen following a new batch of poor U.S. economic data underlined expectations that the Federal will hold off on jacking up interest rates until the economy is on a more stable grounding. Surprisingly, US industrial production fell for yet another, fifth straight month in a row. Last Friday, we saw Euro end at three month highs against the US Dollar, up 0.35% to 1.1448 in late trade. EUR/USD is currently trading back at 1.1380. Some dovish Fed officials are calling for the interest rate rise to be pushed back until 2016, citing insufficient inflationary pressures, and the market continues to be very data-dependent and reactionary.
The Aussie Dollar fell in today's morning session following comments from a central bank deputy governor and weak house price data in China cast a bearish tone. AUD/USD traded at 0.8024, down 0.17%. Data coming out of China showed house prices for April year-on-year fell 6.1%. As a result, this news was detrimental to Australian dollar performance as China is one of the best export destinations for Australian commodities.

Morning mid-market rates – The majors


GBP > USD


=
1.5675


GBP > EUR


=
1.3768


EUR > USD


=
1.1385


EUR > GBP


=
0.7263
85% savings. Job Done. So, what is the secret sauce of the CurrencyTransfer.com marketplace?

CNBC described us as 'disrupting global money transfer'. Finally, you kiss goodbye to hidden fees.
How are we innovating?
Well, we are not an expensive bank costing you up to £1,500 on every £50,000 trade. Neither do you ever need to ring around multiple brokers and speak to sales guys. Pretty inaccurate way of shopping around. We help you maximise the value of each transfer. Quite simply, you are in control. Foreign exchange companies compete in a LIVE marketplace to win your business.
You win!
Got a question? We'd be delighted to help!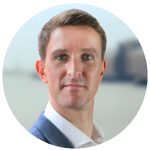 Paul Plewman
Director of Sales & Operations
t: +44 (0) 20 7096 1036
e: paul@currencytransfer.com