Daily Market Brief – 19th June 2015
Hold on to your haloumi…!
Quote of the day: "May the best of your todays be the worst of your tomorrows"
June 18th: Highlights
Positive UK Retail Sales
US CPI data +0.4%
Positive Philly Fed Index data
Greece continues to make waves
Sterling Comment
Yesterday's retail sales data beat forecasts, despite posting a slowdown in growth from April, rising 4.6%. This helped Sterling hold on to gains made after Wednesday's positive earnings data and as this is an inflationary indicator, the data adds to the debate surrounding the UK rate hike. UK public sector borrowing also decreased £2.2 billion against the last financial year.
Sterling strengthened further against the euro and seems to have found support over 1.40.
Cable also strengthened on the back of the data, but the rates pulled back a little in the afternoon session. Currently GBP/USD is around 1.5850.

Greece
And so it goes on… Market volatility continues to be fuelled by Greece and the speculation (and fear) surrounding the debate of will they/won't they default. Rumours of a possible Greek deal circulated late in yesterday's trade, but the meeting ended with no agreement. Again.
IMF boss Christine Lagarde said there is 'no period of grace' over the debt repayment deadline. And that Greece would be in default it did not make the €1.6bn payment due at the end of the month.
More than €2bn of 'capital flight' has now been reported. There is an understandable appetite to get private funds out of the Greek banks. Hopefully not overlooking the benefit of comparing rates when transferring funds to other currencies, but these are desperate times. If only there was a neat little platform where they could aggregate prices from a number of regulated currency firms…!
But more seriously, with default becoming more prominent, an emergency meeting has been called for Monday as it sounds like there is a strong chance that the Greek banks may not have sufficient funds to operate next week. The ECB may have to look at ELA limits again, but at what point will the central bank draw the line and stop throwing good money after bad?
One solution that is being proposed (by Greece) is for the European Stability Mechanism to be employed. The ESM could cover the Greek repayments and then Greece would work out a manageable repayment scheme to pay back the bailout fund. Sounds a little like that Ocean Finance advert, but where the debt consolidation is at an international level. If this route gains any traction, let's hope they check the APR before signing.

Global Comment
The main event yesterday was when the FOMC took centre stage. The market is looking at September as the earliest the Fed is likely to There was fairly positive US data when the Philly Fed Manufacturing Index beat forecasts and CPI data posted the largest monthly increase in more than two years (0.4%). Today, the US will post initial jobless claims but little reaction is expected outside of the Greek saga, which is causing a lot of tension in the market today.

Morning mid-market rates – The majors
85% savings. Job Done. So, what is the secret sauce of the CurrencyTransfer.com marketplace?

CNBC described us as 'disrupting global money transfer'. Finally, you kiss goodbye to hidden fees.
How are we innovating?
Well, we are not an expensive bank costing you up to £1,500 on every £50,000 trade. Neither do you ever need to ring around multiple brokers and speak to sales guys. Pretty inaccurate way of shopping around. We help you maximise the value of each transfer. Quite simply, you are in control. Foreign exchange companies compete in a LIVE marketplace to win your business.
You win!
Got a question? We'd be delighted to help!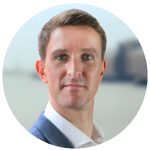 Paul Plewman
Director of Sales & Operations
t: +44 (0) 20 7096 1036
e: paul@currencytransfer.com