Daily Market Brief – 21st Apr 2015
Hello. Here is your market brief
Quote of the Day: "Obsessed is a word the lazy use to describe the dedicated."
April 21th: Currency Markets Highlights
Urgent cash call in Greece
Euro slides against GBP
UK election uncertainty drags on GBP/USD
Aussie Dollar declines against USD
Sterling Comment
The pound rose against the euro on Monday, helped by robust British house price data and growing concerns about the risk of Greece leaving the euro zone driving flow into sterling assets. More on the urgent Greece situation below. GBPEUR is currently trading close to 1.3940.
UK election uncertainty and fresh demand for USD is renewing pressure on GBPUSD, which dropped to fresh session lows in the European morning, currently trading around 1.4875.
With increased volatility in the markets, feel free to reach out to your Personal Currency Concierge today to discuss any requirements you have pending, or log into our dealing platform for LIVE, bookable exchange rate quotes.
Global Overview
EUR/USD has moved to reflect renewed USD strength and continuing EUR weakness and is currently trading around 1.0670. In the last 24 hours, we've seen a cash call in Greece. In layman's terms; Greece is desperately running out of cash, so all regional cities and state bodies have been ordered to place their cash reserves in the country's central bank.
Athens is no closer to reaching an agreement with its Eurozone partners and the International Monetary Fund over economic reforms required to access remaining bailout funds. There is a suggestions that Greece could potentially miss a payment to the IM with little short-term consequence. However, there is one certainty; if Greece defaults on any of it Government debts (bonds, rather than loans) then they could be forced out of the Eurozone.
Investors are looking ahead to the ZEW report on German economic sentiment later in the day after last month's reading showed an improvement.
Elsewhere, the Australian dollar declined against its U.S. counterpart on Tuesday, after the minutes of the Reserve Bank of Australia suggested a possible rate cut in the near future and as the greenback remained broadly supported. AUDUSD hit 0.7683 during late Asian trade, the pair's lowest since April 16; the pair subsequently consolidated at 0.7695, sliding 0.38%.
Morning mid-market rates – The majors


GBP > USD


–
1.4864


GBP > EUR


–
1.3935


EUR > USD


–
1.0666


EUR > GBP


–
0.7177
85% savings. Job Done. So, what is the secret sauce of the CurrencyTransfer.com marketplace?

CNBC described us as 'disrupting global money transfer'. Finally, you kiss goodbye to hidden fees.
How are we innovating?
Well, we are not an expensive bank costing you up to £1,500 on every £50,000 trade. Neither do you ever need to ring around multiple brokers and speak to sales guys. Pretty inaccurate way of shopping around. We help you maximise the value of each transfer. Quite simply, you are in control. Foreign exchange companies compete in a LIVE marketplace to win your business.
You win!
Got a question? We'd be delighted to help!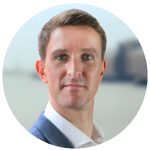 Paul Plewman
Director of Sales & Operations
t: +44 (0) 20 7096 1036
e: paul@currencytransfer.com