Daily Market Brief – 22nd Apr 2015
Hello. Here is your market brief
Quote of the Day: "If it ain't fun, don't do it"
April 22nd: Currency Markets Highlights
Sterling holds two day gains against Euro
YouGov calling election 'unbelievably tight'
ECB call for tighter rules for Greek banks
CPI rises 0.2% in Australia
Sterling Comment
Sterling has held on to gains made against the Euro in a week that has been light on data so far. The BOE minutes, from the April meeting, are released later today though and while officials voted to keep interest rates at a record-low 0.5 percent for a 73rd month. Expectations are for another unanimous decision to keep rates on hold, but the minutes will be scrutinised for clues of any change to this stance. Currently, we see GBP/EUR trading around 1.3934.
Expectations are for increased volatility in GBP exchange rates in the run up to May 7 General election. YouGov Chief Executive Stephan Shakespeare is calling it 'unbelievably tight' with a risk of the first minority administration since the 1970's. Right now, a Tory minority is the bookie's favourite outcome. Sterling was drifted lower across the day yesterday, only to see USD lose ground at the close. Still fairly non-eventful, trading within the recent range, we see Cable open around 1.4960 this morning.
With increased volatility in the markets, feel free to reach out to your Personal Currency Concierge today to discuss any requirements you have pending, or log into our dealing platform for LIVE, bookable exchange rate quotes.
Greece
With so many column inches, we feel Greece deserves its own section in our report. Sentiment on the Euro remains fragile as Athens is no nearer striking an agreement on economic reforms. The cash call suggests that Greece is not preparing for life outside of the Euro – if it were, then holding a few billion Euros would be a nice cash-pile once the Drachma is reintroduced at a significant devaluation. Meanwhile, the European Central Bank is considering tighter rules on Greek banks in return for emergency liquidity, questioning the quality of the assets held as collateral. Naturally, this adds further pressure on Athens and the saga continues.
Global Overview
Overnight, the dollar was little changed against a basket of other major currencies in quiet trade on Tuesday, as the greenback continued to recover from the previous week's disappointing U.S. data. Strength is still derived from speculation surrounding a possible early interest rate hike from the Fed, but this sentiment can swing with every data release.
The Australian dollar posted gains after consumer prices came out in line with expectations. Australia's first quarter CPI rose 0.2%, in line with expectations along with the annual pace of a gain of 1.3%, which helped the Aussie Dollar kick on higher to around 1.9220 against GBP.
Despite a sharp swing to a surplus in Japan's trade balance in March, the yen remained fairly flat against the USD around 119.60.

Morning mid-market rates – The majors


GBP > USD


–
1.5046


GBP > EUR


–
1.3934


EUR > USD


–
1.0798


EUR > GBP


–
0.7176
85% savings. Job Done. So, what is the secret sauce of the CurrencyTransfer.com marketplace?

CNBC described us as 'disrupting global money transfer'. Finally, you kiss goodbye to hidden fees.
How are we innovating?
Well, we are not an expensive bank costing you up to £1,500 on every £50,000 trade. Neither do you ever need to ring around multiple brokers and speak to sales guys. Pretty inaccurate way of shopping around. We help you maximise the value of each transfer. Quite simply, you are in control. Foreign exchange companies compete in a LIVE marketplace to win your business.
You win!
Got a question? We'd be delighted to help!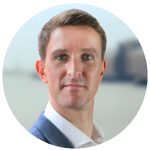 Paul Plewman
Director of Sales & Operations
t: +44 (0) 20 7096 1036
e: paul@currencytransfer.com