Daily Market Brief – 23rd July 2015
BoE shift is Pound positive
Quote of the day: "The only place success comes before work is in the dictionary"
Morning mid-market rates – The majors
July 23rd: Highlights
BoE minutes show 9-0 vote for no change
US Existing Home Sales beat forecasts
NZ cut interest rates again
Greek MP's approve bailout reforms
UK retail sales could impact GBP exchange rates
Sterling Comment
The release of the Bank of England minutes helped push Sterling higher yesterday morning. Although the vote showed no change, there was an apparent shift in tone, which is exactly what the market was looking for. Concerns were raised that inflationary pressures are rising and there were comments suggesting that if Greece was excluded from their decision, the decision is becoming 'more finely balanced' now. There were also efforts to talk down the value of the Pound, citing ''The committee discussed how to weigh these contrasting movements. The loosening in credit conditions would have supported domestic demand. But the appreciation of the exchange rate could have an adverse impact on the balance of growth in the economy and had occurred despite the large current account deficit". For now, we've still not seen any vote for an increase, but I'm sure the Hawks will soon change that in the coming meetings.
GBP/EUR is currently trading around 1.4250 and GBP/USD is around 1.5655. Analysts suggest that Cable could spring back to $1.60 levels if a rate hike kicks in as early as November, but until one central bank makes the first move, the rates are likely to remain range-bound.
Today, we have UK mortgage approvals due, but the main focus will be Retail Sales data, which will provide a timely update and add a little more clarity to the inflationary pressures cited in the minutes – consumer spending makes up a large proportion of GDP.

Greece
Greece has taken a crucial step towards a bailout after its parliament passed a second set of reforms. The passage of the measures means that negotiations on an €86bn European Union bailout can begin. The reforms include changes to Greek banking and an overhaul of the judiciary system. It is likely that the Creditors will visit Athens soon, to keep an eye on how these reforms will be implemented – keen to ensure all the measures are acted on appropriately.
If you are a Euro buyer or seller, log on to compare live quotes at this volatile time OR get in touch with your Personal Currency Concierge. It pays to let us shop around for you.

Global Comment
The US received a boost yesterday with the release of Existing Home Sales, which beat forecasts and hit an 8-year high. Such positivity adds weight to the interest rate debate, which is dollar-positive. Today, the market will keep an eye on US Chicago Fed Index and US Jobless claims but it will be more interesting to see if this momentum runs through to next week, when we see Q2 GDP and unemployment data, both of which are key data points within the rate debate. EUR/USD dropped to lows of 1.0875
Overnight, the RBNZ cut interest rates by 0.25% for the second meeting on the trot, putting NZ rates at 3%. The bank's comments that followed included suggestion they felt currency depreciation will be providing support to both import and export sectors, which is positive news domestically.

85% savings. Job Done. So, what is the secret sauce of the CurrencyTransfer.com marketplace?

CNBC described us as 'disrupting global money transfer'. Finally, you kiss goodbye to hidden fees.
How are we innovating?
Well, we are not an expensive bank costing you up to £1,500 on every £50,000 trade. Neither do you ever need to ring around multiple brokers and speak to sales guys. Pretty inaccurate way of shopping around. We help you maximise the value of each transfer. Quite simply, you are in control. Foreign exchange companies compete in a LIVE marketplace to win your business.
You win!
Got a question? We'd be delighted to help!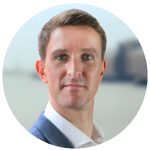 Paul Plewman
Director of Sales & Operations
t: +44 (0) 20 7096 1036
e: [email protected]