Daily Market Brief – 26 April 2016
Brexit balance moves Sterling higher
Quote of the day: "Success is liking yourself, liking what you do, and liking how you do it"
April 26th: Highlights
Sterling starts the week moving higher
EUR drifts with little data
FOMC meeting remains main market focus
The "Obama effect" continued into the beginning of this week, as Sterling pushed higher against USD (1.4520) and EUR (1.2890). The bookmakers have now moved the odds to massively favour the UK staying in the EU. The Pound was also helped by CBI industrial expectations, which to +1 (up from -2).
On the open, Sterling has pushed higher again to EUR1.29 and USD1.4535.
Considering your next transfer? Log in to compare live quotes today.
In the Eurozone, yesterday kicked off with the German IFO data falling short of expectations but with little else on the calendar, the Euro was reactive throughout the day, continuing to feel the weight of market sentiment after the ECB kept monetary policy unchanged last week. With nothing on the calendar today, expectation is for the single currency movements to be driven by counterparty performance. We could see a fairly quiet day as the main focus remains on the FOMC tomorrow.
From the US, we will see US durable goods and consumer confidence data on the calendar this afternoon. Forecasts are for a positive goods figure and pretty average consumer confidence. Any reaction is expected to be limited ahead of the FOMC meeting tomorrow.
The JPY gained against most major counterparts overnight as profit-taking set in against the currency's recent sharp movements. The market is uncertain over the BoJ's monetary policy and is currently debating negative rates. Is it a realistic measure for the BOJ to lend money out to their banks and receive less money back in return? But having tried pretty much everything else, arguably their options are limited.
Morning mid-market rates – The majors
85% savings. Job Done. So, what is the secret sauce of the CurrencyTransfer.com marketplace?

CNBC described us as 'disrupting global money transfer'. Finally, you kiss goodbye to hidden fees.
How are we innovating?
Well, we are not an expensive bank costing you up to £1,500 on every £50,000 trade. Neither do you ever need to ring around multiple brokers and speak to sales guys. Pretty inaccurate way of shopping around. We help you maximise the value of each transfer. Quite simply, you are in control. Foreign exchange companies compete in a LIVE marketplace to win your business.
You win!
Got a question? We'd be delighted to help!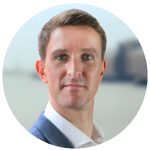 Paul Plewman
Director of Sales & Operations
t: +44 (0) 20 7096 1036
e: paul@currencytransfer.com