Daily Market Brief – 26 October 2015
GBP/EUR trading above 1.39 – Compare & Book
Quote of the day: "Small daily improvements are the key to staggering long term results"
October 26th: Highlights
Sterling pushes to two month Euro highs on Friday
GBPEUR currently trading over 1.39
US dollar takes strength from ECB talks
China executes sixth interest cut for the year
Friday saw little data emerge out of the UK, leaving the British Pound to trade mostly on risk appetite. At the back end of the week, we did see the Single Currency weaken against its two major rivals, as Mario Draghi gave the strongest hint yet that the ECB's Quantitative Easing programme will be extended by the end of the year. This quickly prompted significant GBP/EUR resurgence. The pair is now trading above 1.39. It's well worth speaking to your Personal Currency Concierge and logging in to view live rates if you are buying Euros.
With GBP/EUR trading above 1.39, log in to compare live quotes today.
Following a mostly range bound trading for GBP/USD last week, last Friday mostly followed suit with little volatility. Again, the opening of the US acted as a catalyst for Cable volatility, with the British Pound falling just over 1% on the day, to hit two week low of 1.5341, where it is currently trading.
If you are looking to buy or sell US Dollars, log in to compare live quotes today.
Global Highlights
| | |
| --- | --- |
| | EUR/USD fell a full 1.1 % to a two and a half month low of 1.1017. This depreciation was heavily influenced by the ECB conference which weighs on investor confidence in the single currency |
| | Canadian core CPI came in lower than forecast for the first time since December last year. GBP/CAD gained 1% on the news, hitting highs of 2.0263. The pair is now trading back at 2.0166 |
| | The Aussie housing market isn't performing well, leading to investor speculation that an interest rate cut is on the horizon. GBP/AUD is currently trading at 2.1158 |
| | GBP/THB is currently trading around 54.40. Data released this morning showed a large reduction in imports and export contraction. |
Morning mid-market rates – The majors
85% savings. Job Done. So, what is the secret sauce of the CurrencyTransfer.com marketplace?

CNBC described us as 'disrupting global money transfer'. Finally, you kiss goodbye to hidden fees.
How are we innovating?
Well, we are not an expensive bank costing you up to £1,500 on every £50,000 trade. Neither do you ever need to ring around multiple brokers and speak to sales guys. Pretty inaccurate way of shopping around. We help you maximise the value of each transfer. Quite simply, you are in control. Foreign exchange companies compete in a LIVE marketplace to win your business.
You win!
Got a question? We'd be delighted to help!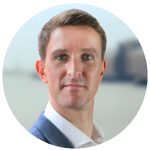 Paul Plewman
Director of Sales & Operations
t: +44 (0) 20 7096 1036
e: paul@currencytransfer.com