Daily Market Brief – 28th May 2015
GBP comes off 10 week high versus EURO
Your quote of the day: "We must be our own before we can be another's."
May 28th: Highlights
Cable slides to 3-week low following Queen's speech.
GBP comes off 10-week high against Euro
Growth boost keeps George Osborne smiling
Greece owe the IMF $1.76 billion next month
USD drives through 124 to fresh 13-year highs against the Yen
Sterling Comment
The pound pulled back from a recent two and a half month high against the single currency yesterday, with investors cautiously observing the Queen's Speech outlining government plans for an EU referendum. GBP/EUR is around 1.4050 this morning.
Sterling lost 0.6% against the USD, back to the weakest levels since the UK election. This was largely down to the fallout from the Queen's Speech and specifically UK's future participation in Europe. So, why was her speech so significant? Two words: Political Uncertainty.
According to Adam Myers of Credit Agricole, "A lot of people have bought sterling over the past few days, so the market was looking for any excuse to trigger a reversal in the positioning and that's what we got,"
"Even though it's likely that the UK wants to stay (in the EU), any political uncertainty is as good an excuse as any to cause a bit of a squeeze or reversal in sterling positioning after what's been a strong run." Evidently traders pounced on this opportunity to bank a few profits and trim back their exposures, moving Cable back down to around 1.5365.
Chancellor Osborne should have reason to smile with a growth reading boost. Today, there may be some sterling reaction following a positive reading in UK GDP for the Q1, which is expected to show the British economy grew by 0.4%. We'll have to see if that is enough to drive GBP on again after yesterday's retracements across the board.

Greece
Greece needs to pay back $1.76 billion, made up of four loans, to the IMF next month, starting with EUR 300 million on June 5. One option still being discussed is that they could lump all the repayments together and pay them at month end – this would buy them a little longer at the negotiating table, but doesn't ease the debt burden. Either way, the clock is most certainly ticking and Grexit talk is back and bubbling.
Peter Boockvar, of The Lindsey Group said, 'the deadline we know is fast approaching and the assumption will be another can-kick deal. If there is none and Greece defaults, I honestly don't know what the full repercussions will be at this point, as Greece is a political problem, not an economic one for the euro region.'

Global Comment
Here are some global currency highlights:
Japanese Yen: The Greenback skyrocketed to its highest level in 13 years against the Japanese Yen in today's early session, in no small part down to the US economic recovery and renewed expectations of a US rate hike. USD/JPY has breached 124, but is trading around 123.90
Australian Dollar: Private Capital expenditure declined by a worse than expected 4.4% in the first quarter of the year, compared to a forecast of 2.2%. AUD dropped to one and a half month lows against the Greenback. AUD/USD is trading at 0.7684

Morning mid-market rates – The majors
85% savings. Job Done. So, what is the secret sauce of the CurrencyTransfer.com marketplace?

CNBC described us as 'disrupting global money transfer'. Finally, you kiss goodbye to hidden fees.
How are we innovating?
Well, we are not an expensive bank costing you up to £1,500 on every £50,000 trade. Neither do you ever need to ring around multiple brokers and speak to sales guys. Pretty inaccurate way of shopping around. We help you maximise the value of each transfer. Quite simply, you are in control. Foreign exchange companies compete in a LIVE marketplace to win your business.
You win!
Got a question? We'd be delighted to help!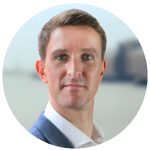 Paul Plewman
Director of Sales & Operations
t: +44 (0) 20 7096 1036
e: paul@currencytransfer.com