Daily Market Brief – 30th June 2015
Default, or no default?
Quote of the day: "What you do matters, but why you do it matters much more"
June 30th: Highlights
GBP/EUR rallies to 1.43 then pulls back
Athens has one day to find 1.6 billion Euros
Greece expected to miss IMF payment
GBP/USD trading at 1.5710 mark
Sterling Comment
Sterling lost some of its gains against the Euro on the release of UK Mortgage Approvals, which showed 64,400 in May (from 67,600 in April). Expectations were for an increase, so the sell-off was a natural reaction and GBP/EUR pulled back below 1.42.
Understandably, there is a lot more EUR volatility at the moment. With news breaking almost hourly, feel free to check in with your Personal Currency Concierge. We'd be happy to keep our eyes on the market for you.
Cable is trading steady around the 1.5710 mark. On the calendar, we have Construction PMI due on Thursday and PMI Services on Friday. The MPC has forecast a pick-up in UK data into Q3 and this, with more positive data showing acceleration in some the UK's most important sectors, could see Sterling push higher before the weekend. Any such move would only be exaggerated if coupled with further bad news from Greece.

Greece
The Greek PM Tspiras has warned he may resign, based on the outcome of Sunday's referendum. He said that, in the event of a 'yes' vote, he would pass the agreement through parliament and then resign. He is strongly urging voters to reject the bailout terms and back the no vote.
Greece is on track to miss the 1.6 billion Euro repayment, paving the way towards a departure from the single currency. There is no grace period and missing an IMF payment holds serious consequences. It will automatically lose access to IMF resource and will quickly lead to losing its voting rights and perhaps even be kicked out of the fund. Things are shaping up for a Greek tragedy, with the country is edging perilously close to an exit from the Euro, but the market doesn't seem too phased. Current sentiment suggests that Grexit would be manageable.
Greek banks will remain closed (apart from allowing Pensioners to collect their 120EUR) until after the votes in the 5 July referendum are counted. Expect volatility to continue as polls about the likely outcome start to emerge. EU Commission spokeswoman stated that there would be no new proposal offered to Greece and the Creditors claim the referendum should be positioned as a yes/no to EU membership, suggesting that a 'no' vote would amount to an exit. EC President, Jean-Claude Juncker, stated a Greek "no" vote would turn Greece's back on Europe.
With increased GBPEUR volatility expected, log on and compare live euro quotes today. You are also more than welcome to get in touch with your Personal Currency Concierge to discuss any urgent transfers.
Global Comment
Meanwhile, German inflation data was lower than expected, but this was largely ignored. Any Euro strength is currently derived belief that a last-minute deal could be struck. Or because they believe that the Eurozone will be fundamentally stronger without Greece. We'd love to hear your view?
The single currency lost ground against the Japanese Yen, dropping 0.77% to 136.65. EUR/CHF is at 1.0408 after the Swiss National Bank intervened yesterday to weaken the Swiss Franc.
The US Dollar weakened against the safe haven of the Japanese Yen, with USD/JPY trading at 122.42, close to Monday's one month low of 122.10.
Across most currency pairs, the volatility of the euro continues to have an effect, although the desire for a safe-haven has been limited so far with gold dipping back further this morning.

Morning mid-market rates – The majors
85% savings. Job Done. So, what is the secret sauce of the CurrencyTransfer.com marketplace?
CNBC described us as 'disrupting global money transfer'. Finally, you kiss goodbye to hidden fees.
How are we innovating?
Well, we are not an expensive bank costing you up to £1,500 on every £50,000 trade. Neither do you ever need to ring around multiple brokers and speak to sales guys. Pretty inaccurate way of shopping around. We help you maximise the value of each transfer. Quite simply, you are in control. Foreign exchange companies compete in a LIVE marketplace to win your business.
You win!
Got a question? We'd be delighted to help!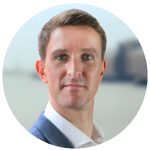 Paul Plewman
Director of Sales & Operations
t: +44 (0) 20 7096 1036
e: paul@currencytransfer.com