What is causing the airport disruption this summer?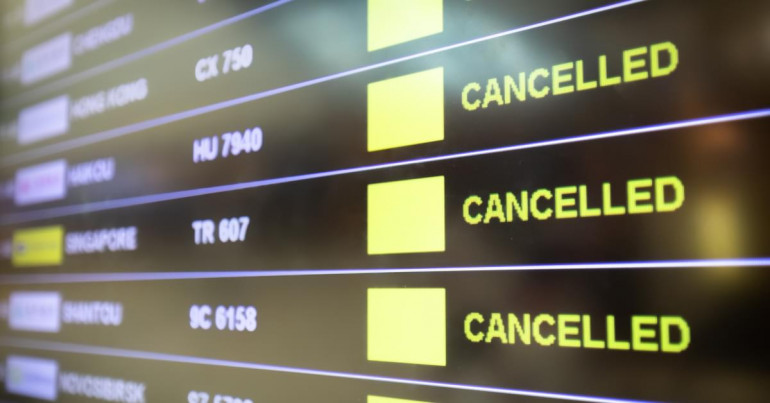 Airports have had difficulties managing the increase in demand for flights during the past several months. This has caused airport disruption for passengers boarding both short and long haul flights. Major airports all over the world have had to delay and cancel flights. Canada, Germany and France airports have seen the biggest percentage of delayed flights recently, according to Flightaware data. In this article, we look at what's caused the disruption and solutions which have been introduced for airports and airlines.

Factors which have caused airport disruption to occur
It has been a difficult time for airlines to manage the increased demand for flights. This has been the result of an accumulation of factors that has prompted flight delays at major airports. In the UK for example, Heathrow, Gatwick and Manchester airports have all faced flight disruptions over recent months, causing passenger complaints.
Shortage of airport staff
One of the major contributors towards the airport disruption has been staff shortages. This in particular has been a main culprit for flight cancellations and delays after the air-travel industry laid off thousands of workers during the pandemic. Since the industry has attempted to recover from the pandemic, bringing workers back has been a challenge. This is the result of those initially unemployed who went on to find jobs in other industries for better pay and more sociable hours.
Airlines will need to find new ways to incentivise more people to once again work within the air-travel industry. A failure to do so would mean there could be similar delays during peak travel times throughout the year. Due to how unpredictable the airline industry has become, it could likely take a conscientious effort from both the government and airlines to help with implementing new procedures to help combat the volume of flight delays and cancellations.
Air traffic control delays
Another factor which has impacted flights is air traffic control delays. Air traffic controllers manage an aircraft through all aspects of its flight. This includes taking responsibility for the aircraft's safety and making the flights as efficient as possible. Ultimately, air traffic controllers are an important factor to ensure that flights follow a particular route whilst airborne and land safely.
Air traffic controllers have to work closely with the pilots using radar and radio communication. Having air traffic control delays impacts flights directly, which can contribute towards flight delays. However, air traffic control staffing issues are rarely the sole cause of a delay, but they can compound other issues. This includes weather delays also which can lead to passengers getting stuck on the ground at airports for longer.
Greater demand in flights
During peak times throughout the year, there will usually be a spike in demand for flights. Whether this is for the summer or winter period, more people will tend to be travelling with friends and family. The key issue here is the staff shortages which stems from the pandemic.
The airline industry was one of the worst impacted during the start of Covid-19. To save money when demand for travel was low, airports and airlines decided to make thousands of staff redundant. Consequently, what has occurred over the past several months has been the result of failing to properly prepare for the post-pandemic travel boom.
Harmful practises
Competition regulator, the Competition and Markets Authority (CMA) and aviation regulator Civil Aviation Authority (CAA) have said they believe some airlines may not be doing everything they can to avoid harmful practices. This includes selling more tickets than they can reasonably expect to supply. Additionally, they don't believe that they have provided customers with clear information, including the risk of cancellations.
They also warned airlines they needed to support customers whose flights are cancelled, by offering alternative routes and providing effective communication, as well as paying refunds promptly.
Airlines such as British Airways have decided to cancel tens of thousands of flights in light of the airline disruption. Although this isn't an ideal solution, it can help to ensure that UK airlines have the capacity to manage flight schedules.

What's the plan to tackle airport disruption?
In order for airlines to be better prepared, they must learn from particular issues which has caused recent flight delays.
The UK government launched a new 22 point-plan aiming to tackle aviation disruption. The plan outlines what passengers can reasonably expect from airlines, travel agents and airports when flights are disrupted. This includes advice on what to do if flights are cancelled or delayed, or baggage goes missing. Additionally, there is guidance provided on how to complain if a traveller feels they have been treated unfairly.
The key takeaways from the initiative is ensuring the aviation industry can deliver a realistic summer schedule. In addition, an important emphasis was on retaining and training staff as well as supporting passengers.
In June 2022, the government also decided to temporarily relax rules around airport slots. This essentially would allow airlines to devise realistic flight schedules and avoid last minute cancellations. It will be challenging for the aviation industry to get back on track to the level of service it was accustomed to pre-covid levels. Nonetheless, the UK government putting forth the 22 point-plan is a good initiative in the right direction.
Additionally, the European Commission has introduced a similar initiative to manage airport disruptions. The threshold for airlines to use their slots has been cut from 80% to 64% during the summer months to better handle disruptions. Similar to the UK, airlines and regulatory bodies within Europe are having to find proactive options for best dealing with the current disruptions.
Sending international money transfers with CurrencyTransfer
When travelling abroad or moving to a new country, transferring your money quickly and securely is a priority. At CurrencyTransfer, we provide a transparent and customer friendly service which caters to your personal and business transfer needs.
Once you've opened an account, your dedicated relationship manager will be able to provide ongoing support. For any queries or questions, please don't hesitate to contact us.