How remote working has impacted businesses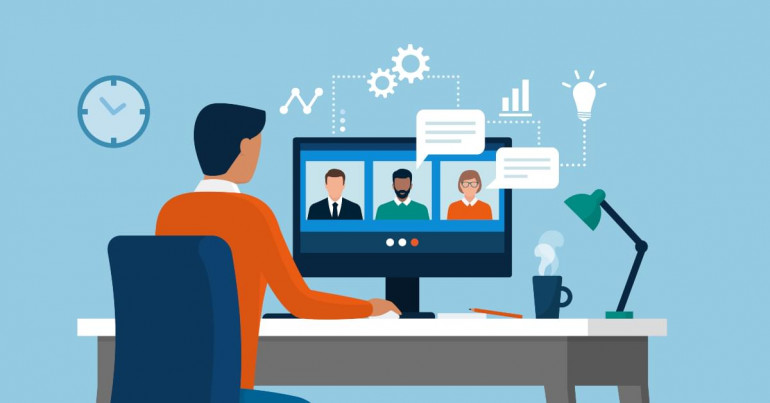 Remote working has now become relatively common for businesses in 2022. This has been caused by a host of circumstances and trends which have occurred over the past few years. In this article, we will discuss the role of remote working within businesses and how this impacts both industries and employees.

What has caused the spike in remote working?
Remote working was once relatively uncommon for employees to do. Nonetheless, due to an accumulation of factors over the past 2 years, remote working has grown in both necessity and demand. Due to Covid-19, there was an immediate need for a greater number of people globally to work remotely. Businesses had to shift from a predominately office based company to giving employees the possibility to work from home. It can be argued that most companies are not specifically ready to make the move for employees to work remotely full time.
Prior to the coronavirus, most companies did not provide the frequent option of working from home to employees. Furthermore, remote working was pretty rare a decade ago. At the time, working from home was usually only available as a special arrangement. Nonetheless, workplaces will likely not return to what was the previous norm, as flexible remote working has become the new standard.
Businesses have also introduced hybrid working which enables staff to split their time working from the office and working from home. The benefit of this is workers can have the option of collaborating with colleagues in the office as well as getting work done remotely. As a result, this can positively impact productivity and morale within the workplace.
Which industries have been most affected by remote working?
Tech is an industry which has been heavily impacted by remote working. Companies such as Google and Facebook quickly pivoted to hiring more remote workers in 2020 due to Covid-19. In Particular, Facebook's parent company Meta has focused on remote working to further expand and attract talent in Europe. Additionally, SME tech firms also encourage remote working whilst not putting forward specific restrictions in play for employees working from home.
Another industry which has seen an increase in remote working for employees is private healthcare. Although remote working for certain roles within the healthcare industry such as nurses would be difficult, for administrative roles working remotely could be a suitable option. It's likely that the healthcare industry will need to implement further remote working policies for administrative and clerical roles. This can help to overcome capacity constraints and enhance both efficiency as well as productivity.
Benefits of remote working for businesses
Save on operational costs
A major benefit of remote working for businesses is the ability to save on operational costs. Remote working for businesses is the opportunity to downsize their current office or move into a shared office space. Naturally, remote working would mean less employees working from the office each week. This can enable businesses to optimise operational costs and have a more lean business model.
Access to international talent pool
With the development of recruitment platforms, it's now easier for companies to find and recruit talent globally. Over recent years it has become more of a normality for employees to work for a company outside of the country they live. Although this is still a minority, companies can utilise their access to international talents if it makes sense to their business. Keeping in mind the different time zones across the globe, a flexi-time and flexi-space policy means you'll be able to better attract talent with almost no geographical limits.
Drawbacks of remote working for businesses
Less face to face interaction between employees
One of the major drawbacks for remote working is there being less face to face interaction with employees. Due to the nature of working from home, colleagues and teams spend less time in the office working together. This can sometimes negatively impact team morale or be difficult for new company starters. Consequently, this can potentially affect the professional development of employees who might not have a great deal of contact time with managers.
This also impacts the need for meetings during the week. In a remote work world, this means managers can no longer walk across the office to check in on their employees. Instead, they will need to schedule virtual meetings to discuss routine project management tasks. While digital meetings can be less disruptive than in-person meetings, they are rarely the highlight of a workday.
Less accountability to management
Shifting to remote work inevitably involves trusting employees more. Businesses will have to incorporate a management style that relies on measurable, visible outcomes to gauge value and performance. Managers could be concerned that employees aren't working as productively as they should be. Alternatively, employees may be concerned that they won't receive the same recognition from managers whilst working remotely.

Essentials to ensure remote working is effective
Communication
The nature of working remotely has meant that communication between employees is crucial. Although the type of communication is less face to face and predominantly via video calls technology such as Zoom and Microsoft Team. Resultantly, this ensures that employees can coordinate and check in with each other for projects or answer any specific questions they may have.
Working from the office makes it simpler for employees to communicate effectively. Additionally, individuals can speak directly with colleagues to ask specific questions on a task or project. As a result, utilising messaging tools such as Slack provides the option for sending direct messages or questions without the need of a video call. Additionally, you can create team groups via Slack to include people within a department. This can save time whilst making daily tasks more manageable.
Technology & security
In order for employees to successfully work remotely, they will need to be equipped with the right equipment and technology. Providing these tools gives employees the ability to complete projects and tasks in an efficient manner.
Online security is also a massive need for equipment which isn't on the office premise. There is a heightened risk of a laptop being hacked or being cyber attacked working from home. A key issue is that, in most workplaces, an IT team will handle cybersecurity within the office. With a distributed workforce working remotely, staff have to pay more attention to cybersecurity threats themselves. Nonetheless, there are methods which can be used to limit the possibility of being hacked and your laptop being compromised.
Choosing the right internet security software for your company needs is a great way to ensure equipment is secure when working from home. It can also be important to provide some training and support for employees. This can ensure that employees know how to manage their laptop and limit the chances of their laptop being hacked.
Work culture
Another area which must be intact in order for remote work to be effective is the company culture. Remote working must be embraced by all employees within the organisation regardless of title or department. This will help to ensure that remote working is embedded into the company culture.
Remote working also gives employees the autonomy to manage their own workload and be able to effectively communicate with colleagues through technology. Building a work culture which thrives through remote working can be done and executed well within a business. Nonetheless, this can only be achieved if there are clear practices and procedures in place.
Don't forget about your FX requirements
CurrencyTransfer enables you to make international payments to pay employees working abroad in a simple and cost effective way. Once you open an account, you will benefit from a dedicated relationship manager available to assist with any questions you may have.