5 Great locations to purchase a holiday home in Spain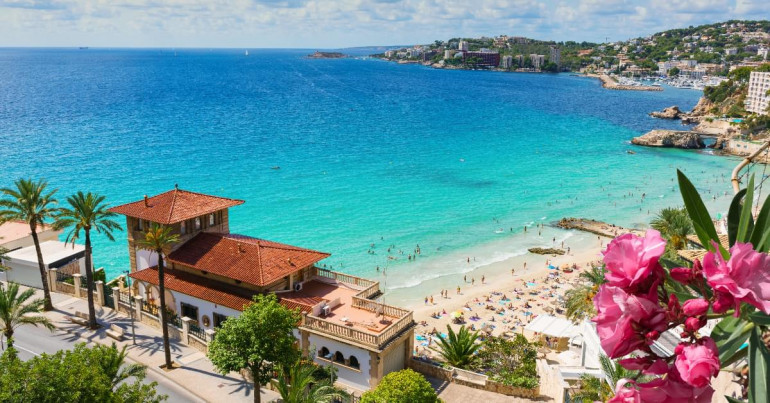 Spain is a great destination for a holiday home, thanks to good weather, fantastic beaches, and a fun & festive culture. If you're looking to purchase a holiday home in Spain, read on. Here you will learn what to consider before purchasing a holiday home and discover our top 5 cities in Spain.
What to consider when purchasing a holiday home in Spain
Your financial budget
A holiday home is an expensive purchase and a long term investment. Understanding your reasons behind choosing a holiday home in Spain is a good starting point. If the holiday home will be for family members to stay during school holidays and the summer for example, the scenery and activities within close proximity will be important.
Besides this, finding a location within Spain which accommodates your interests, budget and overall needs should be a priority. Planning your financial budget initially will help to distinguish which property type would suit best for your individual or family needs.
Your preferred lifestyle
Choosing where to purchase a holiday home in Spain will be influenced by the type of lifestyle you would like. Spain has a lot of different destinations which cater to various interests and ages. Cities such as Alicante and Ibiza have more of a fast paced, party lifestyle whereas Valencia and Mallorca cater more for families and retirees.
House or apartment?
If you're in need of a family home, purchasing a house would be the better option. Nonetheless, for couples or young professionals, an apartment could provide adequate space requirements.
Apartments are usually found along the coast and are becoming more common on golf developments too. They're ideal for a holiday home as they can be positioned in convenient locations and are often easier to manage than house properties. Additionally, apartment blocks in Spain can provide a range of building activities such as a pool, gym, spa, games room or tennis courts and other amenities that you will rarely find in a house without a significant investment.
In contrast, living in a semi-detached home has other advantages. For instance, semi-detached homes are becoming increasingly popular in Spain, resulting in more of them being built within the country. Many semi-detached properties have two floors, a private garden and sometimes a private swimming pool. Due to having more space than apartments, this usually means it comes with a more expensive price tag.
Our top 5 cities to buy a holiday home in Spain

Mallorca has been a prime property hotspot when it comes to moving to Spain. This is the result of its great weather, coastline and mountain scenery and a choice of luxury homes. As the holiday rentals market is strong, if you decide to tweak or develop your property just a little, there is a likelihood you would be able to rent it. It is a seasonal island however, so more than likely you wouldn't find tenants all year round. Instead you could be looking at 6 months of weekly holiday rentals on your investment property.

People who invest in Lanzarote real estate move to the island for many reasons. The warm climate, wonderful scenery and relaxed way of life are all contributing factors. If you want to enjoy a life in the sun while knowing that there's plenty of things to see and do on your doorstep, then Lanzarote could be the perfect place for you.
From popular tourist spots to more rural areas, there are a variety of destinations to choose from. Lanzarote also caters to most people's lifestyle or budget, so there are a great array of options for finding a suitable property somewhere in Lanzarote.

Alicante has the largest ratio of expats in Spain. The province is predominantly popular with retirees, looking to enjoy a more relaxed and slower lifestyle. Most expats choose not to live in the city, and instead move to the surrounding villages and resorts. That's not to say the city doesn't have its benefits. With such a robust community of expats and Europeans who own second homes in Alicante, it wouldn't be compulsory to know Spanish within the area.

Malaga has a mix of both worlds and is a great place to live in Spain. Although renowned for being a destination for Brits abroad, Malaga has a lot going for it as an expat locale. Thanks to its location on Spain's southern Mediterranean coast, Malaga's residents can expect sun most of the year. Beyond that, the capital of the Costa del Sol has strong cultural connections to the rest of Spain.

Unlike Barcelona and Marbella, Valencia sees fewer tourists each year, which some expats may appreciate. There's enough entertainment and culture for young professionals, couples, and families to enjoy.
For older expats, the relaxed coastal atmosphere and many hiking routes provide a great way to spend your autumn years. Additionally, Valencia is cheaper than other cities in Spain, with one of the highest numbers of homes under €1000 per square metre according to Idealista.
Additional costs to consider for international buyers
Legal requirements
Buying a holiday home is different from purchasing a residential home. The legal requirements aren't the same, so it could pay dividends to work with an experienced solicitor with familiarity of the Spanish property market who speaks your language.
It may also be a good idea to arrange a property survey. Although not a legal requirement, it could prove beneficial if there are structural issues within the property. If you find issues, you can either renegotiate the asking price or ensure that the current owner fixes the problem before purchasing.
Lastly, it could be a good option to speak with a financial adviser prior to purchasing your holiday home in Spain. They would be able to provide guidance and advice on the purchase, as well as discussing the investment opportunity and whether it is advantageous in financial terms.
Non-resident property tax
All property owners in Spain are required to pay several taxes each year. If you are a resident you are subject to income tax (including Capital Gains Tax and Real Estate Tax). If you don't live in Spain, you will also be subject to a non-resident property tax.
In order to pay these taxes, you must apply for a NIE (Número de Identificación de Extranjero), which is your Spanish tax identification number. Non-Spanish residents of all nationalities also have a number. You should request this number when buying your property. This number identifies you with the Spanish authorities and is necessary when taxes are paid or you have to resolve an issue with the Inland Revenue.
Spain also offers a Golden Visa program for foreign property owners. Under the scheme, if you invest more than £500,000 in a Spanish property, you'll get a residency visa. Golden Visas are primarily for retirees and holiday home buyers but are also popular with investors from outside Europe.
Purchasing insurance
There are generally two types of home insurance in Spain, which include contents insurance (seguro de contenido) and building insurance (seguro de construcción). Neither contents nor building insurance is mandatory in Spain, although they are recommended especially if your property is of high value. It's possible to purchase a combined package, often just called home insurance. Most forms of home insurance in Spain tend to include liability insurance coverage. If not, you usually have the option of adding this on as an extra.
With Spain's home insurance market being so lucrative and popular for foreign homeowners, there are many insurers to choose from. It's recommended to do additional research and ensure you get the right coverage for your home.
Using a foreign exchange company for international payments
A foreign exchange company is a great option for transferring money abroad for property payments. Using CurrencyTransfer enables you to receive greater transparency and much better rates compared to banks. FX tools also provides the option of setting up international transfers at today's rate for an agreed date up to 12 months later via a forward contract. Our service is tailored towards making the payment process as simple and efficient as possible for clients.
At CurrencyTransfer we provide a professional and cost effective service for overseas property payments. Once signed up, your allocated relationship manager will be able to answer any queries you may have and provide additional support throughout the entire payment process.