Your guide to getting married abroad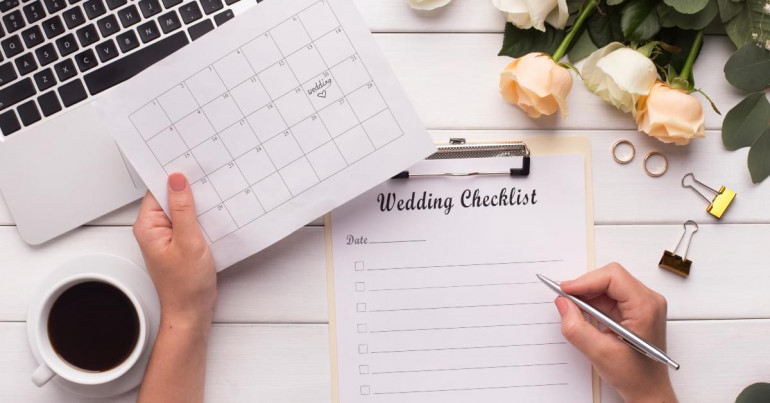 It's wedding season so it's a hot topic! Are you considering marrying abroad?
Organising a wedding can be stressful, confusing, tiring and above all, expensive – especially for those who want to travel to exotic places. In reality, weddings can be as simple and affordable as you choose to make them.
If you haven't planned your wedding or are perhaps still early into your wedding-planning journey, take a look below. We've listed some of the many wedding options available – you might learn something that changes your plans!

Getting married abroad vs. getting married in the UK
Regardless of personal preference, several options are available to help tailor your day and create something unique. Take the time to list the priorities for your wedding day. Consider any external factors that may affect your decision.
Most often, the deciding factors come down to cost and logistics. It's easier to plan when you can visit locations, suppliers and venues in person.
Don't let the initial shock of planning an overseas wedding intimidate you. There are professionals whose speciality is to help plan weddings in foreign countries. So if it ever seems a bit overwhelming, consider hiring a wedding planner to help you with the paperwork.
Below we've listed some of the advantages and disadvantages of planning a wedding abroad that might help you make a more informed decision.
Advantages of getting married abroad
It's a vacation
An overseas wedding can give your guests the perfect excuse to get away from it all, even if it's just for a little while. Guests are more sociable, relaxed and eager to mingle with others when on vacation!
Less competition for venue hire
Couples often compete for those extra-special wedding venues in the UK. Popular venues might ask you to pack up immediately after a ceremony to make space for the next couple. It can make the days leading up to a wedding extra stressful. Getting married abroad opens up thousands of new venues to choose from, making it less likely that others will have already booked out your dream venue on your wedding day.
Disadvantages of getting married abroad
Attendance is difficult
The distance and the extra cost of travel and accommodation can be a major put-off for guests, especially those with children. Important guests might find it difficult to attend.
Logistics can be a nightmare
Language barriers, time-zone differences and a lack of face-to-face communication make organising supplies much more difficult. You can alleviate some of these difficulties by hiring a local wedding planner to handle part of the responsibility on your behalf.
How much does a wedding abroad cost?
A survey of 2,800 couples conducted across the UK in 2021 revealed the average cost of a wedding to be roughly £31,974. The same study showed that venue hires and catering were the highest costs to consider on the day.
The same is not true for weddings abroad however, in fact, some reports state that getting married abroad costs far less, as little as £15,000.
In these examples, the main costs couples had to contend with were travel, accommodation, and – depending on country of origin and destination – the exchange rate.
Of course, you may belong to the newer generation of couples who turn up their noses at tradition and opt for a simple civil wedding. There's certainly an appeal to the idea that the sentiment is far more valuable than any grand display of affection. So, if you're more concerned with life after marriage, you can arrange a court-house wedding for as little as £200.

Best places to get married abroad
There are plenty of places across the world that make perfect destinations for overseas weddings. Some might visit a location they're familiar with, while others see marriage as an opportunity to discover something new. If you're undecided, here are some of our top picks:
The Amalfi Coast
Most couples overlook the Amalfi Coast and consider it a honeymoon destination. Still, it's a perfect wedding destination with mild weather, excellent food, and cheaper than other parts of the Italian coast.
Santorini
Santorini has some stunning views. It also offers a multitude of unique, exciting venues. The inhabitants of Santorini are one of the reasons it's so popular, with exceptional service and local cuisine.
The Algarve
Algarve is a short 3-hour flight from the UK, found in Portugal's southernmost region. This area is known for its perfect summer weather, making it a great spot for overseas weddings.
Dodge the summer crowns by travelling in the Autumn, temperatures are lovely in October, and you'll get better prices on travel and accommodation.
The Lady of the Rock clifftop is one of the top wedding destinations in the region, boasting an amazing view right beside the sea!
What you need to know about weddings abroad
Legal considerations
Marriage laws vary from country to country. Some countries only permit residents to marry within their borders. Others dictate what type of ceremonies are allowed and who may carry out the ceremony. Many Eastern European, Central African and Middle-Eastern countries are not LGBT friendly.
Ask a local embassy or consulate about any legal requirements before booking.
For example, in France, you must first attend a civil ceremony at a local council office and obtain a marriage certificate before booking any religious ceremony.
If you get married abroad, your marriage will be considered valid in the UK, so long as both parties meet UK legal requirements to marry.
Depending on your chosen destination, you need to be very careful that you don't accidentally enter into a prenup!  Some countries, such as Taiwan and Brazil, allow couples to enter a statutory matrimonial property regime by simply ticking a box on their marriage certificate. This would still be legally binding in the UK and may affect your ability to make claims later.
Documentation
You must ensure you have the correct official documentation to have your wedding in another country. This includes birth certificates, divorce documentation and, in some cases, a certificate of no impediment (CNI).
Always contact the local consulate or embassy for details. Certain documents might require to be legalised, authenticated or translated.
After the ceremony, ask for certified copies of your marriage certificate, as these can be difficult to get from the UK.

Our tips for planning a wedding abroad
Between travel, accommodation, catering and other costs, weddings abroad can quickly become expensive. You might want to consider a destination where your money might stretch further.
Use CurrencyTransfer for your international payments
Many forget to consider the hidden costs involved when exchanging one currency for another.
Some banks will take 3-4% of the total amount exchanged when moving money. For example, if your budget is £20,000, you might lose up to £800 just for the 'luxury' of using their services (not including any flat fees charged regardless of amount).
Using our services for your personal transfers is guaranteed to save you money. CurrencyTransfer charges no hidden fees. We offer more favourable exchange rates compared to those offered by major banks. We also provide a currency concierge service with an allocated relationship manager to help with your unique needs.
Matthew Swaile
Copywriter