Say "I do" to financial security at your destination wedding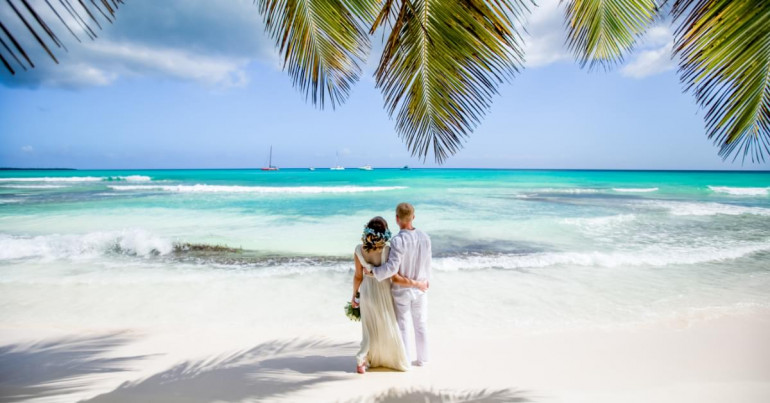 Wedding season is in full swing across the UK, but with what can only be described as a very British summer, it'll be no surprise if thoughts of those planning future ceremonies turn to sunnier climes overseas. With almost guaranteed blue skies and glorious sunshine, the reasoning all but writes itself! And if you're expecting a hefty price tag, prepare to be surprised because the costs of a destination wedding can be lower than back home.
However, even if it is more affordable, a wedding abroad still requires a fair bit of planning: here's our guide to financial security when marrying overseas.

Where are the top overseas wedding destinations?
Approximately 25% of British couples opt for a destination wedding – and they're heading ever further overseas! Research of search trends from Europe at large shows Italy topping the list, but with some more far-flung entrants coming close on its heels, including the beautiful Maldives.
The further good news is that not only is the weather better in many of our favourite locations, but you may also find yourself saving money on the costs of a destination wedding compared to one at home.
Global research from SN Travel and Virgin Atlantic estimates the average cost of a UK wedding at £23,141.
Some spots in Europe can be more expensive; France comes out at the equivalent of £26,059 and Italy at £24,738. However, there are plenty of bargains to be found. Here are some of the more affordable wedding destinations:
Greece: £22,755
Spain: £19,832
Portugal: £19,381
Barbados: £16,252
St Lucia: £15,164
Maldives: £13,106
Mauritius: £12,492
For information about tying the knot overseas, including documents and legal considerations, don't miss our guide to getting married abroad.
What expenses should you expect for a ceremony abroad?
For as big an event as a wedding, there's a lot to think about when constructing your budget. Brides.com breaks down the percentages of a typical as 40% on venues and catering, 15% on photography, 10% on entertainment, 10% on décor, 5% on wedding attire and beauty, 3% each on transport and stationery and 2% each on cake and favours.
For a destination wedding, you'll also need to expand the transport budget to include your flights to and from the country. However, you may find you make savings on venues and catering if you have a smaller guest list than you would back home.
Always try and leave yourself a rough 10-15% safety margin if things go over budget or unexpected expenses crop up.
Finally, remember that although the average prices we've given above are in pounds sterling, if you're dealing with a foreign country, then the real price of your destination wedding is going to be calculated and paid in foreign currency.
Note that while some are obvious – a wedding in Portugal will be paid in euros, for instance – some smaller destinations' resorts will sometimes use the US dollar rather than their own currency for bookings like this, such as in the Maldives.
How should you save for the costs of a destination wedding?
We'll come back to the issue of paying in a different currency shortly, but first, let's look at your general steps to setting yourself up financially for your wedding abroad.
It's best to start deliberately saving as early as possible into a dedicated savings account to ring-fence that money. If you know the approximate dates you're looking at, research savings accounts that offer the best short-term returns. While they won't be at the same level as anything you'd get long-term, even a small difference in interest can make a contribution.
Meanwhile, make sure that you've got a realistic idea of your total costs by getting multiple quotes for different areas and then find the price-to-value point that you're happy with.
Work out from your existing income and outgoings how much you can realistically save each month, especially in times of a high cost of living. Then, if you can, set up automatic transfers to your savings account to ensure that you're not tempted to put the money elsewhere.
You can also consider any areas where you're willing to cut costs, such as going DIY on some of the beauty elements or looking at dresses from sample sales or trunk shows.
How do the currency markets impact your wedding budget?
As we've mentioned above, one of the big unknowns when you're calculating the costs of a destination wedding is the currency factor.
Let's imagine that you're planning for your dream ceremony in sunny Greece. You've put together your estimates from various suppliers, and you're expecting to spend €27,000. So far, so good.
However, the problem comes when you need to convert this into a fixed budget in pound sterling. The exchange rates are always in movement, which means the cost in pounds of that €27,000 is constantly changing.
Look at the last year as an example, beginning your budget in February 2022. On 18th February 2022, you would have calculated a pound sterling budget of approximately £22,500. After just over a year of saving, on 14th April 2023, you'd be looking at paying approximately £23,900. That's a 6% increase that you could easily avoid with CurrencyTransfer.

How to protect your budget against changes in currency rates
Once you have your budget in your target currency, deciding how you will protect that against the live currency markets is most important. Fortunately, it's simple to do with what is known as a forward contract.
This hedging strategy completely removes the risk of your budget suddenly devaluing. It locks in today's exchange rate for a set time – say, one year – and for a set sum of money.
You would simply agree to the rate, sum and time with your account manager and then pay a small deposit. You can then redeem the rest of the money at any point over the specified period – ideal whether you have multiple set payments or a single lump sum.
Even if the currency markets fall, you won't be impacted, and your money will be protected.
To find out more about forward contracts and how they can help you safeguard your wedding overseas, sign up or contact us for more information and our payment specialists will be happy to assist.
Alexander Fordham
Alexander is a writer specialising in foreign exchange and finance for companies with cross-border exposure. He's written on topics including currency risk, international taxation and global employment for seven years. You can find him out hiking, travelling and working from Spain in the sunnier months.