5 Great locations to purchase a holiday home in France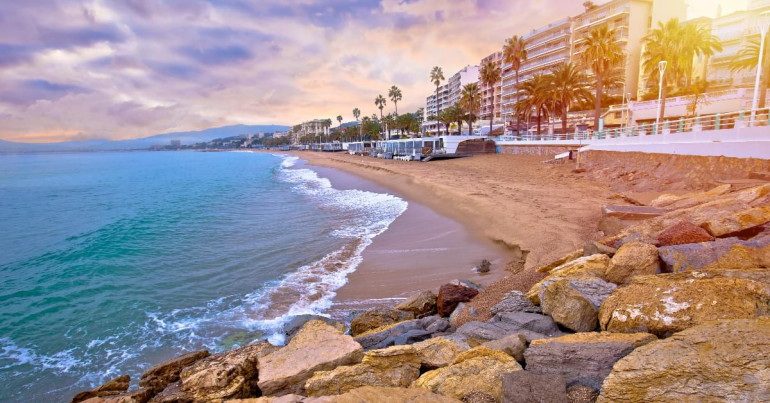 France is a great destination for a holiday home. France is well known for great food, wine vineyards, a rich culture and global fashion brands. If you're looking to purchase a holiday home in France, read on. In this article we discuss what factors to consider before purchasing as well as our top 5 locations for a holiday home in France.
What to consider when purchasing a holiday home in France
Purpose of holiday home
Depending on the purpose of your holiday home, this will have an impact on the preferred location of the property. For example, if your goal for purchasing a holiday home is for an investment opportunity your preferences for location might be different compared to owning a holiday home for friends and family to stay during the summer months.
The purpose of the property could also impact your overall financial budget. Therefore, it's important to identify this to have a greater idea of which location would be most suitable for your individual needs.
City life or French countryside
A consideration which will impact your home location will be choosing between living in the city or countryside. Both have several advantages. The countryside provides large areas of land, community living and more spacious housing. Whereas living in the city means you'll be in close proximity to schools, hospitals, shopping and more. Nonetheless it's important to understand your practical needs as well as financial budget.
There are both specific advantages which would need to be weighed up prior to making the decision. For instance a remote rural house could be appealing, but you would likely need to drive 15-20 minutes to find the nearest supermarket.
Similarly, a city apartment might be ideally situated for weekend getaways. Nonetheless, urban living often means smaller living spaces and more surrounding noise. A good compromise could be a country house within a short distance of a town.
Type of property
The types of properties you'll find across France vary significantly by location. While in Paris you could struggle to find an affordable housing situation outside of an apartment, in contrast the countryside offers plots of land, estates, villas and townhouses. Ultimately, the type of property you buy will be influenced by these factors.
5 Great locations to purchase a holiday home in France

Best for wine lovers: Bordeaux
Bordeaux has a lot of history and it's a popular travelling destination for foreigners. It is seen as a wine epicentre and is a key destination for individuals interested in French culture and lifestyle. In the centre of a legendary winegrowing region, Bordeaux is a vibrant and sophisticated city as well as a top gourmet and cultural destination. Well known for fine wines, Bordeaux is one of France's most elegant cities.

Best for family holidays: Montpellier
Montpellier is an increasingly popular city with a choice of beautiful beaches in easy reach of the city centre. Montpellier is an ideal family destination as it provides entertainment for both children and older visitors. The Montpellier zoo is a great activity for kids, whilst older visitors can enjoy art pieces in the Musée Fabre. A holiday rental in Montpellier gives you the opportunity to explore the historic centre of the city.

Best for shopping and events: Cannes
Cannes is one of the most glamorous and desirable destinations in the world. Centred in the heart of the Riviera, you can swim in the sea all summer. La Croisette is one of Cannes' most popular tourist areas and features various restaurants, hotels and shops. Cannes also has a rich cultural heritage and organises festivals and art exhibitions.
Over the years, Cannes has also become one of France's leading commercial hubs. This is partly due to its hosting of industry-leading events from the worlds of yachting, real estate, music, television and the iconic Festival de Cannes.

Best for food and sightseeing: Paris
Paris is a world renowned city with a range of entertainment on offer and things to experience. You can choose your exact location based on your preferred combination of architecture, culture, sightseeing, access to public transport and privacy. Whether that's visiting the Eiffel Tower, Louvre Museum or eating at Michelin Star restaurants, there is a lot to experience and indulge in Paris. Similar to other major cities around the world, Paris has an extensive public transport network. You can choose between the metro, tram or bus to get around the city whilst sightseeing.

Best for ski enthusiasts: Chamonix
Purchasing a property in Chamonix would give you access to a huge skiing area. You would also have alpine views as well as plenty of outdoor sports in summer. As a result, there is the chance to earn a good rental income if you decide to rent out the property as Chamonix is a popular destination year round.
Located in the French Alps, Chamonix is internationally known, just one hour away from Geneva and 2 hours away from Lyon.
How to maintain your holiday home whilst away
If you are managing your property from abroad, finding someone reliable and close to the property is likely the best way to keep up a good standard. Hiring an international house sitter can be highly beneficial and give you additional reassurances. Firstly it effectively allows for the property to be managed and serviced whilst away. This would ensure the property is cleaned and maintained to a high standard. Additionally, there is a lower chance of the property potentially being burgled as the house wouldn't be vacant for long periods of time.
Whether your property is rented or stays empty, it can be a good idea to get home insurance, aka assurance habitation . This is an obligation for a property owner if the property is located within a building complex or block of apartments. Additional multi-risk insurance can also be beneficial since it covers you in events such as water damage, break-ins or fire.
Tax implications and costs
Income tax
There are no restrictions for foreign investors buying a house in France, even non-residents. All investors need is a French bank account and a valid ID. If you're earning an income from your holiday rental, you'll also need to pay income tax in France, which is charged at 20% of your income. You will need to submit a tax return to the French authorities regarding your rental income in France as well as declare the income to the tax authority in your own home country.
Capital gains tax
Capital gains tax in France is called "impôt sur les plus-values" and is a tax payable on the sale of land or buildings, on shares, and certain other personal property. This is subject to any exemptions, allowances and deductions that are available.
Stamp duty
When buying a house in France, taxes are pooled together under one umbrella, known as Notary fees ("frais de notaire"). This includes stamp duty land tax. These vary depending on the type and price of the property. You can expect to pay around 2% for a new-build, and 7% of the property value in tax when you buy an existing property.
Once you own a residential property in France, you'll also pay pro-rata land tax and local taxes, called "taxe d'habitation".
CurrencyTransfer can help with your French property purchase
Exchange rate fluctuations can have an effect on house mortgage prices. This can impact the return you'll receive for transferring payments from the Pound Sterling to Euro for example. Fluctuations can cause house prices to increase or drop in price in an unpredictable way.
Therefore, you should use a forward contract to send international property payments and prevent market movements to impact your payments. This will allow you to secure a fixed exchange rate for sending international money transfers, for up to 12 months in advance. Our dedicated relationship management team is always available to help. Contact us today with any questions you may have.