Why SMEs should use invoice software for their businesses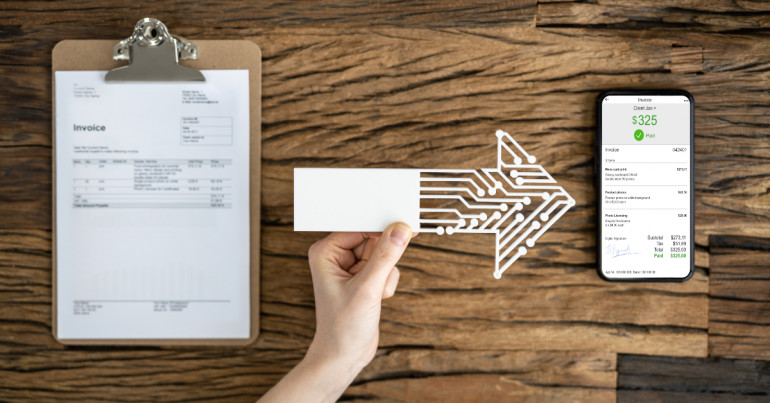 Invoice software, also called e-invoice , can be great for small businesses to better manage their time and resources. It helps small businesses increase the speed in which they can receive payments from clients. In this article we will be looking at the benefits of using invoice software within SMEs and how it can help to better manage your business operations.

Benefits of using invoice software for SMEs
There are various reasons why using invoicing software can be beneficial for small and medium sized businesses. This includes making it simpler to utilise your resources to structure your payments as well as keeping on top of financial revenues and costs over a set period of time.
Using an invoice software can enable SMEs to more efficiently receive and make payments. It can help small businesses track their costs, sales and expenses, providing them with the ability to manage their financial budget in a more efficient manner. Ultimately, streamlining your invoice process will enable a more efficient payment process, which increases the chances of being paid on time. Let's go through a few benefits:
It sends automatic payment reminders
Invoicing software is handy for recurring invoices as it helps to ensure that clients receive payment on time and sets reminders to pay on the due date. These automatic payment reminders can help prevent cash flow issues for your business by ensuring you are always paid on time.
According to a Barclays survey, 58% of SMEs across the UK are currently waiting on late payments from customers. Although this was a small sample size of 500 small business owners, it demonstrates how common cash flow issues are for SMEs. Having automatic payment reminders ensures that you're aware of outstanding payments for both incoming and outgoing invoices.
It eliminates human error
Human error and delays are almost unavoidable when dealing with paperwork. Fixing these errors on your invoice can be expensive and time-consuming. This is the result of needing to wait longer before you get the payments.
An invoice software eliminates the risk of human error by allowing you to automate the entire invoicing process. The invoicing software also helps to keep track of all the transactions, making filing taxes easier and accurate. The ease of use also removes the need for the sometimes complicated task of putting together an invoice manually. As a result, it saves both time and resources which can be applied to other areas of the business.
It gives you access to analytic tools
Invoice software can also help you improve business operation by giving you access to vast data on your transaction history. The valuable insight you get lets you know where most of your business revenue is coming from and your most valuable customers.
With this information, you can then focus your marketing strategies more on what has the greatest possibility of increasing earnings for the business. It's also possible to generate financial reports to identify business data helping you make strategically informed decisions.
How invoice software helps SMEs with cash flow problems
A specific challenging area to manage for small businesses is cash flow. Cash flow problems can also be a real issue and detrimental to any business. This is particularly true for SMEs. Some small companies still save up their invoices and send them out weekly or once a month. This creates a drag on cash flow. It pays dividends to invest in invoicing software to issue demands as soon as work is finished or goods have been shipped.
However, receiving late payments from a percentage of customers should be factored in. If you have upcoming bills, invoices, or tax payment deadlines rapidly approaching, this can create cash flow issues. Nonetheless, having invoice software can help to ensure that the payment process is streamlined and much more efficient. This ultimately leads to a shorter waiting period for payments.

Tips for Invoicing best practices
When you invoice according to best practice, you're looking after your business now and in the future. Doing it well means making it clear and easy for payments to be made and keeps your business tax-compliant.
1. Conduct a credit risk assessment
It can be advised to undertake a credit risk assessment and research a new client before agreeing to provide them with expensive goods or services. This is to ensure that they are a real company and to see what sort of business model they have, i.e a sole trader or limited company. Experian provides a credit risk analysis through Business IQ reports which allows you to assess a businesses financial stability and credit reports.
2. Elaborate payment terms and conditions
When generating an invoice you must consider your client's expectations and budget. It should be easy for clients to know the business terms of the start of the transaction. This can be done by including payment due date, payment cycle and instructions for making a transaction.
Any surprises or charges that were not discussed at the beginning may cause an issue. Particularly with a new client, it's crucial to have a conversation regarding payment terms, conditions, methods of payment. It's essential to be upfront about the cost and services with each client at the beginning; otherwise, you can risk a disgruntled client.
3. Include late fees on the invoice
Late fees can be difficult to implement but must be communicated transparently on an invoice. If you want to enforce late fees, you could decide to include a statement similar to "a late fee of 1.25% may be assessed for payments made 14 days after the due date".
The exact wording can vary and it could be worth getting a legal advisor review prior to including within the invoice.
4. Use CurrencyTransfer to receive money from overseas
With CurrencyTransfer, you can make it easier for clients to pay you via online transfers with invoice processing, automatic reminders, and automatic invoice conversion. We provide a transparent money transfer service catered to your business needs. This includes offering a streamlined and secure platform which makes the payment process simple and efficient.