Daily Market Brief – 2 March 2016
GBP driven lower by good US data
Quote of the day: "Motivation gets you started, habit keeps you going!"
March 2nd: Highlights
Sterling under pressure again
Euro lower ahead of ECB meeting
USD higher with positive data
AUD gains from positive GDP data
UK manufacturing PMI hit another low yesterday (50.8), confirming that the sector is doing no better than it was back in 2015. Perhaps, in more normal market conditions, logic would see the Pound to sell off on data like this, but the wider market is still short Sterling and we actually saw GBP move higher, ignoring domestic data but reacting to poor EU data. Normal service was resumed when US Manufacturing PMI was released and this drove GBP lower again.
Today we have to MPC Broadbent and Cunliffe speaking and their comments will be scrutinised for clues on interest rate direction, but current expectation is that the BoE will not raise interest rates until well into next year. The MPC will announce its latest decision on Thursday. Forecasts are for a unanimous vote to keep rates unchanged.
Considering your next transfer? Log in to compare live quotes today.
The Euro is struggling at the moment and is being held down around 1.0850 against USD. It continued to drift lower yesterday ahead of the ECB meeting next week. Draghi has warned about the downside inflation risks and the market has taken this to mean the ECB may cut rates more aggressively than the 0.1% that is currently expected.
The unemployment rate in Germany was unchanged (6.2%) for Feb and Eurozone PMI manufacturing index posted 51.2 (vs 51.0 forecast). Thers is nothing is on the calendar today, but ECB members Coeure and Villeroy de Galhau are due to speak later. French and German PMI Services will be released tomorrow.
Yesterday afternoon, the USD posted gains against GBP on the release of better than expected Manufacturing ISM. The reading at 49.5 (vs 48.5 forecast) is still below 50, showing contraction in sector, but the market likes to celebrate data surprises to the upside.
Super Tuesday saw Hilary Clinton win the majority of the Demoncratic Party primaries, taking 7 states (vs 4 by Bernie Sanders). Trump was ahead in 7 states for the Repblican primaries.
Today, we have the US ADP employment figures as the main focus on the calendar.
Wall Street posted a strong close (S&P +2.4%) which was helped by the ISM manufacturing data. Overnight the Asian equities followed higher and the Nikkei extended on yesterday's gains to close up 4.11%, noting exporters were helped by a weaker JPY.
In China, the Shanghai Comp closed up (+1.07%) with property developers helping the index higher after a number of regional measure were introduced to support the property sector. The PBoC set the CNY mid-point at 6.5490, which is the weakest reference point in a month.
Stronger than expected AUD GDP figure helped AUD higher +0.6% vs 0.4% expected. This eased the expectation that the RBA will cut interest rates.
Morning mid-market rates – The majors
85% savings. Job Done. So, what is the secret sauce of the CurrencyTransfer.com marketplace?

CNBC described us as 'disrupting global money transfer'. Finally, you kiss goodbye to hidden fees.
How are we innovating?
Well, we are not an expensive bank costing you up to £1,500 on every £50,000 trade. Neither do you ever need to ring around multiple brokers and speak to sales guys. Pretty inaccurate way of shopping around. We help you maximise the value of each transfer. Quite simply, you are in control. Foreign exchange companies compete in a LIVE marketplace to win your business.
You win!
Got a question? We'd be delighted to help!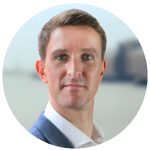 Paul Plewman
Director of Sales & Operations
t: +44 (0) 20 7096 1036
e: paul@currencytransfer.com