Daily Market Brief – 6 October 2015
Data deficiency delivers doldrums?
Quote of the day: "There is no shortage of remarkable ideas, what's missing is the will to execute them"
October 6th: Highlights
CHF CPI data
US Trade Balance
ECB President Draghi Speaks
Sterling Comment
The markets were left relatively cold by the UK PMI data yesterday. The reading of 53.3 not only missed forecast, it was beaten by the equivalent readings from Eurozone and the U.S.
The market reacted logically and Sterling lost 0.5c against EUR and USD. There was a bit of a reversal, recovering against the EUR, but against most counterparties, Sterling suffered.

Global Comment
Is the market hooked on cheap money? The prospect of continued loose monetary policy seems to have helped to improve general trading sentiment, which was demonstrated by another strong close on Wall Street last night. China's national holiday might be helping (risk off when the market is closed!), but sentiment has been helped by the Trans Pacific Partnership trade deal which reports potential annual benefits of $295bn by 2025.
This morning, most majors are broadly flat against the dollar so far and there is very little data due today. Swiss CPI is the highlight in the morning session, which is expected to confirm continuing deflation at -1.4%. This afternoon, we have the US trade balance, which is expected to post -$47.4bn, down from -$41.9bn last month. This could put the dollar under a little pressure, but range traded is otherwise widely expected. There are speeches this evening from the ECB's Mario Draghi and two Federal Reserve presidents.

Morning mid-market rates – The majors
85% savings. Job Done. So, what is the secret sauce of the CurrencyTransfer.com marketplace?

CNBC described us as 'disrupting global money transfer'. Finally, you kiss goodbye to hidden fees.
How are we innovating?
Well, we are not an expensive bank costing you up to £1,500 on every £50,000 trade. Neither do you ever need to ring around multiple brokers and speak to sales guys. Pretty inaccurate way of shopping around. We help you maximise the value of each transfer. Quite simply, you are in control. Foreign exchange companies compete in a LIVE marketplace to win your business.
You win!
Got a question? We'd be delighted to help!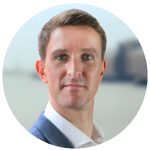 Paul Plewman
Director of Sales & Operations
t: +44 (0) 20 7096 1036
e: paul@currencytransfer.com