Daily Market Brief – 8 January 2016
China calms before US NFP
Quote of the day: "There are no shortcuts to anywhere worth going"
January 8th: Highlights
AUD retail sales as forecast
UK Trade Balance beats expectation
CAD unemployment data
US Non-Farm Payrolls
The UK Trade Balance posted a deficit of £2.45bn (Vs. 3.55bn forecast), but this is unlikely to offer any support to the Pound following the weak PMI manufacturing and services data earlier this week. There is no further domestic data scheduled for today so there is an opportunity for some calm ahead of the US Non-Farm Payroll data this afternoon.
George Osborne gave a fairly negative speech in Cardiff yesterday, warning that the UK needs to avoid complacency as it faces "a dangerous cocktail of risks" and ex BoE Deputy Governor Bean added comments suggesting the UK data was lower quality than US data, suggesting no need for a rate hike, in his view, when the BoE next meet on Jan 14th. All the negative sentiment drove Sterling lower against the USD and EUR.
Considering your next transfer? Log in to compare live quotes today.
Global Comment
USD demand picked up yesterday after China spooked markets by fixing USD/CNY higher than expected. The Shanghai Stock Exchange was closed within the first 30 minutes when 'circuit breakers', introduced to prevent sharp falls, were triggered by a 7% fall. China's shortest trading day on record helped drive safe-haven flows into US Treasuries and JPY.
The Eurozone had no data released and the rest of the market led Euro movements. The EUR gained against Sterling, but as GBP/EUR is nearing last year's lows, we may see a firm support at these levels, needed a data shock to determine the next move.
Today Chinese shares have risen on the first trading day after lifting "circuit breaker" and the market was stabilised by more official buying leading to a lower USDCNY fix.
The rest of Asia also recovered some losses after the dramatic plunge in Chinese shares had triggered a global sell-off in the previous session.
The unwinding of some of the recent moves may see a correction for JPY and EUR after the big gains, so we could see a rally on sterling and gains across the board on the commodity currencies. As the market has been buying USD all week, we'll need a strong NFP figure this afternoon, or we could see some profit-taking drive USD lower before the weekend.
At the same time as NFP, Canadian unemployment data is expected to stay at 7.1%.

Morning mid-market rates – The majors
85% savings. Job Done. So, what is the secret sauce of the CurrencyTransfer.com marketplace?
CNBC described us as 'disrupting global money transfer'. Finally, you kiss goodbye to hidden fees.
How are we innovating?
Well, we are not an expensive bank costing you up to £1,500 on every £50,000 trade. Neither do you ever need to ring around multiple brokers and speak to sales guys. Pretty inaccurate way of shopping around. We help you maximise the value of each transfer. Quite simply, you are in control. Foreign exchange companies compete in a LIVE marketplace to win your business.
You win!
Got a question? We'd be delighted to help!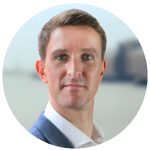 Paul Plewman
Director of Sales & Operations
t: +44 (0) 20 7096 1036
e: paul@currencytransfer.com