Daily Market Brief – 11 January 2016
USD broadly higher
Quote of the day: "Calm waters never made a skilled sailor"
January 11th: Highlights
GBP lower on expectations of policy divergence
USD broadly higher from strong Dec NFP data
EUR could slide lower ahead of ECB policy announcement
Last week, Sterling lost nearly 2%, touching a five yr low for Cable (close to $1.45) as expectations for an interest rates hike in 2016 have all but evaporated. We have the BoE rate decision on Thursday, where rates will remain at 0.50% and the asset purchase program at £375bn, but investors will be looking for clarity over the bank's current outlook.
Before that, we'll see retail sales and UK industrial output data tomorrow, where the market may be cautious after poor PMI manufacturing data, so we may well see Sterling remain under pressure.
The good news to report is that Sterling has opened higher today, with a little reversal from trend. We have seen Cable bounce from the 1.45 resistance level to around 1.4575 this morning. This is despite a broadly higher USD. Well done Sterling.
Considering your next transfer? Log in to compare live quotes today.
Global Comment
Friday's Non-Farm Payroll data supported USD. December figures of 292k (Vs. 200k forecast) renewed bullish calls for another US rate hike in the short-term. This week, the US data comes later in the week when retail sales, weekly jobless claims could give a steer on whether the NFP has wider support. On the open this morning though, sentiment still favours USD, with the European traders still buying the greenback and extending the post-NFP gains.
There is little change to report after the weekend and markets have picked up where they left off on Friday, with renewed selling pressures. Wall Street lost about 6% in the first week and both Asia and European performance has been about as gloomy as the view from my office window this morning.
Emerging markets remain under pressure as commodity process and oil struggles to find stability amid geo-political tensions and uncertainty over global growth.
There is no significant data to take the focus off China today so it could be another difficult day for the bulls as concerns remain over the slowdown in China and also the ability to manage the market fallout appropriately. Commodities are under pressure once again, denting market sentiment and raising questions over China's ability to prop up demand.
We may see the Euro struggle a little this week if momentum builds under this morning's move. EUR has lost ground against USD and GBP and although the ECB have a policy meeting this week, it's a non-monetary policy meeting and the market has to wait for next week for the main event.
On the calendar, from the Eurozone, we have French CPI tomorrow, which is forecast at 0.2% for December, up from 0.15% in November.

Morning mid-market rates – The majors
85% savings. Job Done. So, what is the secret sauce of the CurrencyTransfer.com marketplace?
CNBC described us as 'disrupting global money transfer'. Finally, you kiss goodbye to hidden fees.
How are we innovating?
Well, we are not an expensive bank costing you up to £1,500 on every £50,000 trade. Neither do you ever need to ring around multiple brokers and speak to sales guys. Pretty inaccurate way of shopping around. We help you maximise the value of each transfer. Quite simply, you are in control. Foreign exchange companies compete in a LIVE marketplace to win your business.
You win!
Got a question? We'd be delighted to help!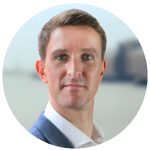 Paul Plewman
Director of Sales & Operations
t: +44 (0) 20 7096 1036
e: paul@currencytransfer.com