Daily Market Brief – 15 January 2016
Weekend woes
Quote of the day: "Hard work is a good hedge for bad luck"
January 15th: Highlights
Sterling stronger on BoE vote but downside pressure remains
Euro volatility rises after rumour ECB may not increase QE
US Retails Sales
US PPI Data
New York Fed manufacturing
Michigan Consumer Sentiment figures
Sterling was sold off before the BoE vote, in anticipation of moving back to a 9-0 vote, but was lifted off the lows when the BoE vote remained at 8-1. Sterling strengthened, as the BoE tone was largely unconcerned over the recent market turmoil or the longer-term effects of low energy prices. However, the rebound was short lived and Cable is lower again on the open today.
UK construction data is unlikely to reverse fortunes for GBP and Sterling is expected to remain vulnerable to wider market trends today, but weak US data could help Cable ahead of the weekend.
Considering your next transfer? Log in to compare live quotes today.
Global Comment
Following a report by Reuters, suggesting that the European Central Bank was sceptical about the need for more QE, the EUR gained over 0.5% against the USD. The ECB will announce its policy decision next week and is likely to weigh on the single currency.
Safe haven flows are, once again, at the forefront as the oil price has fallen lower again overnight, with the JPY stronger and GBP weaker, along with the commodity currencies. Whilst oil bounced off the low and traded most of the day above the $30 mark, the price has come back under pressure overnight. Interest in buying JPY was renewed following BoJ upbeat comments on the Japanese economy, suggesting that the recent oil price declines will be positive for the Japanese economy.
Further disappointing data from China added weight to market sentiment. New Yuan Loans growth (bank lending into the economy) significantly missed forecast and Money Supply growth also missed target.
Yesterday's comments from St Louis Fed President James Bullard, now a voting member of the FOMC, have been viewed with interest. Historically a hawk, arguing for a rate hike, he warned of how the falling oil price could impact inflation expectations and future monetary policy decisions. This calls into question the pace of future rate hikes from the US.
This afternoon we have US data to look forward to. Retail Sales forecasts a +0.2% gain on the month, but keep in mind that retail sales has a recent history of missing forecasts. The PPI inflation is expected to pick up slightly to -1.0% (from -1.2% last month) and Michigan Sentiment is expected to improve slightly to 93.0 (from 92.6 last month), all of which will give the market plenty to digest.

Morning mid-market rates – The majors
85% savings. Job Done. So, what is the secret sauce of the CurrencyTransfer.com marketplace?

CNBC described us as 'disrupting global money transfer'. Finally, you kiss goodbye to hidden fees.
How are we innovating?
Well, we are not an expensive bank costing you up to £1,500 on every £50,000 trade. Neither do you ever need to ring around multiple brokers and speak to sales guys. Pretty inaccurate way of shopping around. We help you maximise the value of each transfer. Quite simply, you are in control. Foreign exchange companies compete in a LIVE marketplace to win your business.
You win!
Got a question? We'd be delighted to help!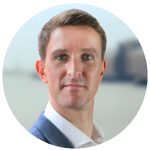 Paul Plewman
Director of Sales & Operations
t: +44 (0) 20 7096 1036
e: paul@currencytransfer.com