Daily Market Brief – 22nd May 2015
GBP strengthens across the board
Your quote of the day: "We cannot teach people anything. We can only help them discover it within themselves."
May 22nd: Highlights
GBP strengthens on Thursday across the board
GBPEUR breached 1.41, pulls back this morning
Greece faces moment of truth June 5
German economy grows 0.3%
Sterling Comment
GBP strengthened against a basket of currencies on Thursday after strong UK retail sales figures. The 1.2% rise boosted optimism for the economic outlook and saw sterling perform strongly.
GBP/USD strengthened 0.96%, from 1.5560 to 1.5699 , eyeing the next resistance level at 1.5710 seen in Mondays trading. The dollars weakness was also a result of negative initial jobless claims figures. The pair is currently trading around 1.5648.
Sterling is also performing strongly against the euro, with GBP/EUR spiking initially to 1.4061, the highest since week of March 16th. In the afternoon it's momentum continued up to 1.4105. This morning we saw data released showing the German economy grew 0.3%, this slightly lower than expected figure was still seen as a positive for the Euro, and has seen GBP/EUR pull back to under 1.40. The pair is now trading around 1.3980
Global Comment
In US, troubling figures released for seasonally adjusted initial jobless claims, an increase of 10,000 from the previous week, contributed to USD weakness across the board.
The Eurozone economy has grown just 0.1% in the first quarter of the year, highlighted in a recent data release. Coupled with the very real prospects of a Greek default, the Euro remains under pressure. The "moment of truth" for Greece will likely come on June 5, when the country is starring down the barrel at a default on a €300m payment to the International Monetary Fund, unless the EU authorities hand over the next tranche of bail-out cash.Despite these poor figures and the ongoing saga in Athens, the ECB still claim the recovery is on track!
French services PMI climbed to 51.6 from 51.4 and manufacturing PMI rose to it's highest levels in over a year. However activity in Germany, the euro area's largest economy slowed to a five month low, adding to concerns that economic growth is losing momentum.

Morning mid-market rates – The majors
85% savings. Job Done. So, what is the secret sauce of the CurrencyTransfer.com marketplace?

CNBC described us as 'disrupting global money transfer'. Finally, you kiss goodbye to hidden fees.
How are we innovating?
Well, we are not an expensive bank costing you up to £1,500 on every £50,000 trade. Neither do you ever need to ring around multiple brokers and speak to sales guys. Pretty inaccurate way of shopping around. We help you maximise the value of each transfer. Quite simply, you are in control. Foreign exchange companies compete in a LIVE marketplace to win your business.
You win!
Got a question? We'd be delighted to help!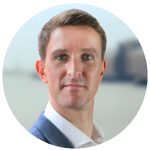 Paul Plewman
Director of Sales & Operations
t: +44 (0) 20 7096 1036
e: paul@currencytransfer.com