Daily Market Brief – 25 January 2016
Sentiment & risk are the key drivers
Quote of the day: "Well done is better than well said"
January 25th: Highlights
Risk appetite still driving market movements
GBP struggles with concerns over economic stability
Euro still weaker after ECB announcement
Fed to update economic outlook
UK retail sales dropped -1.0% (-0.1% expected) was largely attributed to the mild winter, but the disappointment was sort-lived as celebration surrounded of PSNB data, which was much improved, showing Government borrowed only £7.5 bn (£10.1 bn expected). Following Sterling's bounce from Thursday's ECB news, we saw GBP/USD and GBP/EUR hold firm for most of the day.
This morning, Sterling eased a little in early trade but has managed to hold onto most of last week's gains. Continued support is likely, ahead of the US Fed meeting. The Market continues to price in expectations of no change in rates until 2017, a view backed up by manufacturing data and weak inflation.
On the calendar this week we have CBI industrial orders today, Mark Carney is testifying on financial stability on Tuesday and preliminary GDP figures on Thursday.
Considering your next transfer? Log in to compare live quotes today.
Global Comment
The EUR slipped lower when PMI data was lower than expected when the ECB's indication of further QE was still ringing in the ears of the market. On the calendar, we have ECB President Draghi speaking again tonight and Eurozone CPI is due out on Friday.
The US equities rallied on Friday and the USD lost a little ground as safe haven trades were unwound. The main focus on the calendar this week is the FOMC meeting and statement on Wednesday. If the Fed is dovish, perhaps pointing to recent Equity weakness then the USD may sell-off and if the statement is more hawkish, perhaps hinting that March is when rates may raise again, then logically the USD will be bought and strengthen. US GDP will be released on Friday as well and will give direction.
A rebound in oil drove the commodity currencies higher. The CAD and ZAR surged over 1.5%, the AUD added 1% and the NZD is up by 0.6%, all helped by risk sentiment and the lasting effect of Draghi's ECB-backed promise to save the World with more European liquidity.
But can we really trust a market recovery that is built on a short-covering rally in the oil price and little more than idle chatter from the ECB? This morning, currency markets are showing that the wider risk appetite has waned a little, with the oil price turning lower again. Oil, and the associated appetite for risk, seems to be conducting the short-term daily market trends more than anything else at the moment.

Morning mid-market rates – The majors
85% savings. Job Done. So, what is the secret sauce of the CurrencyTransfer.com marketplace?
CNBC described us as 'disrupting global money transfer'. Finally, you kiss goodbye to hidden fees.
How are we innovating?
Well, we are not an expensive bank costing you up to £1,500 on every £50,000 trade. Neither do you ever need to ring around multiple brokers and speak to sales guys. Pretty inaccurate way of shopping around. We help you maximise the value of each transfer. Quite simply, you are in control. Foreign exchange companies compete in a LIVE marketplace to win your business.
You win!
Got a question? We'd be delighted to help!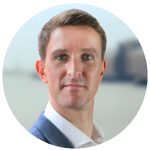 Paul Plewman
Director of Sales & Operations
t: +44 (0) 20 7096 1036
e: paul@currencytransfer.com