Daily Market Brief – 27th August 2015
Sterling suffers against resurgent Dollar
Quote of the day: "Think about your legacy. Because you're writing it every day"
August 27th: Highlights
Sterling suffers loses against resurgent Dollar
GBPEUR jumps this morning to 1.37
China stocks rises over 5%
Aussie Dollar enjoys rare strong day
Sterling Comment
GBP/EUR opened yesterday at 1.3625, trading upwards throughout the morning to hit levels around 1.3713. The pair fell in the afternoon, largely due to concerns over the Chinese economy leading investors to flight to safety in the Single Currency. The pair closed at 1.3585. This morning French consumer confidence data was released, and this was forecast to weaken from 102 to 101, with GBP/EUR back up to 1.37 levels.
Yesterday was a tough day for the British Pound against the US Dollar. The GBP/USD pair opened at 1.5702 and fell throughout the day, supported by US Data showing strong consumer confidence and positive Durable Goods orders. The pair fell to lows of 1.5458, but this morning is trading up in the region of 1.5486, hovering around the 1.55 levels.
Today will see some important data releases emerging from the US this afternoon. Investors will be looking to data on GDP, Personal and Core consumption and Initial Jobless claims. Each is expected to meet previous readings.

China Crisis
The People's Bank of China announced its plans to offer loans and cheap rates to lenders. Encouraging signs saw China stocks jump over 5% with the Asian markets rebounding.
"For now the bulls, it seems, have wrestled back control from the bears," were the thoughts of IG chief market strategist Chris Weston. It would appear the markets seem to be saying, "We've had our correction, the macro concerns were probably a touch exaggerated and it's time to expose ourselves to select stocks again."

Global Comment
Yesterday, EUR/USD opened at 1.1505 and dropped 1% against the US.Dollar following comments from ECB member Praet. He said, ''lower commodity prices and signs of economic weakness mean there is an increased risk that the euro area will miss its inflation targets" . He also alluded to the possibility that the ECB is prepared to use further Quantitative Easing, if required. USD continued strengthening later on in the trading day versus EUR on the back of positive US Data in the form of Durable goods. Orders came in stronger than expected, rising 0.2%. The EUR/USD pair is now trading at 1.1290.
The Aussie Dollar enjoyed a rare positive day yesterday, making gains against most major currencies except for a broadly stronger US Dollar. This was largely due to strong construction work data, resulting in 3% better than forecast and a positive speech from the Reserve Bank of Australia Governer. GBP/AUD is trading at 2.1631.

Morning mid-market rates – The majors
85% savings. Job Done. So, what is the secret sauce of the CurrencyTransfer.com marketplace?

CNBC described us as 'disrupting global money transfer'. Finally, you kiss goodbye to hidden fees.
How are we innovating?
Well, we are not an expensive bank costing you up to £1,500 on every £50,000 trade. Neither do you ever need to ring around multiple brokers and speak to sales guys. Pretty inaccurate way of shopping around. We help you maximise the value of each transfer. Quite simply, you are in control. Foreign exchange companies compete in a LIVE marketplace to win your business.
You win!
Got a question? We'd be delighted to help!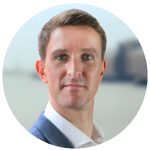 Paul Plewman
Director of Sales & Operations
t: +44 (0) 20 7096 1036
e: paul@currencytransfer.com