Daily Market Brief – 27 January 2016
FOMC & oil are centre stage today
Quote of the day: "Oil has meant mastery throughout the twentieth century" (Daniel Yergin – The Prize)
January 27th: Highlights
Fed unlikely to raise rates
Markets and risk appetite remain reactive to oil price
Suggestions for production limits, both within OPEC and from other producers, caused the oil price to move over 10% yesterday. Ignoring the fact that production limits are historically subject to cheating, hard to police and therefore unlikely to work, the mere suggestion of output cuts was enough to move the market and improve risk appetites – equity markets followed oil higher (S&P 500 up 1.4% and Nikkei up 2.7%) and commodity currencies benefitted, with the AUD was also helped higher by strong CPI data.
There has been a slight pullback in oil this morning and consequently European markets are a little more cautious on the open, but the longer oil builds price support above $30, the stronger the belief will grow that prices have bottomed and we're past the worst. The World Bank yesterday slashed its 2016 forecasts to $37 a barrel (down from $51), citing Iranian production and the resilience of US shale gas.
Considering your next transfer? Log in to compare live quotes today.
Market focus today is centred on the FOMC tonight. Following a near miss for US PMI services, which posted 53.7 (Vs. 54 forecast), it is still widely expected that the Fed will vote for no change today, allowing a little more time for the effects of the December rate hike to filter down to the wider economy. This is no real surprise, when you consider stock markets, oil prices and global growth forecasts have all followed a downward path since the Dec hike, and domestically the US data hasn't exactly been setting records either. Many feel that this meeting could be a bit of a non-event due to the absence of a press conference, but the market will still study the statement for clues to support the belief that the next action is currently planned for March.
Also on the calendar today, we'll see New Home Sales, which are forecast to rise by around 2% to 501,000. The weekly oil inventories report may add volatility to oil, with expectations of around 3.8m barrels. Finally, the Reserve Bank of New Zealand is expected to keep rates on hold at 2.5%.
Morning mid-market rates – The majors
85% savings. Job Done. So, what is the secret sauce of the CurrencyTransfer.com marketplace?
CNBC described us as 'disrupting global money transfer'. Finally, you kiss goodbye to hidden fees.
How are we innovating?
Well, we are not an expensive bank costing you up to £1,500 on every £50,000 trade. Neither do you ever need to ring around multiple brokers and speak to sales guys. Pretty inaccurate way of shopping around. We help you maximise the value of each transfer. Quite simply, you are in control. Foreign exchange companies compete in a LIVE marketplace to win your business.
You win!
Got a question? We'd be delighted to help!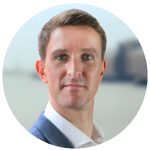 Paul Plewman
Director of Sales & Operations
t: +44 (0) 20 7096 1036
e: paul@currencytransfer.com