Daily Market Brief – 30th Apr 2015
Hello. Here is your market brief
Quote of the day: "Don't let perfection become procrastination. Do it now"
April 30th: Currency Markets Highlights
US data disappoints
USD loses ground
No change from FOMC in line with expectation
Sterling Comment
Yesterday was a pretty volatile session and it was all driven by US data. GDP kicked things off coming out much weaker than expected at 0.2%, which sent the EUR higher, moving from around 1.10 to 1.1160. Cable reacted too, driving up from 15360 to over 1.5480, before both pairs softened a little and came off their highs when the FOMC took to the stage. US growth was well down from the 2.2% from Q4 2014 and the report confirmed the US had been hurt by a slump in exports.
Cable is holding firm around 1.5450 this morning, but there isn't much on the domestic calendar ahead of manufacturing PMI results on Friday, so Sterling movements are likely to be driven by counterparties. We've seen this on the open with GBP/EUR falls away, back towards 1.38, as EUR/USD drives higher.
With increased volatility in the markets, feel free to reach out to your Personal Currency Concierge today to discuss any requirements you have pending, or log into our dealing platform for LIVE, bookable exchange rate quotes.
Euro Comment
On the open, the Euro has driven higher to hit fresh two-week highs against GBP (1.3780) even before any data release. The Euro has extended gains despite weaker German data – both retails sales and employment numbers fell short (Retail data dropped -2.3% Vs. -0.1% and employment fell by only 8k Vs. 15k expected). Today, the data includes Spanish GDP, German unemployment and Eurozone CPI, which is probably the most likely to cause any reaction.

US Dollar Comment
The FOMC was unsurprising and pretty much in-line with expectations – their stance remains data dependent – but it did note that some of the recent weak data was "transitory" and only temporary. Time will tell on that point. The market has taken this to mean the data doesn't support a rate move yet, but the Fed is leaving the door open and there is still an outside chance of tightening earlier than the general Q4 expectation. The statement repeated the stance that growth will rebound up to a "moderate pace" and that inflation will move back towards its goal of 2 percent over time.
In the US today, Weekly Jobless Claims are forecast to improve slightly to 290k from last week's 295k and Personal Consumption Expenditure is noteworthy as it is the Fed's preferred inflation reference point forecast to rise to 2%, up from 1.4% last month, which would serve to support the FOMC rhetoric last night.

Morning mid-market rates – The majors


GBP > USD


–
1.5444


GBP > EUR


–
1.3797


EUR > USD


–
1.1190


EUR > GBP


–
0.7248
85% savings. Job Done. So, what is the secret sauce of the CurrencyTransfer.com marketplace?

CNBC described us as 'disrupting global money transfer'. Finally, you kiss goodbye to hidden fees.
How are we innovating?
Well, we are not an expensive bank costing you up to £1,500 on every £50,000 trade. Neither do you ever need to ring around multiple brokers and speak to sales guys. Pretty inaccurate way of shopping around. We help you maximise the value of each transfer. Quite simply, you are in control. Foreign exchange companies compete in a LIVE marketplace to win your business.
You win!
Got a question? We'd be delighted to help!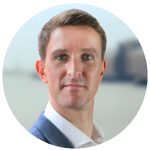 Paul Plewman
Director of Sales & Operations
t: +44 (0) 20 7096 1036
e: paul@currencytransfer.com