Daily Market Brief – 30th July 2015
No change before Sept
Joke of the day: Troika roll out Greek ban on sales of hummus and tzatziki…
…to avoid double dip recession
July 30th: Highlights
FOMC – no change from 0.25%
Gfk German Consumer Confidence
US Pending Home Sales
US Unemployment
Sterling Comment
The UK has continued to post good data this week. UK mortgage approvals rose more than forecast for June, showing continued momentum in the UK housing market. Sterling drive higher against the euro in reaction as the data indicates a greater confidence in the economy.
Cable strengthened during yesterday's session. The pound was helped UK data in the morning and then strengthened further in the afternoon when US Pending Home Sales data unexpectedly contracted 1.8%.
If you are buying currency with sterling, rates are up across the board. It may be a good time to view live quotes or talk to your Personal Currency Concierge regarding any upcoming purchasing strategies.

Greece
Initial news from the bailout discussions report Greek claims that the capital controls are costing their economy close to EUR3bn in GDP every week, or the equivalent to 1% of GDP lost every week. The reopening of the Athens stock market has been delayed until Monday as the systems can't handle the restrictions being placed on Greek traders.
The IMF announced that Greece require 'significant' debt restructuring to avoid the crisis flaring up again, citing a strong chance that debt could surpass a staggering 200% of GDP otherwise.
There is a barrier to a common sense approach of debt restructuring in the Lisbon Treaty. A 'no bailout clause' cites the EU 'should not be liable for, or assume the commitments of central governments'. German Fin Min, Wolfgang Schaeuble, had this in mind with his suggestion of a temporary Grexit. His logic was that Greece could leave the Euro temporarily to bypass this rule and cancel some of its debt. To their credit, Greece has resisted this so far. The outlook remains bad, but not quite as bad as today's joke of the day!

Global Comment
Yesterday was all about the FOMC statement. US pending home sales fell short of expectations, posting the second worst reading this year of -1.8% but this was largely overlooked.
As there is no Fed meeting in August, the market was looking for hints of a September rate hike. The statement suggested they are getting ready and don't need to see much more progress, but as always, they did not give a solid timeline. Positive job markets, housing and consumer spending mean the US can cope with a small rise in rates. Slow and gradual interest rate rises are on the way and they have left the door open for September, but retain the option to delay if data disappoints in the meantime.
Today we will see Gross Domestic Product and initial jobless claims numbers released and next week's non-farm payrolls figure will be very important given the economic backdrop.

Morning mid-market rates – The majors
85% savings. Job Done. So, what is the secret sauce of the CurrencyTransfer.com marketplace?

CNBC described us as 'disrupting global money transfer'. Finally, you kiss goodbye to hidden fees.
How are we innovating?
Well, we are not an expensive bank costing you up to £1,500 on every £50,000 trade. Neither do you ever need to ring around multiple brokers and speak to sales guys. Pretty inaccurate way of shopping around. We help you maximise the value of each transfer. Quite simply, you are in control. Foreign exchange companies compete in a LIVE marketplace to win your business.
You win!
Got a question? We'd be delighted to help!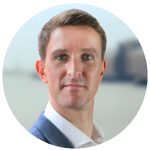 Paul Plewman
Director of Sales & Operations
t: +44 (0) 20 7096 1036
e: paul@currencytransfer.com